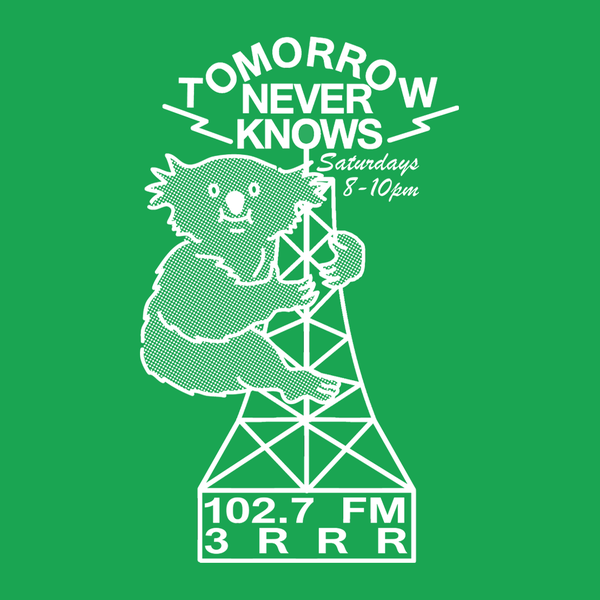 Listen to Tomorrow Never Knows – 26 October 2019
∙
Brotherly duo Donald's House take over the decks for a live mix ahead of their EP launch.
Playlist for Tomorrow Never Knows – 26 October 2019
I'll Say When I Can

Yu Su

They Don't Wanna Know

Violet

Move Your Body

Octo Octa

For the sex havers (Acid Mix)

DJ YONI

Metal Glo

Roza Terenzi

Danza Mart

Sleep D

The Stab

Morgan Wright

Fever ft. Eda Eren

Route 94

Current Density (Raphel Top Secret Remix)

Antonine Kogut

Subterranean

Workdub

Start Live Mix*

*Donald's House

Normalizo

Letta Mbulu

K.K.K.

Gang

Yugo Baby

Beard In Dust

Lescudjack (Lexx Edit)

Michael Chapman

Distance (Hysteric edit)

Unknown

Letting it rest

Frank Muvillo

Only You (Frankie Knuckles edit)

Steve Monite

Danza Sueno

Simple Symmetry

Turn You On

Jeaney

End Live Mix*

*Donald's House
Turn off your mind and float down stream every Saturday night as Emerald plays everything from the emerging to the internationally renowned. With two hours of tunes spanning neo-soul to rock 'n' roll. Tomorrow Never Knows charts the differences between the parties of tonight and the headaches of tomorrow.
---
Presenters