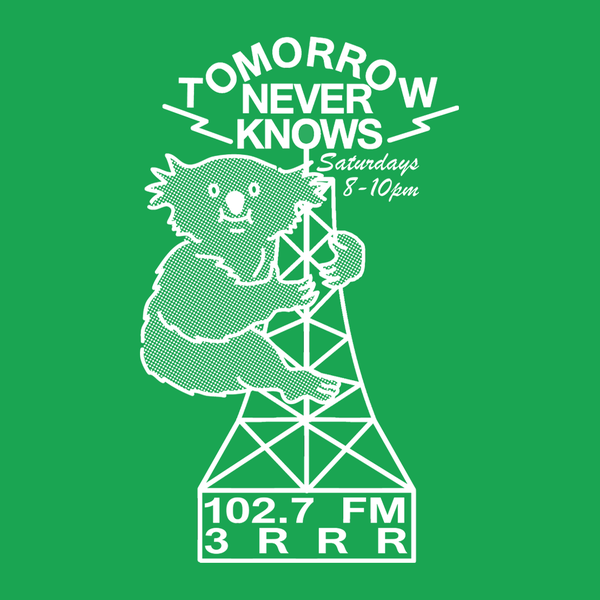 Listen to Tomorrow Never Knows – 7 September 2019

02:00:00
Local producer and artist Simona swings by to chat about her new single, 'Generations'.
Playlist for Tomorrow Never Knows – 7 September 2019
Arcadian Dream

Ed Longo & The Applied Arts Ensemble

In a Silent Way (I:Cube Dub)

Etienne Jaumet

Truly (Feat. Erike de Casier)

Sovereign vs El-Trick

Intimate (Club Mix)

Erika de Casier

Hello

Axel Boman

Generations

Simona Castricum

Still (Extended Mix)

Simona Castricum

The Half Light

Simona Castricum

Live Mix Start

Simona Castricum

Permission

SRSQ

Come Closer

Boy Harsher

Disco

Sextile

Dolls In The Dark

Drab Majesty

Time to Kill

Boy of Light

Victim Complex

Tamaryn

I Drive

Lower Dens

Live Mix End

Simona Castricum

Being A Woman

Sui Zhen

Strano

Qvark

Sunday Morning

Dunkelziffer

Four Floods On The Points

Craig Leon

Too hot to handle (Carisma remix)

Charlotte Bendiks

Your Tears (Razormaid Mix)

Echo Romeo

Garden

Good Morning

Never Find A Girl (to Love Me like you do)

Steve Hiett

Nothing To Be Done

The Pastels
Turn off your mind and float down stream every Saturday night as Emerald plays everything from the emerging to the internationally renowned. With two hours of tunes spanning neo-soul to rock 'n' roll. Tomorrow Never Knows charts the differences between the parties of tonight and the headaches of tomorrow.
---
Presenters