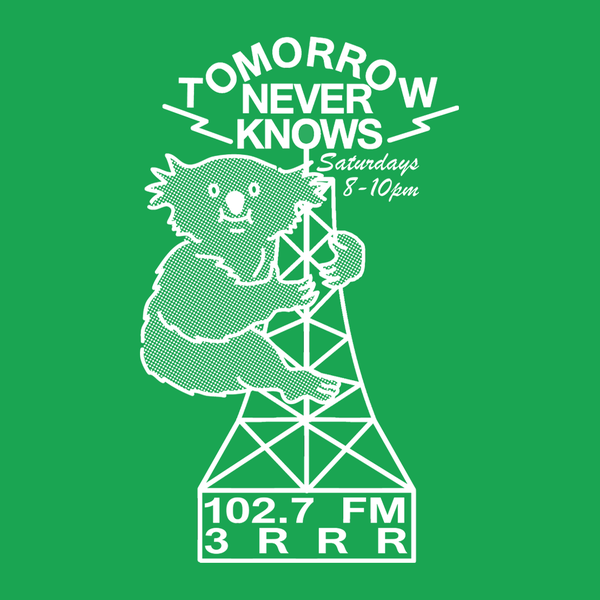 Listen to Tomorrow Never Knows – 25 September 2021
∙
Bec filling in for Emerald on Tomorrow Never Knows.
Playlist for Tomorrow Never Knows – 25 September 2021
Privat & Scharf (DJ Sotofett's Synth-Dub-Mix)

Lauer & DJ Sotofett

Petu

Palms Trax & Nonku Phiri

Menta y Regaliz (ft. Fiesta En El Vacio)

Panoptique

Maggot

Amyl and The Sniffers

Pocket Rocket

Blonde Revolver

Hanging Garden

Premium Fantasy

Grateful for the Heartache

Simona Castricum

The Magnificent Moon

Mildlife

Zwango Zop

Mildlife

Supernature

Cerrone

Arrows

Ajak Kwai feat. Allysha Joy

In Need Of Love

Close Counters

Wanjaa 9000

IMYRMiND

Gnawa TEYMORI remix

DIGITAL AFRIKA

Focus (ft. Reno Ka)

Black Jazz Consortium

They Buy Axe

Alec Falconer

Blue Light

Furious Frank

Yes, Ok?

Beep Tzt

Again

Stones Taro

Morphing Into Brighter

Anz
Turn off your mind and float down stream every Saturday night as Emerald plays everything from the emerging to the internationally renowned. With two hours of tunes spanning neo-soul to rock 'n' roll. Tomorrow Never Knows charts the differences between the parties of tonight and the headaches of tomorrow.
---
Presenters