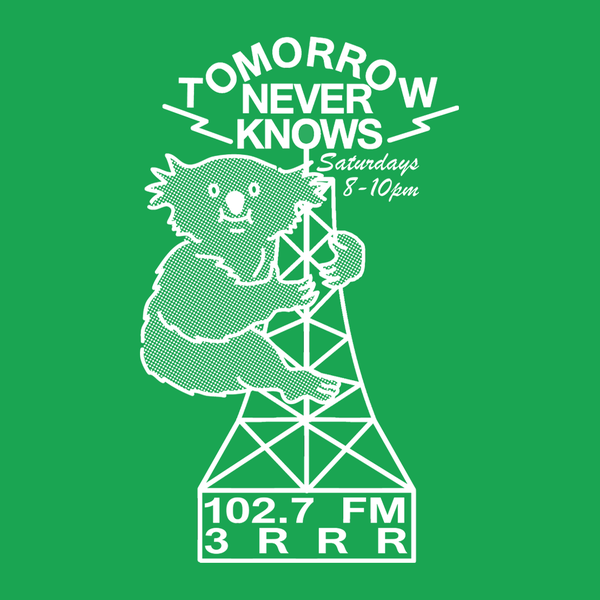 Listen to Tomorrow Never Knows – 22 May 2021

02:00:00
Presented by Mia Richter and Tess Monaghan.
Playlist for Tomorrow Never Knows – 22 May 2021
Microcosm

KiTA

Lagoon

Sleep D & Ad-Lib Collective

Toi1338b

Sedibus, The Orb

Running with Purpose

DJ Jus-Ed

Xiu (ft. Knopha)

Yu Su

Rain in the Morning, Sun in the Afternoon

Andy Rantzen

Dunes (Oceanic mix)

Turner Street Sound

Cascade (Part 1)

The Future Sound of London

Alta

La Fe

Prismatic Spring

OK EG

Surrender

Cousin

Science Friction

Orbital

People Division

Escape Artist & Chris. P

Mermaids on Acid

Sedef Adasi

Byron's Theme

Pillow Queen

Das Jit

Ottonian

ٹرانس (SYO Remix)

Sunju Hargun

Hacking The Planet (Sansibar Remix)

Bliss Inc.

Walking Wounded (Dave Wallace remix)

Everything but the Girl
Turn off your mind and float down stream every Saturday night as Emerald plays everything from the emerging to the internationally renowned. With two hours of tunes spanning neo-soul to rock 'n' roll. Tomorrow Never Knows charts the differences between the parties of tonight and the headaches of tomorrow.
---
Presenters