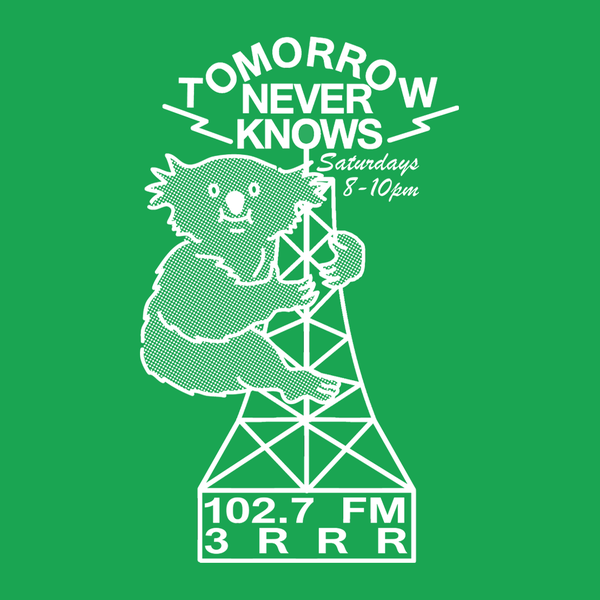 Listen to Tomorrow Never Knows – 30 May 2020

02:00:00
Emerald catches up with m8riarchy.
Playlist for Tomorrow Never Knows – 30 May 2020
Medusa's refrain (Part 1)

Terry Riley

Theme

Kelan Phil Cohran & Legacy

Pelas Sombras

Arthur Verocai

Rare Air

Mildlife

Mango Drive

Rhythm & Sound

J'ai Changé

Adrian Sherwood

Time and Age

The Freaky

Tings A Go On

DJ Dubplate

The Feeling

M8riarchy

Reflection (Maurice Fulton Mix)

DJ Jnett

Dance Infidel Dance (Name In Lights remix)

Muslim Disco Club

Piano Moan [Radio Mix]

DJ Yoni

Beautiful People

Barbara Tucker

The Telephone Call

Kraftwerk

Happy Together

Peter Westheimer

Island of Greed

Coloured Stone

3 Days Man!

Bellydance

My Soul Unwraps Tonight (Extended mix)

Savage Progress

Jama El F'Na

Ahmed Fakroun

Nigeria Go Survive

Veno
Turn off your mind and float down stream every Saturday night as Emerald plays everything from the emerging to the internationally renowned. With two hours of tunes spanning neo-soul to rock 'n' roll. Tomorrow Never Knows charts the differences between the parties of tonight and the headaches of tomorrow.
---
Presenters