Big news: Woody McDonald to wrap up The Cave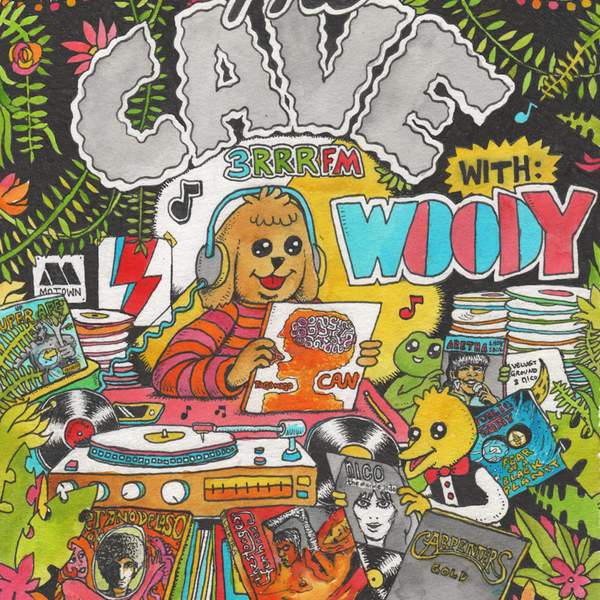 Woody first walked through the doors of Triple R to volunteer as a 16 year old in 2001. By 2002, he was hosting his own show Wig Wam Bam. After taking a bit of a break from the airwaves in 2010, Woody returned to Triple R with a new show called Primary Colours, which ran from 2011-2014. In 2017, he stepped back in, to cover Friday's Skull Cave for Stephen 'The Ghost' Walker (a long-term presenter and former Program Manager at the station) before officially taking the reins in 2018 to make the show his own, and name it The Cave in homage to Stephen.
From Stephen Walker, to Woody McDonald, the Friday 4-7pm time slot has found its next worthy successor. We are rapt to announce that the brilliant Annaliese Redlich will be bringing her killer program Neon Sunset to Fridays from 4-7pm, as of March 31.
Neon Sunset started on Triple R back in 2014, originally on Friday nights from 7-10pm, before moving to Saturday afternoons in 2018. Now, Annaliese will kick our weekends off just right from 4-7pm on Fridays. Welcome to your new home on the Triple R grid, Annaliese. We know you'll smash it!
With Annaliese vacating the Saturday 12-2pm slot, Sam Cummins will join the program grid with his debut program Press Colour: A vibrant palette of new sounds from across the musical spectrum with a splash of impressions from the past.
Sam came to Triple R via Room With A View (a program hosted by RMIT media students) back in 2013. He stuck around after completing his course to do all sorts of on-air and off-air volunteering for the station, including panel operating for Jeff Sparrow's program Hullabaloo for several years,and many fill-in shifts. We're thrilled that he now has the opportunity to bring us his impeccable and eclectic music selections to the Triple R airwaves every Saturday afternoon, as of April 1.
Thanks again, Woody; congrats Annaliese; and a very big welcome Sam!