Walking Through This Year's Yirramboi Festival – from Yothu Yindi to the Blak Market Sunday Jam Session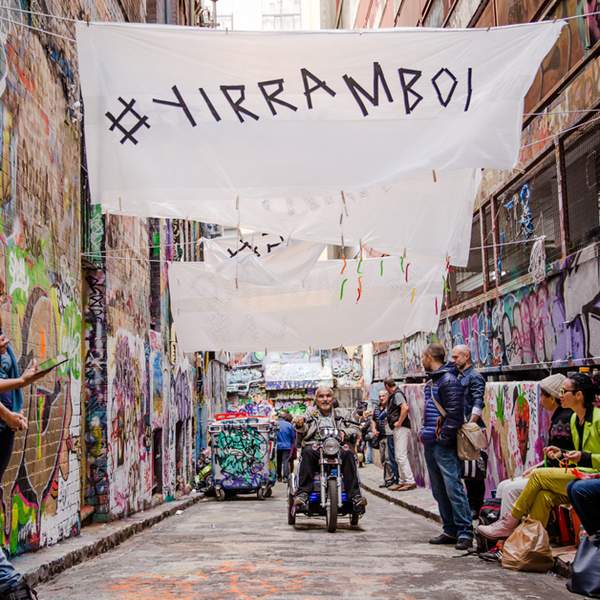 By Triple R volunteer writer Justin Cantrell
This month leading First Nations artists and thinkers take to Melbourne's iconic public spaces, laneways and venues for 10 days of entertainment, dialogue and immersive moments of music, dance, theatre, exhibition, talks and workshops.
Yirramboi Festival (which means 'tomorrow' in the shared language of the Boonwurrung and Woiwurrung people) officially kicks off tonight (Thursday 2 May) and celebrates the ongoing diversity and creativity from over 2000 generations of Indigenous culture here in Australia.
The heritage-listed Meat Market in Melbourne's North is this year's festival hub, dubbed the Yirramboi Weelam, or 'home'. With a program that pulls together 100+ events from over 200 creatives and a focus on family-friendly fun it seems like there's something for everyone.
The opening night party (tonight) features a huge lineup of established and emerging talent including Deborah Cheetham, Allara Briggs Pattison, Monica Karo and The Merindas. This free event is already sold out, so you can join the waitlist or take this as a cue to book your festival tickets now.
We thought we'd help you out by sharing some of the highlight from this year's Yirramboi Festival (which Triple R is super-proud to present)…
Label Bad Apples, run by hip-hop luminary and activist Briggs, is showcasing a night of MCs, singers and DJs at the festivals Yirramboi Weelam, Meat Market.
Yothu Yindi's Witiyana Marika, Stu Kellaway and Kevin Malngay Yunupingu take to the stage with 'The Treaty Project' (a collection of up-and-coming First Nations artists) for an evening of song, dance and protest at the Arts Centre Melbourne.
Barring Yanabul, ­meaning 'we all walk the path' in the shared language of the Boonwurrung and Woiwurrung people, is a free all-day program that features more than 40 pop-up live events across for a city-wide 'Blak-out'.
There's also the immersive installation and performance art of forward-thinking collective dis rupt at The Hamer Hall. This next generation of artists respond to the stories of the land on which the hall rests, the Birrarung and its many waterways.
Blak Mass reflects on the city's jarring history and the impact of colonisation on its First Peoples through an experimental, site-specific musical performance that considers the Grand Organ as a significant symbol of European domination and reaches deep in to the psyche of the instrument to create a haunting, avant-garde sound work.
Blak Market x Sunday Jam Session will showcase 20 First Nations makers selling arts and crafts, fashion, jewellery, bush foods and more. With traditional weaving workshops and live music performances throughout the day.
Plus, curator Paola Balla and artist Arika Waulu host Critical Conversations, a wide-ranging public panel conversation and Q&A on self-determination in First Nation arts. The discussion aims to take action and work towards outcomes including policy development and guidelines around cultural rights and contributing to future national arts policies and directions.
Yirramboi Festival runs from May 2-12. For more information and a full list of events, click here.
---
Justin Cantrell is from Melbourne with a burgeoning interest in alternative methods of distribution and representation. When they aren't reading or writing for Triple R you can find them feeding sharks on Discogs or tucked away in the CD library.