Vale Stephen 'The Ghost' Walker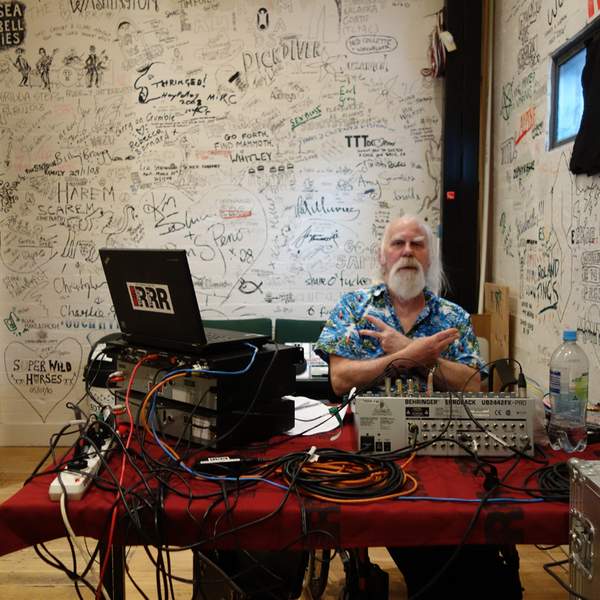 We are deeply saddened that Stephen 'The Ghost' Walker passed away on Wednesday 3 July 2019.
Stephen was Triple R's Program Manager for 14 years and a volunteer presenter with the station for 37 years. He was instrumental in shaping the sound of Triple R during the late '80s and '90s and forever more.
His on-air persona as the Ghost Who Talks in the Skull Cave every Friday between 4pm to 7pm established a huge following over more than three decades. The Ghost as a broadcaster has most often been compared to John Peel, and for many really set the standard for the status a community broadcaster could achieve. Skull Cave continued to be one of the most popular programs on the Triple R program grid up until Stephen handed over the reins to Woody McDonald in 2018.
The Ghost was the thinking person's music guru and a true cult figure in Melbourne's underground – the sound of the jungle drums that opened Skull Cave every week, the show promos, his catchphrases such as, 'Hey there, you there, it's me here', 'Trust the energy', and 'Plant you now, dig you later' can be recited by many a true Melburnian and have taken on iconic status.
The Ghost remained committed to new discovery right until the end and his broad and adventurous taste was able to push the boundaries of popular music while still celebrating his heroes – people like Patti Smith, Iggy Pop and Leonard Cohen. He was a tastemaker who launched many radio and music careers, and informed, broadened and inspired many many more people's lives and listening.
Stephen suffered from MS for a long time, and in 2010 a gig was held at Melbourne's Forum Theatre to celebrate his then 30 years on Triple R, and to raise funds for his medical treatment. The gig featured Nick Cave performing with Dirty Three, Gareth and Dan from The Drones, Dave Graney & The Lurid Yellow Mist, Ron S. Peno, Sand Pebbles, DJ Max Crawdaddy and the Skull Cave All Stars; it sold out in no time.
In 2011 Stephen was the first radio presenter to be inducted into The Age Music Victoria Awards Hall of Fame for his contribution to Melbourne culture.
His on-air presence was something truly special, as so many people in the Triple R community reflected when The Ghost signed off indefinitely from the airwaves in August last year.
Stephen first discovered radio as a teenager in 1960s Ringwood; hearing 'Like a Rolling Stone' by Bob Dylan, for example, was an escape from the suburbs. His career life was storied – starting out as an actor, then becoming a high school drama teacher, then moving to work on farms around the Murray River. He even made jewellery.
He also became involved in many cultural institutions, including The Pram Factory, along with La Mama and Arena theatres. In the '70s, he toured a one-man show to remote, rural schools, and worked with unemployed kids doing street theatre.
But it was later, when he was running a crisis-counselling centre, that he first heard of 3RRR (then 3RMIT). Stephen was living at Menzies Creek in the Dandenongs and signed up – as so many other have – for broadcaster training.
The Ghost's first-ever broadcast was in 1981. He nervously drove to the Fitzroy building (Triple R's former home) for a Graveyard Shift. Years later, Stephen would reflect on this show for an interview with The Age: 'I started off with Cabaret Voltaire's Voice of America album and I finished off with Pere Ubu's Modern Dance album and all the journey that it took in between. So that was the way the twig was already bent back then.'
Shortly thereafter, he became the station's program manager, but continued living in the Dandenongs. Also to The Age, he said: 'I am sure there were people who saw me as a Genghis Khan, this pagan primitive from the hills in the outer suburbs, but it gave me perspective in terms of decision-making for the station. It was like a decompression.'
He hosted multiple shows over the years, including From The Bunker, Survival Talkback and the much-loved Ghost in the Machine, as well as Skull Cave, which at times ran up to four afternoons per week. This hugely successful show featured many incredible interviews, including this longform chat with Patti Smith in 2008.
But that was only part of what The Ghost did. Settling in for three hours of his company is beyond description. Head this way to stream a selection of Stephen's broadcasting.
Beyond his many contributions on air, we'll miss Stephen's wise words, his cheeky ability to shock, his heart-felt support for and interest in all things Triple R, his incredible vision and deeply philosophical nature. We celebrate Stephen's contribution to Triple R, Melbourne underground culture, music and community broadcasting.
It's time for us to plant you now, dig you later – and whatever you do, make sure you take it and trust the energy, 'cause the energy says you'll be deeply missed and forever remembered.
Stephen passed following a short battle with cancer. Our thoughts are with his family at this difficult time.