Deeper Read: Things You (Possibly) Didn't Know About Lucinda Williams
Now lauded as one of the great American songwriters, Lucinda Williams spent the first two decades of her career in the cracks between rock and country music. She recently chatted with Brian Wise on Off the Record, which inspired us to dig up some more fun facts and shed some light on the musician who made Good Souls Better Angels, Triple R's Album of the Week.
WORDS GRACE KINDELLAN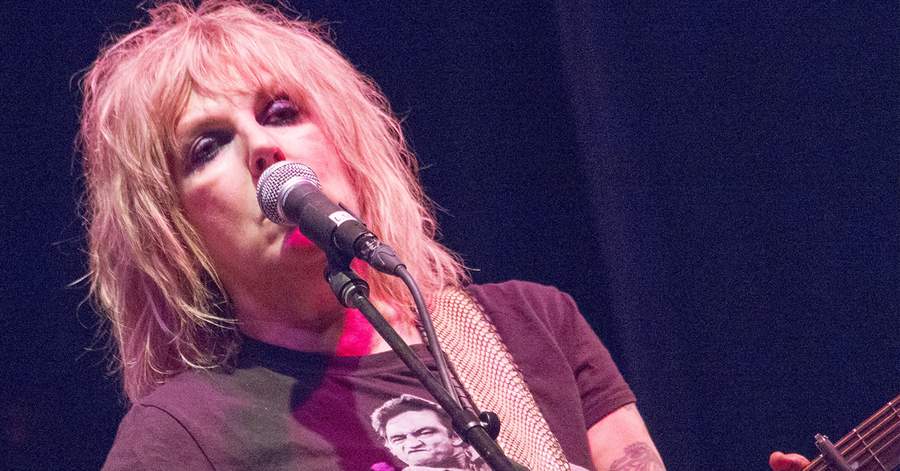 HER MOTHER WAS A CONCERT PIANIST Describing her first musical memory to Transmissions, Williams said, "My mother played piano so there was always a piano around the house [...] The first instrument I ever played was a zither, which belonged to my mother – she'd had it when she was a little girl." Williams' parents split up when she was a kid and her father gained custody, but her mother had a lasting impact – both as a musician and as the kind of character who might wander into one of Williams' songs. Speaking to AV Club, Williams said, "My mother was a musician, although she wasn't able to pursue it in her life professionally because of mental illness, which is something she struggled with her entire adult life. It's something that didn't really show itself until her and my father got married, and my mother was from that era where nobody talked about depression or mental illness. That was the backdrop when I was growing up."
HER FATHER WAS A POET Miller Williams was an acclaimed poet who is best-known for reading his piece "Of History and Hope" at Bill Clinton's 1997 inauguration. Throughout her childhood and teenage years he worked at universities all over the South and always encouraged his daughter's creativity. She recalled, "We'd have writers over and sit around and have drinks. My dad would often read a new poem that he'd just written, and I would sing some songs. That was a fairly regular thing. I got feedback, which is of utmost importance when you're learning. I had this immediate, intelligent audience." They performed together several times, with Miller reading poetry and Lucinda performing her songs, and he was always the first person to read her song lyrics. After his death in 2015, Williams told the ABC, "One of the things he said was never censor yourself as a writer and [do] not be afraid to really dig in, into the dark deep spaces and areas that some people are afraid to look at."
COVERS OF HER SONGS GAINED RECOGNITION BEFORE SHE DID Williams had been playing in folk clubs and making albums for 20 years before she won a Grammy – and it wasn't her voice on the recording. Popular country singer Mary Chapin Carpenter covered Williams's song "Passionate Kisses", which Williams never expected to hear on the conservative country charts because of its frank lyrics about desire. "They seem to have a problem with body parts in Nashville," Williams told Rolling Stone in 1998, adding, "Patty Loveless was also thinking about covering 'Something About What Happens When We Talk', and the powers that be thought the lyrics were too much. There was a line, something about 'going back down South, my only regret is I never kissed your mouth.' Again, the body-part thing. 'Sweat,' 'mouth' – it's just too graphic." Patty Loveless did cover another of Williams' songs though, "The Night's Too Long", which made it onto the US Billboard Hot 100 at number 20. Tom Petty covered "Change the Locks" for the soundtrack of '90s romcom She's The One which starred Cameron Diaz and Jennifer Anniston, bringing Williams to the attention of major record labels.
SHE RECORDED HER BEST-KNOWN ALBUM THREE TIMES IN THREE DIFFERENT CITIES After Wiliams' gained a bit of recognition in the early '90s, she signed a record deal with American Recordings and made the first version of Car Wheels On A Gravel Road in Austin with her long-time collaborator Gurf Morlix. Shortly afterwards country artist Steve Earle invited her to Nashville to record a duet and when she heard it, she recognised the vocal sound she had been searching for… so she re-recorded Car Wheels On A Gravel Road with Earle. Still unhappy with the end-result and under intense pressure from her label to release something, Williams doubled down and moved to LA to record the album for the third and final time with E Street Band keyboard player Roy Bittan, ironically being most happy with the version of the record that sounded the least-produced. During this six year process Williams was constantly described as a "perfectionist", including in this New York Times profile that mentions her "collapsing into a pout" in the studio. In 1998, just before the album's release, Williams told Rolling Stone, "I've been accused of being a demanding perfectionist," adding, "But who cares, even if I am neurotic? The end result is the art. Is Bob Dylan neurotic? Was van Gogh neurotic?" And it was all worth it in the end. Car Wheels On A Gravel Road won a Grammy Award for Best Contemporary Folk Album, went gold and propelled Williams into the ears of thousands of new fans.
GOOD SOULS BETTER ANGELS IS A PROTEST ALBUM Williams grew up listening to the anti-establishment, anti-Vietnam War music of the 1960s, telling NPR, "At the age of 16, I was reading books like Autobiography of Malcolm X and Dick Gregory and going to anti-war demonstrations and handing out SDS [Students for a Democratic Society] leaflets at school, getting kicked out of high school for not saying the pledge of allegiance. So it's always been in my blood." (Miller Williams described himself as "just tickled pink!" when his daughter was suspended for rebelling against authority.) Williams told Brian Wise, "I always wanted to write the kind of songs that Bob Dylan wrote, that he used to do you know back in the '60s, like 'Masters of War' [...] those kinds of songs, "The Times They Are A Changing'" and all that, it was his time to do that." It's her time now and it's not hard to guess which current political leader inspired the tracks "Man Without A Soul" and "You Can't Rule Me" from her latest album. Williams talked to Wise about the conflict between wanting to write about Trump and wanting the songs to be as timeless as the protest songs she was inspired by in the '60s, saying, "I like my songs to be as universal as possible and [...] people can interpret it in different ways. But yeah, right now it kind of hits people, like you know, 'Oh, I know who that's about.' That's what everybody says when they hear it."
THE APOCALYPSE HAS ARRIVED IN NASHVILLE If you think you're having a weird time in isolation, wait till you hear what's been going on in the Williams household. As Williams expressed on Off The Record a few weeks ago, "Tom and I just bought a house here in East Nashville and there was a tornado that came through on Tuesday, and yeah it did a little damage to our house, but not too bad. Some of the roof came off so we have to get a new roof, but yeah it's crazy all the stuff that's going on right now. Between the tornado in Nashville and the elections coming up and coronavirus, everybody's a little bit stressed out right now." Williams later joked on NPR, "I asked my husband Tom [Overby] the other day: 'Are we going to have locusts next?' It's the whole biblical thing; it feels like that."