The Community Cup Is Happening This Sunday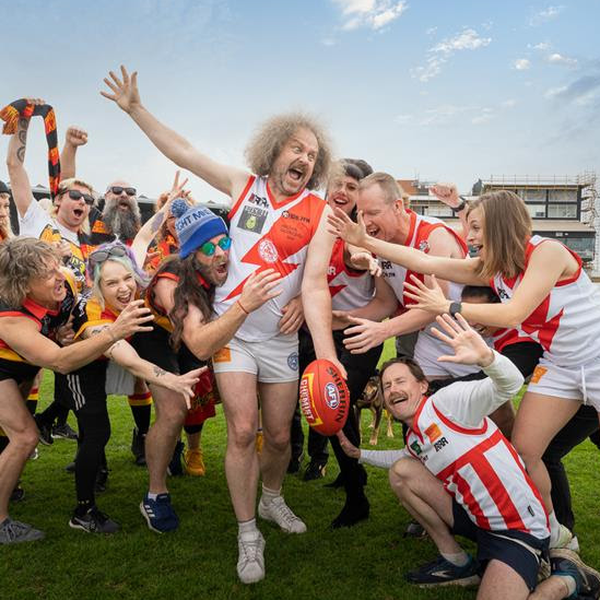 Dust off your Megaz scarf and get ready to rumble because Reclink Community Cup week is upon us!
As we get closer and closer to the return of the greatest event on Melbourne's cultural and sporting calendar, the time has come for team announcements.
After a brutal pre-season The Rockdogs have confirmed their line-up, which includes: Felix Riebl (Cat Empire), Liam Mcgorrie (Ex-Olympian / Dorsal Fins), Gracey Gibson (Blonde Revolver), Henry Jenkins (Karate Boogaloo), and Zoë Fox, Scott Darlow and Bec Goring. Plus a heap more musically-inclined footy lovers turning it up to 11 under the guidance of coach Kylie Auldist and team captains, Fresh Violet and Jimmy Pheonix.
Stepping up for the Megaz will be Breakfasters Daniel Burt, Monique Sebire and Bobby Macumber, Breakfast Spread's Milo Eastwood, Homebrew's Maddy Mac, Respect The Rock's Nicole Tadpole and many more familiar voices all led by the legendary captains-in-funk, Chris Gill and Mzrizk.
If you want to be involved but can't get a kick, Reclink is recruiting volunteers for the cup. They currently need more people to help on the day - especially for afternoon shifts and RSA-qualified volunteers to work the bars. All vols receive a free t-shirt, meal voucher and that warm and fuzzy feeling of having done something good for the community.
Tickets to the 2022 Recklink Community Cup are $25 for adults, $5 for 3-16-year-olds, free for under 3s.
To find out more or to register as a volunteer head here.
2022 RECLINK COMMUNITY CUP MUSIC LINE-UP
Cash Savage and the Last Drinks
Private Function
Parsnip
Auscuma Beats
Izy