Some Broadcaster Top 10s of 2019
A handful of list-loving Triple R broadcasters share their favourite finds from the past 12 months. Dive in to discover venues, films, books and music galore. Oh, and be sure to check back as more lists trickle in over the summer!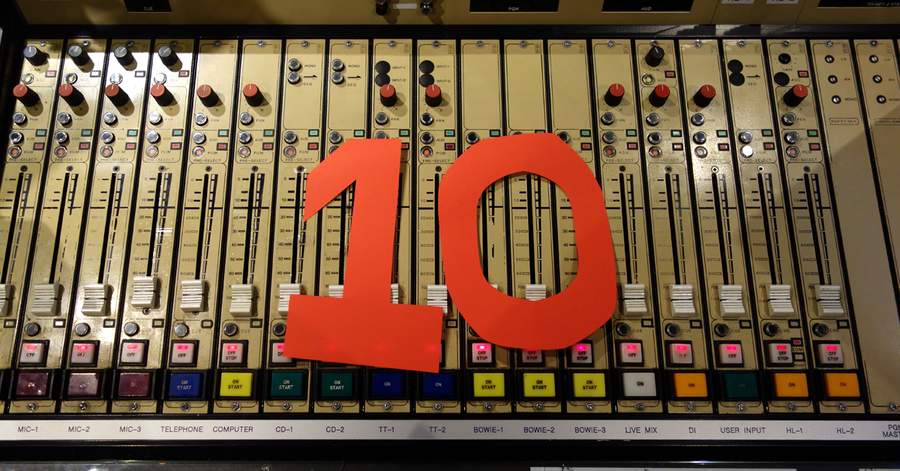 ---
Favourite Releases of the Year from Beat Orgy's Steve Cross
Damon Locks Black Monument Ensemble – Where Future Unfolds
Weyes Blood – Titanic Rising
Sarathy Korwar – More Arriving
Spike Fuck – The Smackwave EP (vinyl edition)
Aldous Harding – Designer
Gena Rose Bruce – Can't Make You Love
Nick and The Bad Seeds – Ghosteen
Moon Duo – Stars Are the Light
Karine Polwart – Women of The World
Danika Smith – Suit of Armour
---
Top 10 Albums of the Year from The Golden Age of Piracy's Tristen Harris
After a great year of releases, getting to a top 10 was tough. I started out with a shortlist of 24 albums, which I then managed to whittle up to 26! So, after much consideration, here's a list that could easily be 50 entries long. These are all records that gave me goosebumps both on the first and then every subsequent listen. It's crystal clear from this list how much my taste has evolved over the last decade; the dude-heavy rock of my youth has been replaced by women making hugely vital music in a number of different genres. And to think there's another year's releases just around the corner. I can't wait.
1. Barrie – Happy to Be Here
2. DIIV – Deceiver
3. Cate Le Bon – Reward
4. Faye Webster – Atlanta Millionaires Club
5. Julia Jacklin – Crushing
6. Ada Lea – what we say in private
7. SASAMI – SASAMI
8. Hand Habits – placeholder
9. Cherry Glazerr – Stuffed & Ready
10. FKA twigs – MAGDALENE
---
Top 10 Spots that Provide Funky, Free Music in Melbourne from Get Down's Chris Gill
Get out of your homes and feel the vibrations in your bones.
SECTION 8
27-29 Tattersalls Ln, Melbourne CBD
This list is in no particular, order but Section 8 would have to be right up there!!! Wow. So much fun. Funky funky funky. Outdoor styles…
THE ROOKS RETURN
201 Brunswick St, Fitzroy
The Wednesdays with THE ROOKIES are insane! Over five years now! DJs and more. Stay Weird.
THE BLACK CAT
252 Brunswick St, Fitzroy
Established in 1984, it's been a home of Freaks in Fitzroy since then. DJs and Funksroy.
THE B.EAST
80 Lygon St, Brunswick East
Burgers and Music. Hosting great Latin, funk and all sorts.
WHITEHART BA
22 Whitehart Ln, Melbourne CBD
An outdoor temple of groove in the heart of the city. Mostly free…
BAR OUSSOU
653 Sydney Rd, Brunswick
A wild, wild north spot with French Senegalese dishes, too! Great live acts – lots of vibe!
WORKSHOP BAR
1/413 Elizabeth St, Melbourne CBD
Always free and funky. On the bass music tip. Hip hop don't stop.
GALAH BAR
216 High St, Windsor
Vinyl selectors keep the platters spinning and the Southside winning…
FERDYDURKE
31 Tattersalls Ln, Melbourne CBD
Next to Section 8, it's small and multi-levelled and witnessed the James Brown vs Fela Kuti battle.
ANGEL BAR
12 Bourke Street, Melbourne CBD
DJs every night. Open till late. Jazzy times in the city.
---
Top Films of 2019 from Plato's Cave's Flick Ford
1. Parasite (dir: Bong Joon-ho): If you haven't already seen this South Korean smash-hit, cancel all plans and make your way to a cinema immediately. This is an immensely entertaining film that is wonderfully underscored by sharp socio-political commentary. 
2. Happy as Lazzaro (dir: Alice Rohrwacher): A philosophical exploration of privilege and worker exploitation through a magic-realist lens. Such a strange but wonderfully moving portrait of resilience and human connection. 
3. Pain and Glory (dir: Pedro Almodovar): A film about sexual desire, failure, addiction, nostalgia and everything in between. Also features Antonia Banderas' best performance of his career. Funny, touching, heartbreaking all at once. 
4. Transit (dir: Christian Petzold): A sexy, existential romance set in 1940s Marseilles but with a contemporary reimagining. Also a beautiful reflection of the liminality of the refugee experience. 
5. The Nightingale (dir: Jennifer Kent): Australian-made, Gothic horror set in 19th century Tasmania. Violent, politically charged horror at it's best. 
6. Portrait of a Lady on Fire (dir: Celine Sciamma): Winner of the Queer Palm at this years Cannes Film Festival, the film is a tender exploration of desire and personal agency. Highly recommend!
7. Burning (dir: Lee Chang-dong): Based on one of Haruki Murakami short stories, this psychological thriller from South Korean director Chang-dong is a wonderfully clever slow burn. 
8. The Clock (dir: Christian Marclay): Technically an art installation rather than a film (and also a 2010 release internationally but screened for the first time in Australia this year). A 24 hour long compilation of a century of cinematic moments perfectly syncing the narrative time with real time. A spectacular ode to cinema.  
9. Us (dir: Jordan Peele) Following up on the amazing success of Get Out, Peele delivers a holiday horror with plenty of politically-charged bite and a killer soundtrack. Starring the always-magnetic Lupita Nyong'o in one of the best dance-horror scenes since Luca Guadagnino's 2018 remake of Suspiria. 
10. Acute Misfortune (dir: Thomas M. Wright): A fascinating study of Australian artist and Archibald Prize Winner Adam Cullen and his biographer Erik Jensen. Based on Jensen's book, Acute Misfortune offers an interesting insight into a deeply troubled man and the complex relationship between memoirist and subject.  
---
Top Films of 2019 from Plato's Cave's Emma Westwood
APOLLO 11
A bonafide marvel of documentary filmmaking and archival assemblage that pitch-perfectly captures the zeitgeist of the Moon landing event, without the need for narration or unnecessary exposition. Weep-worthy.
BURNING
Electrically charged South Korean slow-burner, stunningly directed by Lee Chang-dong that, despite its two-and-a-half hour running time, holds you transfixed until its devastating final moments. Taps into a deep vein of inherent evilness.
THE CLOCK
24 hours of timepiece footage, in real time, from 100 years of cinema around the world screened in ACMI's gallery space – what's not to love? Both a wondrous celebration of screen art and a cunning play on our temporal existence. An experience to lose yourself in.
EIGHTH GRADE
Comedian-musician-poet and now filmmaker, Bo Burnham, jumps out of the gates with this unassuming little stunner that magically captures the awkwardness of being a girl and being 13. Major props to Elsie Fisher who is the heart of the film.
THE GUILTY
A gritty and rollicking Danish thriller, ostensibly taking place in the one room, proves that all you need is a good story and solid performers to make a truly excellent film. Essential viewing for all wannabe filmmakers (and lovers of Nordic Noir).
THE IRISHMAN
Just when you thought you knew what to expect from a Martin Scorsese gangster film, this one comes along. Proof of Scorsese's genius (if there was ever a doubt), as well as his command over tone and performance. Joe Pesci steals the show.
JOHN WICK: CHAPTER THREE – PARABELLUM
The most fun to be had in a cinema in 2019! John Wick's filmic legacy just gets richer, more visceral and more beautiful. Takes fight sequences to even higher balletic standards, and turns horses and books into weaponry. Amazing.
JOKER
Balls-to-the-wall ballsiness – how this film managed to get made, we'll never know. But we should be grateful because we need. All hail Todd Phillips!
MID 90S
Actor Jonah Hill's writing and directing debut is really something else. A skateboarding ride back into the 1990s, with a killer soundtrack by Trent Reznor and Atticus Ross, and magnificent performances from predominantly non-actors that will have you crying with both laughter and pathos.
PARASITE
Filmmaker Bong Joon-ho returns to South Korea (yay!) to deliver this incredible, incendiary comment on class division. Lots of Bong-at-his-best moments – beautifully directed ensemble cast, delicate balance of humour and drama, and a conclusion that will leave you reeling.
LITTLE WOMEN
Another adaptation of Little Women? Forsooth, surely not! But, yes, yes, yes... and so yes! Greta Gerwig's light-as-froth, but strong as steel, retelling of Louisa May Alcott's classic tale of feminism sucks you in and then spits you out in a cloud of fairy floss, angel dust and Saoirse Ronan. Pure storytelling gold.
---
Biggsy's Favourite Non-Fiction Finds of 2019
These are some of my favourite non-fiction books of the last 12 months. Not that they are necessarily new releases. What with the treats Kerrie Window kindly leaves for me and my addictive opp-shop rummaging, the whens and wheres are a bit shaky, but the what and whos are as follows:
Zucked by Roger Mcnamee
The Song Factory-Inside The Hit Machine by John Seabrook
We Killed-The Rise of Women In American Comedy by Yael Kohen
Twilight Of The Money Gods by John Rapley
A Carlin Home Companion-Growing Up With George by Kelly Carlin
Clothes Clothes Clothes, Music Music Music, Boys Boys Boys by Viv Albertine
Practice by Guy Rundle
The Naked Jape by Jimmy Carr and Lucy Greaves
Detroit 67 The Year That Changed Soul by Stuart Cosgrove
Trigger Warnings by Jeff Sparrow
Now, for those of you whose attention span is longer than a goldfish's, go and read something longer than a goddam tweet!
---
2019 International Pop Underground 10 by Anthony Carew
Oh hai here's some LPs that I loved dearly from 2019. Records full of vital music and vivid sentiment. Records that toss around big ideas and big feelings, connecting the personal to greater forces. And, in an era of the loosely-assembled LP-as-streaming-pandering-playlist, they're all album-like albums, too; whole, cogent, individual works. Bless them all.
Georgia Spain, Trouble Isn't Something You Can Hold
Recorded largely live in a studio just outside Castlemaine, this way-overlooked local songwriter's magnetic debut is an astonishing collection of (sad) songs, in which Spain interrogates both herself and the society around her. Here, there's connections drawn between personal and national history, and personal and national tragedy; emotions ribboning across the centuries as Spain processes loss in a (stolen) country founded on loss.
The Matthew Herbert Big Band, The State Between Us
Billed on its cover-art as the work of 'The Matthew Herbert United Kingdom And Gibraltar European Union Membership Referendum Big Band', this is a grand, double-album elegy for Brexit; a suite of conceptually-rich compositions exploring notions of nationhood, statelessness, migration, and Englishness.
Justin Hopper & Sharron Kraus with The Belbury Poly, Chanctonbury Rings
A fonder vision of England —haunted and strange and spooky, blurring time and history and memory— comes with Hopper's suite of story-songs, riffing on his book Old Weird Albion amidst music informed by both folk traditionals and Ghost Box hauntology. "This landscape remembers," Hopper says, on opening. "It remembers every footfall and wheel-roll, and bears each of these as lines on its face."
Holly Herndon, PROTO
Just listen to Holly Herndon talk and it's clear how much she loves big ideas. Her fourth album was made in collaboration with an AI; Herndon juxtaposing the post-human with the ancient and traditional, the record less defined by jittery electronics (as heard on 2015's Platform, her study on digital-era surveillance), and more by singing in harmony.
Káryyn, The Quanta Series
The Syrian-American composer's long-brewing debut album flows like a strong current, a riptide pulling you through a slippery, spectral songs about storytelling, memory, grief. With its experimental electronics, syncopated meters, and waves of reverbed-to-the-hilt vocals, at times it resembles a mutant R&B record, like a sibling to FKA twigs or Arca. But it's an album too singular, even too unsettling, to lure casual streamers.
Fire! Orchestra, Arrival
The ever-evolving Swedish jazz collective —here at 14 humans, with brass and strings and piano and the voices of Mariam (The Believer) Wallentin and Sofia Jernberg— made an album of exploded torch-songs for the end of days; all existential emotions, elemental imagery, and wounded humanity.
Lingua Ignota, Caligula
Billed, memorably, as an "outsider's opera", Kristin Hayter's third Lingua Ignota LP is a grand symphony of emotional wreckage and triumphant catharsis; its musical palette a potent brew of liturgical hymn, classical composition, freak-folk, black-metal, and samples of Lars Ulrich.
Lana del Rey, Norman Fucking Rockwell!
At the end of the decade, at the end of the world, here's Lana, standing alone; no longer some maligned music-biz-plant 'it girl', but something akin to pop-music's great Romantic poet. Here, her vision of California is still steeped in Hollywood history and evangelical-American self-branding mythology, but it's also turned into a sure symbol of the imminent climate apocalypse: decadent, overcrowded, hot, dry, and literally on fire.
Purple Mountains, Purple Mountains
After years of fictional storytelling and genuine (Actual Air) poetry, David Berman turned his keen eye upon himself. So spun his first LP as Purple Mountains; a record that turned out to be his last, as Berman took his life shortly after its release. A portrait —at once unflattering, ridiculous, and glorious— of a man dealing with divorce, self-sabotage, and the nightmare of contemporary America, it's a rollicking, profound, absurdly funny, and deeply-sad swansong for a true cult hero.
Julia Jacklin, Crushing
An instant-classic breakup album in which a trail of memories, grieving for both a lost relationship and a dead friend, meet a newfound status as single and forever travelling; a defiant sense-of-self found by reclaiming (or just claiming) one's body as one's own. Also the tunes are great. Julia is a national treasure.
---
10 things to give us hope by Toby Halligan
HOW GOOD WAS 2019? It didn't feel good in Australia, the UK, or America, but overall things have actually been getting much better for most humans. This is probably one of the best times to be a human in history as technological advances and economic growth drag billions out of poverty. There are obviously massive problems, and existential threats like climate change. But if you're in the developing world in particular things have generally gotten better. Here's how:

1. There are fewer people living in extreme poverty than ever before
Extreme poverty (living on less than $1.90 a day) means lacking basic human needs (water, food, shelter, education, light, healthcare, sanitation). In 1990 1.9 billion people lived in extreme poverty (36% of humanity). In 2018 it was 610 million (less than 8.6%). That's still too many, but that's an astonishing improvement. 

2. The lives of children are overwhelmingly better
Save the Children's 2019 Global Childhood Report found that in the last 20 years, children's lives have improved in 173 out of 176 countries. Compared to 2000, today there are: 
- 4.4 million fewer child deaths per year 
- 49 million fewer stunted children
- 130 million more children in school
- 94 million fewer child labourers
- 11 million fewer girls forced into marriage or married early 
- 3 million fewer teen births per year
- 12,000 fewer child homicides per year

3. The lives of women are getting better
A report from the World Bank studying 187 countries found that a decade ago, no country enshrined gender equality in the law. 
Now six do, and globally there have been major steps forward in reducing inequality between men and women.

4. We're living longer
A child born in 2000 would on average live to 66.5 years. 
A child born in 2016 can expect to live to 72.

5. The world is embracing renewables and acting on climate change
Scomo may not be but the rest of the world is. 
One massive milestone was passed this year - new wind and solar energy plants dropped below the cost of keeping existing nuclear and coal plants running. 
That guarantees the world is going to move to renewables. The question is how quickly? Here is what some important organisations decided to do this year:
The European Investment Bank, the world's largest multi-lateral financial institution, has agreed to no longer finance fossil fuels and has committed to investing half its entire annual outlay to climate change and sustainability. 
The world's largest car supplier Bosch will be fully carbon neutral by 2020, it's the first major industrial company to do so.
The world's biggest retailer, Amazon, is aiming to be 100% renewable by 2030 and carbon neutral by 2040

6. The world is becoming more tolerant to LGBTIQ+ folk

The World Health Organisation removed transgender from its list of disorders and a range of countries (and states, including Victoria in Australia) passed laws making it easier for trans people to change their birth certificates. 
A survey of 167 countries also found that tolerance towards LGBTIQA+ people has risen around the world.


7. We're curing and saving lives from killer diseases
To take just a few examples:
Fewer children die of pneumonia (in 1990 it was 6,410 per day, in 2017 it was 2,216 per day)
Algeria and Argentina eliminated malaria this year, and infections in China and SE Asia dropped by 75% and deaths fell by 95%. Indian had 2.6 million fewer cases in 2018 than in 2017. 
Between 2000 and 2018, the global incidence of measles fell by two-thirds, and more than 23 million lives were saved by the measles vaccine.

8. Half a billion people in India now have a place to poop
Sanitation saves lives and India's drive to build 90 million toilets over the past five years means half a billion people no longer need to poop in the open. That'll save millions of lives. 

9. Humpback whales are back
Obviously not everything is about people, there's been a range of news around national parks being founded (including massive parks in China and the USA) and species being brought back from the brink. Just one example: once close to extinction humpback whale numbers have now bounced back to their pre-whaling levels. Scientists reckon there's now around 25,000 of them. 

10. The world actually has MORE green cover than in the 1990s
According to a twenty year study from NASA ambitious tree planting programs in China and India mean that on average total green cover of the Earth's surface is increasing by 2 million square miles per year. 
The world's forests still need protection but it just shows that here's hope!