Reasons to Check out Fontaines D.C., the Poetry-Inspired Irish Punk-Rock Band Behind Triple R's Album of the Week
By Triple R volunteer writer Katherine Smyrk
Grian Chatten's broad Irish accent is the first thing I noticed when listening to the opening track of Fontaines D.C.'s debut album, Dogrel. 'Big' opens with a bang ­– it's fast, fun punk-rock that lasts for less than two minutes. Grian speak-sings the chorus: 'My childhood was small/But I'm gonna be big.'
The words are so thick with brogue that at first I think he's saying his childhood was 'smile' and think, Oh, that's nice. But very quickly, it's clear that Fontaines D.C. are unabashedly Irish. The D.C. at the end of their name stands for Dublin City (although this was only added after they realised there was already an LA band called Fontaines). The first lines of 'Big' are: 'Dublin in the rain is mine/A pregnant city with a Catholic mind.'
'I think a lot of our music sounds, to me, like buses and trains and just hordes of people on particular streets in Dublin,' Grian told The Guardian.
Even the way the band formed is so beautifully Irish. The five men – Grian, along with Carlos O'Connell, Tom Coll, Conor Curley and Conor Deegan (yes, there are two Conor's) – met at university in Dublin, where they were studying music. They started going out for drinks after class, and sharing poetry. First up was a mutual love of Jack Kerouac and other Beat writers, and they quickly added Yeats, Lorca and James Joyce. The five of them even wrote some poetry together – two small volumes, Vroom and The Winding. It was only then they decided to form a band. And since their first single 'Liberty Belle' was released at the start of 2017, they have exploded onto the indie-punk-garage-rock music scene.
'We're all from the back-arse of nowhere in Ireland,' Grian says, 'and next thing you know we're playing places like fuckin' San Francisco. That's mental.'
Dogrel was an easy pick for our Album of the Week, with its energy and heart so apparent from the opening bars. Although Fontaines D.C. has said they originally aimed to be a kind of 'punk Beatles', they were heavily influenced by Dublin powerhouse Girl Band and The Pogues' 1984 debut album Red Roses for Me.
The name Dogrel is also a nod to their working-class Irish roots. It's a term used, mostly negatively, to describe a type of poetry once popular in Ireland.
'It was like pub poetry,' guitarist Carlos O'Connell explained to Stereogum. 'Quite working class. We felt like that aspect of poetry, which was free verse and not high-brow, that resonated with what we were doing, having the poetic influence but also being a rock 'n' roll band.'
Alongside the taut drums and driving guitars, there is a poetry that sings through every track. In 'Boys in the Better Land', Grian refers to someone 'with a face like sin and a heart like a James Joyce novel'. In 'Chequeless Reckless' he looks straight down the camera and recites: 'A sell-out is someone who becomes a hypocrite in the name of money/ An idiot is someone who lets their education do all of their thinking/A phony is someone who demands respect for the principles they effect/A dilettante is someone who can't tell the difference between fashion and style.'
That romantic Irish poetry comes through strongest in the album's closer, almost-ballad 'Dublin City Sky, which conjures images of kissing your girl in a rainy city street.
As Grian explained to Stereogum: 'If you wanna learn about life through the eyes of a romantic cynic, go to any bar in Dublin. There's so much poetry innately in the colloquialisms of people in Ireland. You don't really have to strive to speak poetically if you're speaking in the Dublin lingo.'
But it's not all softly falling rain on emerald fields. There's a grittiness to the music, the disaffected energy of garage rock reflecting the rough side of their home: 'a cabbie pisses on the wheel of his own car', 'the breeze in the night time would kill you stone dead' or 'that ready-steady violence'.
Even as they catalogue the many sides of the city they love, they acknowledge how quickly it is all changing, and mourn what has already been lost.
'We fell in love with it at a time when it's becoming extremely gentrified and the culture's on its last legs,' Grian told Stereogum. 'There's no more romantic time to fall in love with something than right before its death.'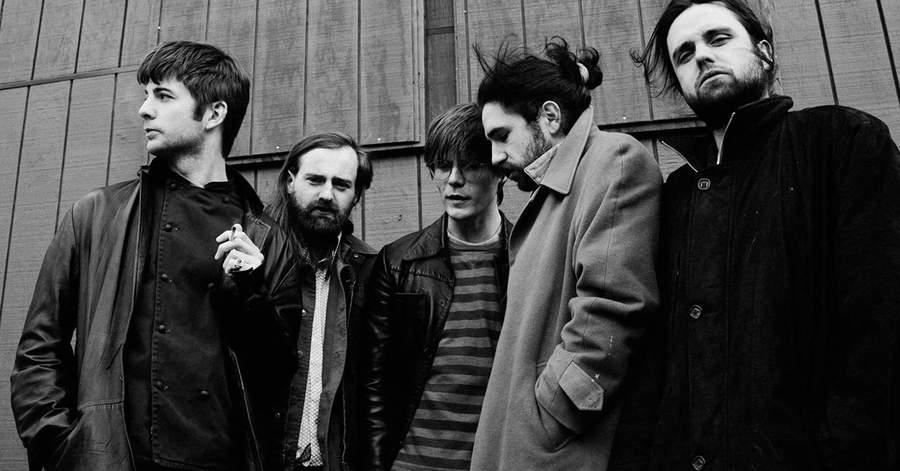 In that way, it feels like an album that really captures how a lot of young people around the world are feeling. As Paste Magazine said about the album: 'Dogrel encapsulates the hope and entrapment that anyone with at least an ounce of awareness feels – and particularly millennials who have their whole lives ahead of them, but have to live in a world built by previous generations who ran amok without any consideration of consequences.'
It's an album of contradictions: brash and loud; tender and romantic; at once Irish trad and post-punk. It feels honest, a little raw, the creation of a group of young men trying to figure out their way in a strange new world.
'The whole thing is essentially an experiment in authenticity,' Grian told NME. 'If it ever falls short of being authentic, that's it – we'll kill it dead.'
Best get onto them quickly, then.
---
Katherine Smyrk is a Melbourne-based writer of fiction and non-fiction, and the Deputy Editor of The Big Issue. When she's not reading or writing, she is usually eating cheese, playing footy or dancing to Beyoncé. Find her on Twitter.