Read an Extract of Nine Parts Water, One Part Sand: Kim Salmon and the Formula for Grunge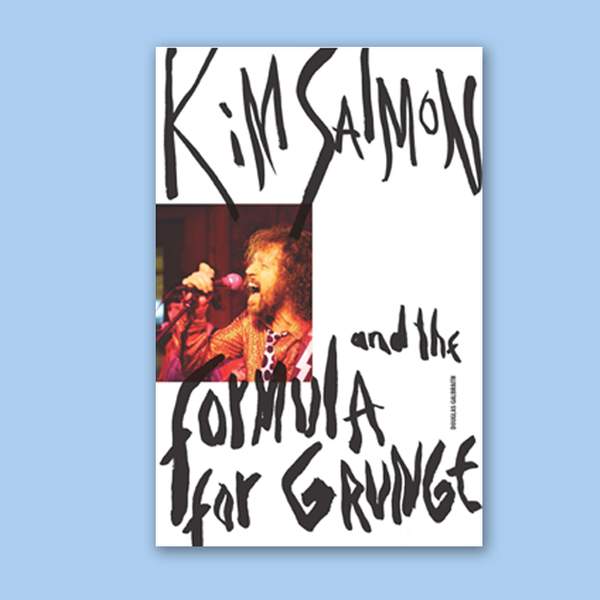 Curious about the new Kim Salmon biography? Have a cheeky squiz at an extract ahead of our in conversation event with Kim, the local grunge pioneer, this Wednesday. This section of the book explores Kim's post-art school experience, trying to find a band.
By Douglas Galbraith
Free from art school, Kim attempted to enter conventional society by getting miserable, ill-fitting jobs in hospitals and banks. It was an uncomfortable accord. 'I just thought fuck this, I'm going to get into a band. I don't care what band it is, even if it's playing music I hate, at least I'll be playing music. If I'm going to make a living from music, that's what I should be doing.'
So he auditioned. For anything. But a mountain of cold calls to prospective cover bands didn't land him a gig. 'I just didn't have the right sound.' It wasn't until Joy answered the phone to a Fremantle bandleader John Farley that things looked up. John was singer, bass player and band leader of Troubled Waters, a covers outfit that played '50/50' — a repertoire of half hits, half 'oldies' — and on Joy's recommendation he invited Kim for an audition.
At the first jam, Kim was taken through Walking the Dog, Honky Tonk Woman, Your Cheatin Heart and a Decker song called The Israelites, songs he'd heard once or twice at best, but played well straight away. John said, 'Okay, we have a gig tonight, you're in. We play three sets a night from 11pm to 3am, six nights a week. And we don't play any heavy music, so no Smoke on the Water or Black Magic Woman.' Kim was in Troubled Waters.
That night he arrived at the venue, the Tarantella Tavern in Fremantle. Prickly with pre-gig nerves, Kim swiftly collided with the drinks menu and kept a safe distance from his new band mates. At show time, he stepped gingerly onto the sweaty, slightly too small stage of the Tarantella Tavern with John's advice fresh in his ears — 'If you don't know the song just turn your amp down.' Amid the darkness, smoke haze and low, shady murmuring of the Tavern's interior, Kim plugged his guitar into the small amp leaning against the dirty wall. Years later, he would capture his time at the Tarantella Tavern in the song Shine:
I look out across to the bar, as I hide behind my guitar
Given up on all that lies in between
Anyone who's worked this kinda shit pit is gonna know what I mean
The band got underway, punching out a sharp version of the Beatles Birthday, which, it turned out, bookended every single Troubled Waters set. The set list of curiously combined hits and oddities washed out onto the Tavern's only vaguely interested audience. As Kim and the other guitarist traded guitar duties, John sang raspy tenor with a cockney accent.
And the singer is crooning at some age-old song
Its meaning obliterated in time, but his voice is still strong
Though somewhat off key it kind of falls on deaf ears
This is the kinda place that could rise to anyone's fears
A refugee from the London Beat scene, John regaled the band with tall tales of his encounters with Charlie Watts and Mick Jagger and unveiled the old tricks of early 60s R&B music. John respected the grimy atmosphere and dangerous potential of the Tavern. His ethos was simple: work hard, always take requests and keep out of trouble.
But I've grown used to it and its denizens of the night
Learned how to keep my trap shut and stay out of fights
Only two songs til the end of the set
Johnny B Goode can sound a good deal better yet
---
Nine Parts Water, One Part Sand: Kim Salmon and the Formula for Grunge is available for pre-order through Melbourne Books. Tune in to The Australian Mood this week to hear Neil Rogers in conversation with Kim Salmon live for subscribers in the Triple R Performance Space.