Meet your new Breakfasters team for 2023!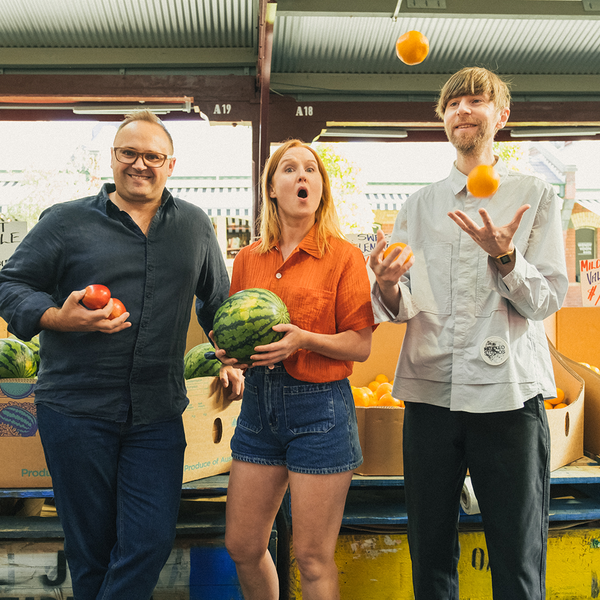 We're super excited to announce that next Monday 30 January, joining the amazing Daniel Burt as co-hosts on Breakfasters this year are Nat Harris and Simon Winkler!
You might already recognise Nat's voice on the airwaves – she's been a regular 'Friday Funnybugger' on Breakfasters since 2017, and she often fills in on the program too. Additionally, Nat is a much loved Megahertz player!
Aside from her contributions to Triple R, Nat is an accomplished stand-up comedian, known for her solo work as well as her collaborations with Hannah Camilleri. Together, their sketch comedy show won the prestigious Golden Gibbo Award at the 2021 Melbourne International Comedy Festival.
Nat replaces Bobby Macumber, who wrapped up on Breakfasters at the end of last year in order to move to her wife's home town of Adelaide.
Triple R friends and fans will also be very familiar with Simon Winkler! He has been our trusted Music Coordinator as well as the host of Thursday drive program Breaking and Entering with Lauren Taylor, since early 2008.
Simon joins Daniel and Nat while Mon Sebire is busy with her new bub on parental leave. Congrats, by the way, to Mon and her husband Will on the arrival of little Rudi recently - woo hoo! Mon will return to Breakfasters later this year.
Lauren Taylor will continue to hold down Breaking and Entering solo whilst Simon is doing Breakfasters.
We're thrilled for Nat and Simon to be joining Daniel, and look forward to tuning in on Monday 30 January from 6am for their first broadcast together. Welcome and good morning!