Deeper Read: Meet Triple R's Radiothon 2021 Artist Carolyn Hawkins
"I wanted to create something that would lift people's spirits." Discover what inspired Carolyn Hawkins' artwork for this year's Radiothon – and how playing in bands, such as Parsnip, School Damage and Chook Race, has influenced her illustration style.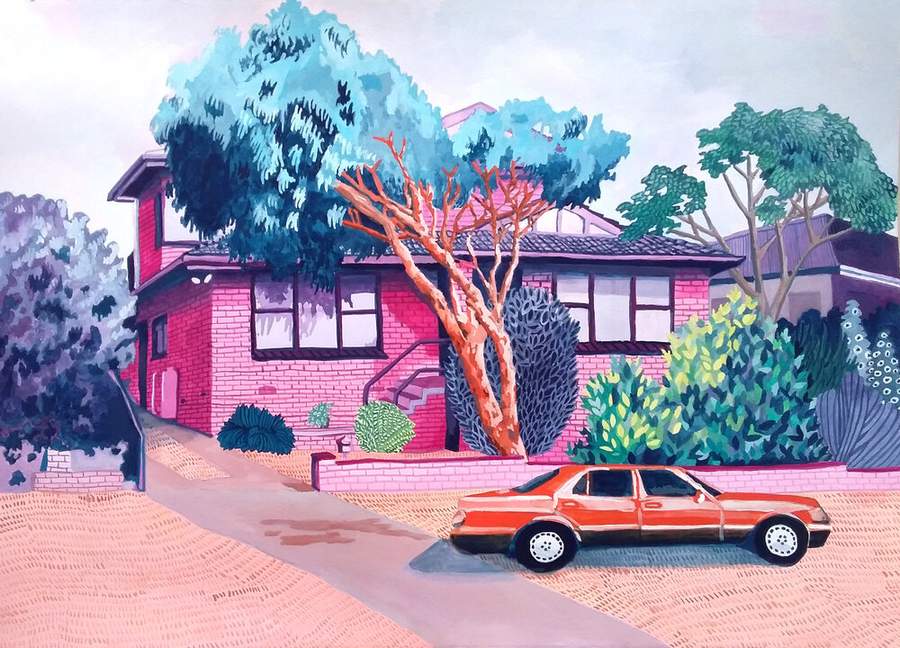 INTERVIEW KAYLEY LANGDON
Radiothon 2021 artist Carolyn Hawkins is embedded throughout the Melbourne creative community both in visual art and music. Whether you have seen her play throughout the years in bands Parsnip, School Damage and Chook Race, or have stumbled across her work on a gig poster or record sleeve, Carolyn continues to inspire and exude thoughtful and relatable work across an array of different mediums.
You're a consistently active member of the Melbourne creative community through both music and visual art. Are you originally from Melbourne? And how does the place you live influence the art you make? I've lived in Melbourne all my life. I have fond memories of going to in-stores at Missing Link, seeking out street art in the city, [and] going to exhibitions at the NGV. As a teenager, these things were all super-exciting and gave me a glimpse into other possible worlds that I so badly wanted to be a part of. I am lucky to have grown up in a place full of people who are so passionate about the arts, and who constantly inspire me. My life would probably look a lot different if I didn't have so many opportunities to stumble upon cool things that inevitably led me further down this creative rabbit hole.
What first inspired you to practice visual art and then continue to pursue it? I've always liked using my hands to make things and play around with ideas visually. There has also never been anything else that has sustained my interest or given me the same level of satisfaction, except maybe music. Sometimes I wonder what things would be like if I had tried to follow something else – who knows! But right now, making "art", in whatever form that takes, is what makes me happiest.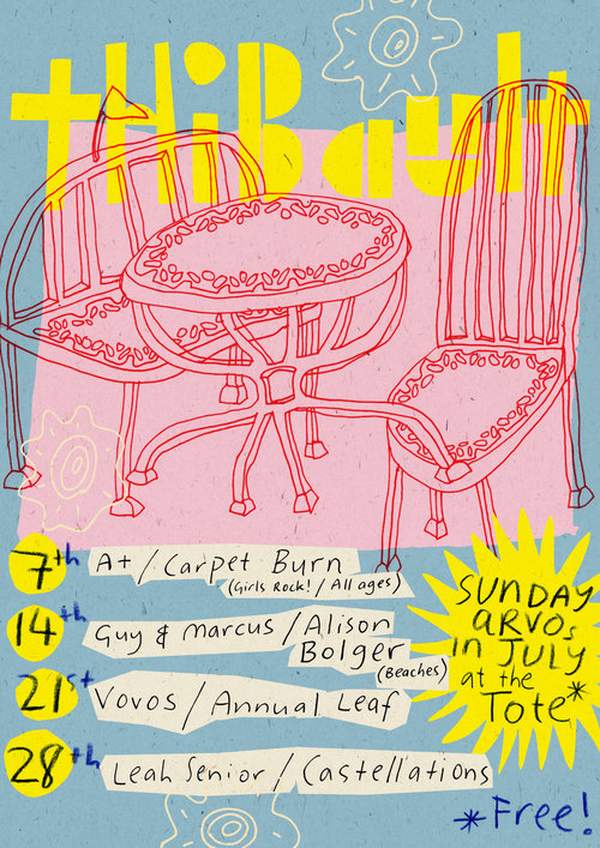 In your work I often notice depictions of objects or images of the "everyday". In your mind, what are common themes you feel yourself engaging with or coming back to in your work? Are there themes you would like to explore more? Yes, it's true, I always come back to my immediate environment. At the end of the day, I just try to be honest in my work, so I tend to turn to what I know and my own experience – and sometimes other people connect with that, too, which is a nice feeling. I definitely need to push myself to go beyond my own little world and look at the bigger picture – but often I just tend to go with what I'm feeling on the day.
You have a creative style that is recognisable as uniquely yours, yet varies enough from piece to piece to continue being new and refreshing. How has your work evolved over time and how do you continue to grow in your art? Oh, thanks. I really worry that my work is all over the place – as if a lack of consistency reflects some personal failure of identity. So it's nice to hear that other people can see some thread of recognisability running through it all. Not sure how it evolved really… I started out doing printmaking at art school, which taught me a lot of technical skills and how to develop a creative process, but it also stressed me out a lot. The more involved I got in music, the more illustration I was doing for my own bands or friends' bands. That gradually branched out into graphic design, animation, zines and other things. So it's a journey and I'm always jumping back and forth between everything.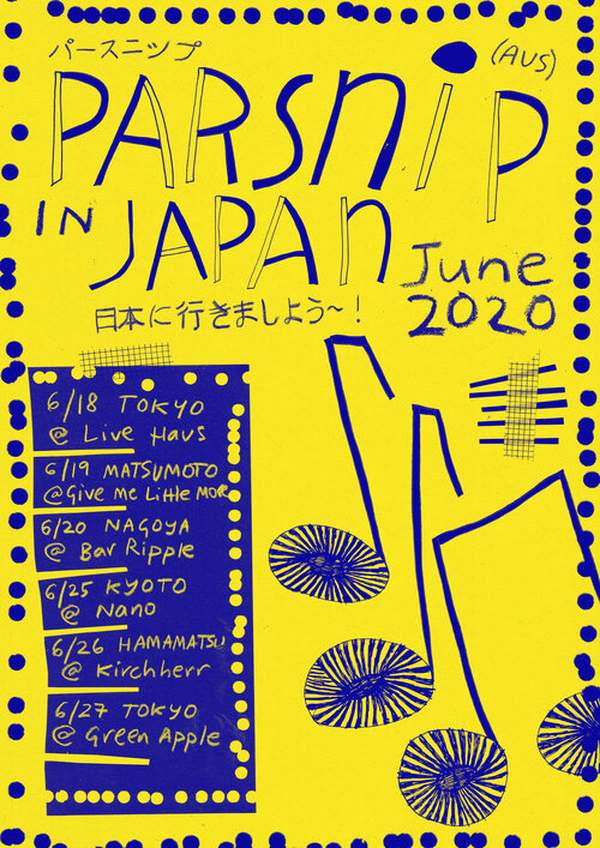 Can you think of any catalysts or events that changed your journey as an artist? Being involved in music had a big impact – finding a supportive creative community has given me so many opportunities to work on exciting projects: gig posters, t-shirts, album covers, etc. I always felt like I could have way more fun with these projects and experiment with different ways of making images – especially for things like gig posters where they only circulate for a few weeks and then they're done. Because of this, I think I developed a healthier relationship with making art and learned to let go a bit.
Where do you work from and what keeps you motivated? At the moment, I work from my room. I'd love to have a studio, but right now this is the best set-up. Motivation can be difficult during lockdown, but some things I find that help are: putting on '60s garage or some ABBA to get moving, sharing dumb TikTok videos with friends when I'm feeling down, going walks in Darebin Parklands to get away from the screen, writing lots of to-do lists, and not beating myself up when none of these things work to make me feel better.
What comes first for you: music or visual art? How does making music influence making visual art and vice versa? I like both for different reasons, and they each feed into the other in strange ways, but I don't know if one is more important than the other to me. I always think about music as being something that is done in collaboration, whereas art is more of a solo pursuit for me. I love the unexpected results and often hilarious chaos that comes from playing in a band, but when I'm in my studio that's when I can have control and be alone in my own creative realm.
Do you approach a gig poster or album cover differently when it is for one of your own bands? I guess there's more fuel to add to the fire, so to speak, when I'm generating ideas for my own bands' artwork as I'm more familiar with where the music came from, but my general approach is the same. I just want it to look cool.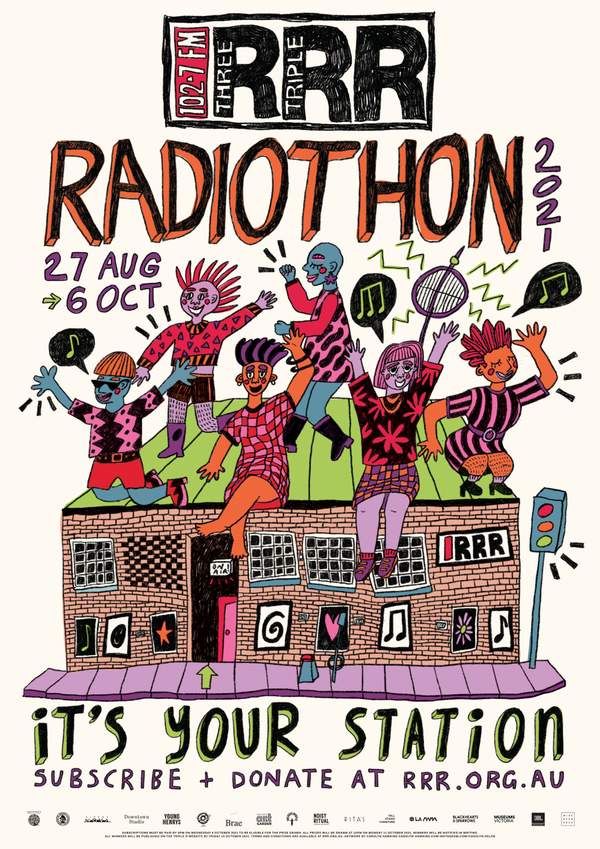 To date, what is your proudest moment or achievement in your art? The Radiothon artwork is pretty up there, having grown up seeing such great artwork every year for the event. I think I almost cried the first time I saw one of the big posters up on a wall in the real world.
Prior to your Radiothon 2021 artwork, did you have a connection with the Triple R community and station? What does the station mean to you? I definitely have a big place in my heart for RRR. I've been listening to the station since I was a teenager and it has turned me on to so much incredible music. I used to listen to Noise In My Head every Sunday night while I was doing my homework, writing down the songs as they were back-announced. I still do that now, a chronic list-writer. When I started playing in bands, it was such a thrill to hear songs by friends' bands on the radio, and then my own bands, too – it's a nice feeling to know that you're part of a larger community. Right now with the pandemic, community radio is holding it all together – a communication channel for all kinds of weird and wonderful things straight to us all sitting at home. It's definitely comforting and makes things feel less lonely.
How did you come up with the illustration? Were there many drafts or other avenues you considered going down? I wanted to create something that would lift people's spirits during this god awful pandemic, maybe something that would brighten people's days when they went on their daily walk. I just started thinking about what I'd really love to be doing right now: getting dressed up, seeing all my friends, and having a boogie. Hopefully we can do some of these things in real life soon.
---
Triple R's Radiothon is on now and ends at 5pm Wednesday 6 October. Subscribe and donate to support Triple R, Your Station, during Radiothon. Check out more of Carolyn's work via carolyn-hawkins.com and @carolyn.helen on Instagram.
Love this year's artwork? You can spoil yourself (or a Triple R-loving mate) with a whole bunch of merch featuring Carolyn's Radiothon illustration. There's an adult tee, a kids' tee, a tote bag, and even a tea towel available.