How a Traditional Matrilineal Society Inspired Tiana Khasi's Debut EP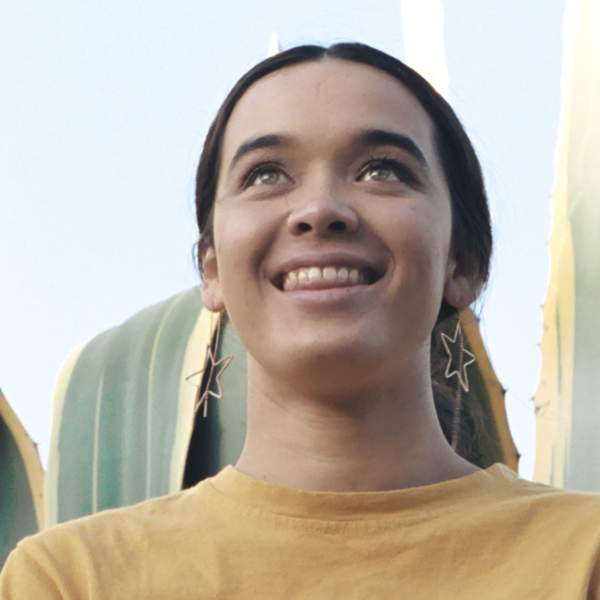 By Triple R volunteer writer Katherine Smyrk
In the north-eastern corner of India lies a state called Meghalaya, which translates to 'home of the clouds'.
It's a lush, verdant part of the world – it gets the most rain of anywhere in India. It's also the home of the Khasi community. The Khasi, who number about one million, are a stridently matrilineal society: the youngest daughter of the family inherits all property; men live in their mother-in-law's house after marriage; children take their mother's surname; having children out of wedlock is not stigmatised; and many women choose not to marry.
Meghalaya is also the title of the new EP from Brisbane-based future-soul artist Tiana Khasi. Her great-grandmother was a Khasi woman, and Tiana's music (and stagename) is directly inspired by that heritage. She is also influenced by her Samoan roots, from the other side of the family, who played a lot of RnB, soul and gospel, as well as more traditional music. Her Anglo-Indian grandmother introduced her to jazz.
'My family and heritage is super-important to me and is a constant muse for my art,' Tiana told Purple Sneakers. 'You can't deny your bloodlines, so when I feel stuck with creative ideas I usually turn to my family heritage for inspiration. The Khasis are a bit of a social phenomenon so I'm proud to come from a lineage of strong, mystic women. Most of the tracks on the upcoming EP have some direct or implicit references to my family and cultural values.'
Tiana also plays in the seven-piece, hip hop/jazz band The Astro Travellers, and has featured on tracks by The Kite String Tangle, Golden Vessel and Sampology. But now she's released her own record, an enchanting mix of jazz and soul, with a dreamy electronic undercurrent.
'The music is just as eclectic as my heritage, with the added influence of having studied jazz,' Tiana told Pilerats. 'My love of jazz, soul and experimental music acts as a common denominator in each song.'
The captivating tracks on Meghalaya have a boldness to them that perfectly fits her powerful heritage, all delivered in the flawless voice that Happy Mag says is 'as venomous as it is sweet'.
Her debut single 'Nuketown' is an ethereal and at times ominous song, accompanied by a lush video directed by Jake Löfvén. It starts off with the line, How could you think / You could cross me twice? It mellows out when she sings, Let's talk / Whenever you're ready, but then comes back with a punch as she casually adds, Prepare for your demise.
Then there's the defiant song 'They Call Me', which Tiana says is meant to challenge the way that women are so often, and so problematically, depicted in history and literature.
'It's also a tribute to the fierce women whose rebellion, fire and strength inspire me, especially my Tinā ole Tinā (Nana),' she says. 'I wanted this song to become an anthem for myself and other women to abandon shame, reclaim and redefine the names they have been given and be the authors of their own story.'
And let's not forget the gusty 'Georgia's Track', a song about infidelity that asks – with silky vocals and smooth jazz/ R'n'B rhythms – Who the fuck is Georgia? Her performance of this track live at Alchemix recording studio in Brisbane was shared widely online, probably by every person who's ever had a shitty ex.
The musician says she has a new Astro Travellers album coming out she is very proud of, but also wants to really amplify her solo work.
'I never wanted to have a career riding off someone else's tail coat and just being "that feature chick",' she told Purple Sneakers. 'It is daunting at times. I've had to be vulnerable and tell my story for the first time and take complete ownership of the sound and momentum of the project… Having my own outlet has been empowering above anything else!'
---
Subscribers: fancy seeing Tiana Khasi live? You might like to go in the draw to catch her live set during our Winter Warmers series. Tiana will take to the Performance Space stage, here at Triple R, at 1pm on Friday 21 June during Stylin'. Email tianakhasi@rrr.org.au with your full name and subscriber number in the subject line by Tuesday 18 June for the chance to be part of the audience.
---
Katherine Smyrk is a Melbourne-based writer of fiction and non-fiction, and the Deputy Editor of The Big Issue. When she's not reading or writing, she is usually eating cheese, playing footy or dancing to Beyoncé. Find her on Twitter.