Treat Yourself to an In-Depth Exploration of Melbourne's Feminist Punk History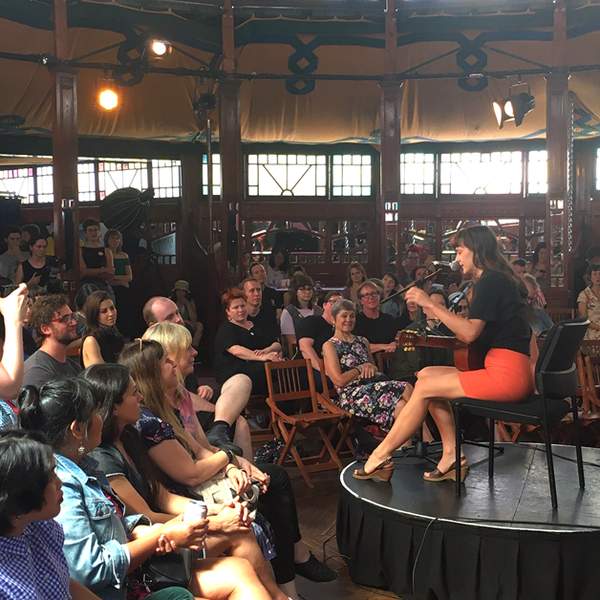 Something pretty cool went down here in Melbourne recently (on Saturday 12 January 2019, to be precise). It was called 'Rah! Rah!', and it was a feminist punk retrospective of the last 30 years of female, femme and non-binary sounds from this city – from The Wet Ones to Wetfest.
Presented by Sonic aGender (a feminist music events collective), 'Rah! Rah!' brought together music artists, thinkers and producers for a day of talks panels and intimate performances at The Speigeltent, before stepping next door for a dirty rock show at The Tote.
It was curated by Janelle Johnstone as part of a PhD research project at La Trobe Uni, and MC'd by Linda J, of The Dacios and Little Ugly Girls fame.
'Rah! Rah!' was multi-generational, connecting current women and non-binary artists with their history. The speakers explored age, class and ethnicity with intersections of gender.
The aim? To cement a legacy specific to Melbourne that detours the gendered bias that dominates public music discourse.
We were chuffed to be able to broadcast three of the day's panels during International Women's Day 2019 on the Triple R airwaves. Missed them? No stress. You can stream them all at your leisure right here:
A winding discussion charting the past 30 years of Melbourne music through a distinctly feminist lens. Hosted by Erica Dunn and featuring panellists Susan World, Clare Moore, Penny Ikinger, Dr Kathy Sport and Mara Williams.
This panel is a foray into what's happened in Melbourne when crew have created gendered spaces within punk and rock scenes. Hosted by Grace Kindellin and featuring panellists Shannon Driscoll, Sarah Thompson, Dale Derekshwaser and Sarah Blaby.
A conversation that dives into people's creative process to flesh out relationships between gender and genre performance. Hosted by Dr Lisa MacKinney and featuring panellists Katie Dixon, Sarah Hardiman, Laura MacFarlane, Alison Bolger and Karina Utomo.
Love what you hear? Want more? Well, aren't you in luck – Sonic aGender plan to host a series of events and punk explorations throughout 2019. Keep an eye on their Facebook page to stay in the loop.