Deeper Read: Things You (Possibly) Didn't Know About Karate Boogaloo
Don't let all this talk about boogers put you off – Melbourne's own Karate Boogaloo are really a rather polite and supportive lot with a deep love for all things funk and soul. But how did they get started? And why do they say, "Carn the Boogers"? Discover a bunch of fun and curious facts about the band behind this week's Triple R Album Of The Week.
WORDS GRACE KINDELLAN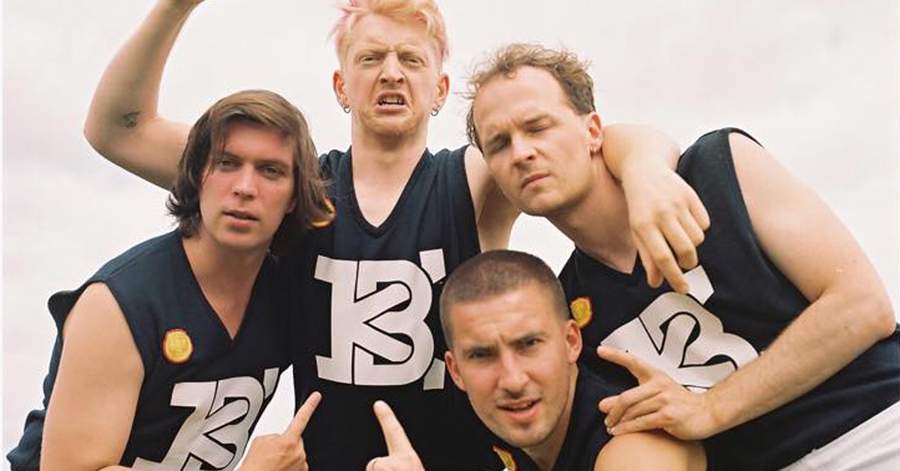 THEY HUNG OUT IN HIGH SCHOOL MATH CLASS But only one of them actually passed. As they mentioned on their Stolen Moments takeover, "We all dropped out of that maths class except Darvid. That's why he manages the finances." Luckily for lovers of local funk music, Callum Riley, Henry Jenkins, Hudson Whitlock and even mathlete/guitarist Darvid Thor spent most of their teenage years mastering their instruments and making connections with other like minded individuals.
THEY'RE PART OF A TIGHT-KNIT MUSIC COMMUNITY Like so many great bands, Karate Boogaloo was born out of necessity and shared adoration of music. The four members make up the rhythm section of The Cactus Channel, another well-loved local unit. As Henry described to RTR's Will Backler, it all started when they needed an opener. "I can't remember whether The Cactus Channel had a support fall through, or we were just being a little bit stingy and thought we'd just kind of do the support slot ourselves […] We just kind of all knew these Meters covers, all these Booker T. & the MG's covers [...] and just kind of thought, 'Yeah, let's just support ourselves.'" And so Karate Boogaloo was born.
THEY TAKE MUSIC THAT'S BEEN RECYCLED AND SHAKE IT THROUGH THE RINGER AGAIN While Carn the Boogers, Triple R's Album Of The Week, is a collection of original songs, the first two releases from Karate Boogaloo were mixtapes of songs that have been sampled in massive hip hop and pop classics. But they didn't discover these retro gems from hits by Kendrick Lamar and Beyonce; they'd been covering the original versions for years. When it came time to put together a release, they stumbled upon the binding thread and went with it. Jenkins told RTR, "We realised that like a lot of these tunes we'd been covering had also been sampled by hip hop […] it was this really cool throughline that would just make the record make a little bit of sense and give it a little bit more of a theme and continuity." It's this investigative, inventive approach to music that makes playing covers just as stimulating as writing new material for Karate Boogaloo. There's also an instrumental difference (pun intended) that sets them apart from a lot of current bands; they don't have a singer. "It seems to be a tradition of getting kind of popular well-known songs and because there's no lyrics and no vocalist you can just kind of twist it [...] almost beyond recognition, it's almost like the aim is to twist it as far as you can, but it'll still just be recognisable. And for us, it's just a great fun challenge to be able to grab tunes that we really dig and impart as much of our fruity vibe as we like," the band explained on RTR.
THEY'RE NOT QUITE SURE HOW "CARN THE BOOGERS" BECAME A THING For anyone outside of Melbourne's football-soaked culture, where shouting "Carn the Tiges/Pies/Bombers/[Insert abbreviated football team of choice here]" after blowing out the candles on your birthday cake is a perfectly normal thing to do, "Carn the Boogers" must sound like a fairly strange title for a debut album. But, as Jenkins told Triple R's John Bailey, it was a natural progression that sums up their team spirit. "I can't recall whether we started trying to pep ourselves up by saying 'carn the boogers' or whether some fans were trying to pep us up." And it quickly became their catchcry. Henry explains, "I think around that time Justin Bieber had his Beliebers… and we needed our Boogers! And it just, you know, one plus one equals booger, and it just happened!" There are those maths skills again.
THEY HAVE STRONG FEELINGS ABOUT A PARTICULAR TRIPLE R BROADCASTER It might not surprise you to know that Get Down presenter Chris Gill is a pretty big fan of the band, seeing as they play funk and soul and all. But what do they think of him? "Chris Gill is the number one funk mogul! He's the funk Buddha!"
THEY WENT ALL-OUT AT MEREDITH LAST YEAR "It was the biggest gig that I've ever done, lots of people, lots of fun," they told John Bailey. Playing at Meredith Music Festival is a dream gig for pretty much anyone who's joined a band in Melbourne in the last 25 years and no equipment was spared in making sure Karate Boogaloo's set went off. "We had headset mics, we had stools [...] we each had our own riser as well, our own little stage set up […] and fair to say, we killed it." And you can stream the whole gosh darn thing right here.