As music lovers, there is no greater joy than the moment your favourite band comes on the screen – The Yardbirds in Blow-Up, Blink-182 in American Pie, L7 in Serial Mom, Twisted Sister in Pee Wee's Big Adventure… But there's an even more interesting joy in falling for a fictional band – a band that exists in your teen-dream-fantasy in the films you consume and adore. Here are a few that I adore.
WORDS MAQUARIE FLETCHER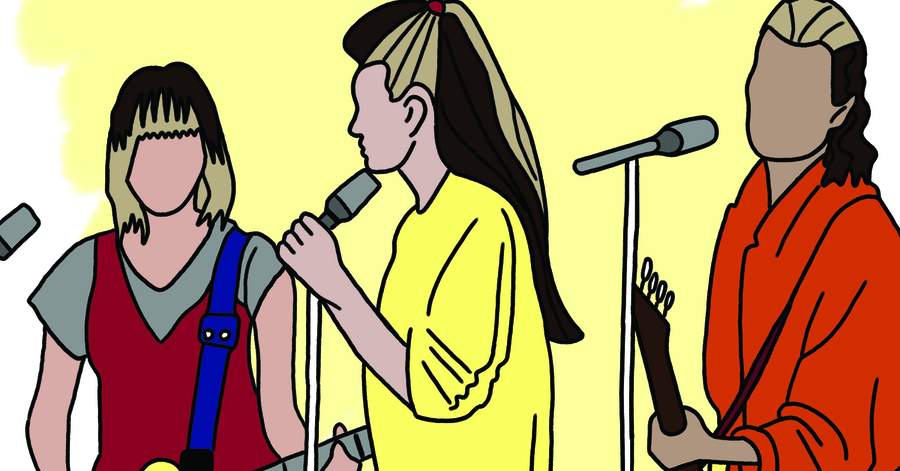 THE WIZARD IN OZ (1976)
A very Aussie reimagining of a far-out classic. In this version Dorothy is a teenager on a magical journey to see her favourite band! Her mates join her on the way as she treks it to the big smoke to get to the concert. Bikies and surfers replace Tin Man and The Cowardly Lion, and the appearance of The Wizard himself on stage is worth the cost of admission. Original songs written by Ross Wilson and a few familiar faces pop up in this campy classic. Between Oz and Starstruck, Australia has produced some absolute killer fictional bands and soundtracks!
PINK SLIP IN FREAKY FRIDAY (2003)
Gone are Jodie Foster's flares from the original Freaky Friday. Instead we have mid-2000s LiLo in wrist cuffs and low-rise jeans hangin' out with her band of the absolute coolest chicks in school. The remake of Freaky Friday is a seminal masterpiece and the performances from Pink Slip in the film are a testament to this. I mean, if you were in the KIIS Wango Tango auditions you'd wear your best three-quarter pants, too! Colour my hair streaked, biatch, 'cause I'm Freaky for this fictional band. Extra points for Jamie Lee Curtis's guitar solo.
THE JUICY FRUITS / THE BEACH BUMS / THE UNDEADS IN PHANTOM OF THE PARADISE (1974)
Brian De Palma's Phantom of the Paradise opens with an introduction from The Twilight Zone's Rod Serling and leads straight into a perfect parody of '50s nostalgic cheese with The Juicy Fruits. Thus begins our journey with Winslow Leach and his ambition to bring his Faustian musical to the world. Throughout the film The Juicy Fruits reinvent themselves as a few other bands – The Beach Bums and The Undeads – but honestly, absolutely every fictional band or musical act in this film is worthy of this list. I'd sell my soul to the devil for this damn movie.
THE SLEEZ SISTERS IN TIMES SQUARE (1980)
Get out your bin bags, baby, because the stars of Times Square, Nicky and Pamela, have broken out of the psych ward to bring rock and roll to the teen masses. Times Square is really a film for the ages and the fictional duo of The Sleez Sisters appearing on radio DJ Tim Curry's show that capitalises on disenfranchised youth singing, 'Feed me… I'm a damn dog now!' elicits such an extreme emotional response that I find it hard to even talk about how much I love this film and fictional band. I couldn't help but wonder if local rockers U-Bahn's lead singer adorning themself in a bin bag is a direct homage to this band?
LONESOME RHODES IN A FACE IN THE CROWD (1957)
Not technically a 'band' but enough of a presence is Lonesome Rhodes that he may as well be a thousand bands. Andy Griffith's griftin' Lonesome gets discovered by a ye olde version of This American Life and performs his song for radio. From this point on he becomes a MEGA-star and his trajectory is nothing short of Trump-level cookery. Most know Griffith for his comedy on the telly, but before he was a big TV guy he starred in one of the most fantastical plots of The Great American Way. And man, the song is catchy as hell! Also, he's hot.
THE FABULOUS STAINS IN LADIES AND GENTLEMEN, THE FABULOUS STAINS (1982)
Small-town punker Corinne Burns and her pals are fed up with their nowhere town and the quest for mediocrity among their peers. A group of knockabout Brits come to town (see: The Looters for another fictional band who didn't make the cut) and blow Corinne's mind. Her existential moment of punk rock realisation takes her to the highest highs and the lowest lows by creating her very own group The Fabulous Stains. A seminal depiction of proto Riot Grrlism at its finest, The Stains wear crimson eye shadow and colour their hair like skunks, thus creating a huge movement among teenage girls across the USA. This film and band are so prophetic, it's hard to imagine the film isn't a documentary.
---
Maquarie Fletcher is a hairdresser/record slinger at Paradise Cutters, a former Triple R host (Golden Syrup and Hit Me Up), a serious film buff, and is on a quest to watch every Al Pacino movie ever.
This story first appeared in The Trip, Triple R's subscriber magazine. The Trip is published three times a year (in April, August and December) and is direct-mailed to Triple R subscribers.