By the Meadow 2019: Photos and Memories
Words by Alix Palmer
Photos by Clara Slewa
Triple R social media volunteers Alix and Clara capture the beauty, the rain and the characters at this year's By the Meadow music festival in Bambra.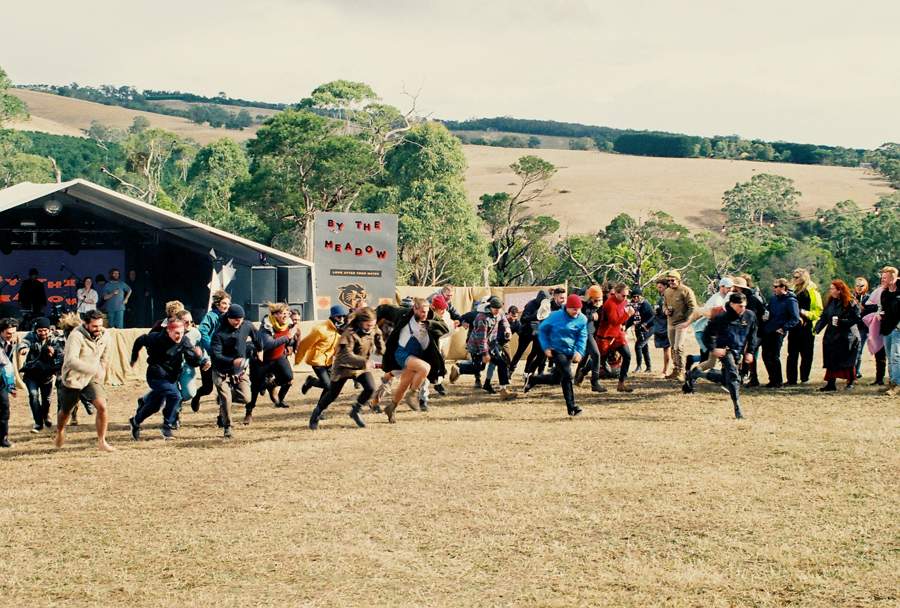 9am Saturday – 9 degrees, feels like 5
'You know what I love?'
'What?'
'Picking up trash in the cold rain.'
'Me too.'
'Yeah, that's actually why I came to Australia.'
The drive out to Bambra in Friday night traffic is a Fury Road-style dust and wind nightmare complete with semi-trailers nipping at my heels. Finally, turning off the highway onto Cape Otway Road, the traffic eases. I notice a family of kangaroos grazing just beyond the tree line. The excitement starts to kick in.
I'd never been to Bambra before, but the festival's Instagram account didn't lie. Located about an hour's drive from Airey's, the festival sits amongst some of the best in Victorian countryside. The road winds through green pastures dotted with ageing gumtrees. Cute country cottages sit just out of view prompting that classic city-dweller's realisation: 'I could live here!'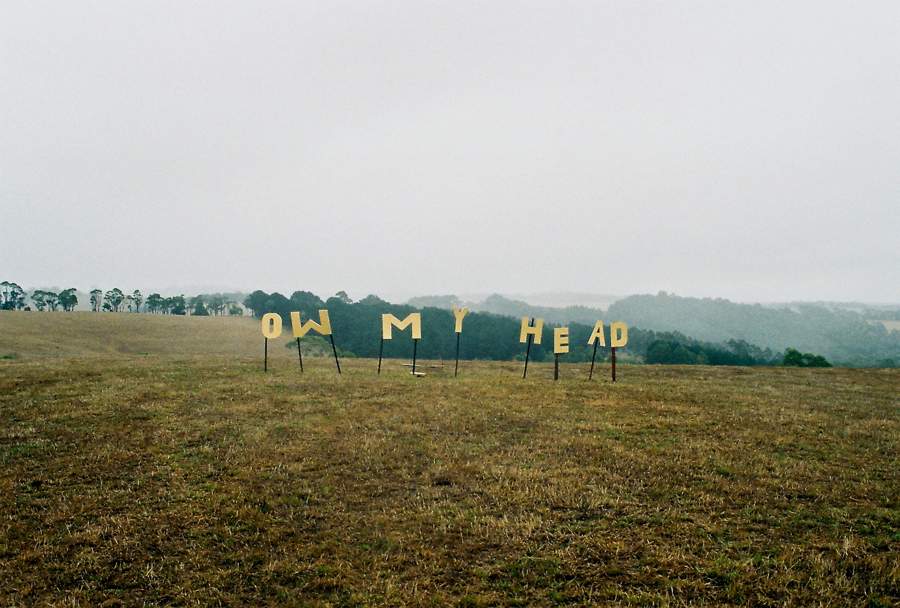 10:38pm Saturday – 9.8 degrees feels like 6.7
'How was the bus ride in?'
'Good mate, we saw the Panther!'
'What?'
'You know, the fucking Panther, we saw it!'
'No you didn't.'
'S'truth!'
On arrival the first thing I notice is the single block of toilets. This distresses me. Having almost wet myself at Splendour in the Grass a few years earlier I was not looking forward to a lengthy loo queue. Forget the cold, forget the rain, if I can't have a wizz within a few minutes of nature calling I'm simply not going to make it through the weekend.
But that's the beauty of By the Meadow, with only about a thousand tickets sold, there's never a queue. There's no squeezing through a thick throng to duck to the bar. And, if you share a furtive glance with someone on the first night, you will run into them again, and again, and again, until eventually you're forced to fall in love.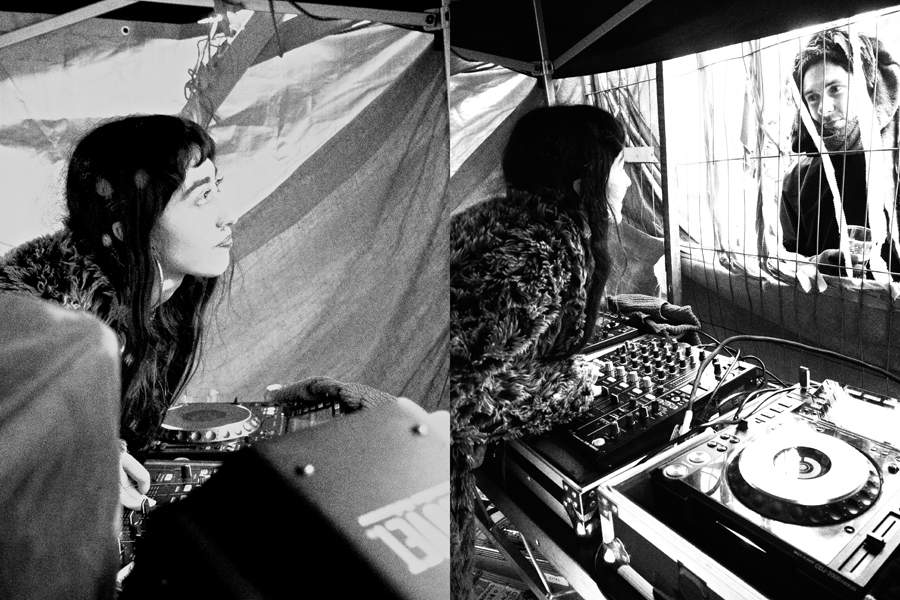 7:34pm Friday – 14.7 degrees, feels like 7.9
'Jesus Christ it's cold'
'Yeah, let's get in the tent for a bit.'
'It's so bloody cold I can't even drink a beer!'
As the crowd waits for Thando they look like extras in an '80s ski movie. Multi-coloured coats and beanies huddled together in packs – everyone bopping slightly to keep the blood flowing. Opening with 'Numb' gets us moving with more purpose though, and by the end of the set she has everyone screaming, 'I wanna see you naked!' Even though it's about six degrees.
Post-Thando I retreat to the bar, located inside a small marquee on the left side of the stage. They serve a good range of cocktails as well as the usual beer and wine. I order something called an 'Escape to the Country' which is served to me in a reusable plastic cup with a fresh sprig of rosemary. The man who orders after me asks for no ice and I wish I'd had the same idea.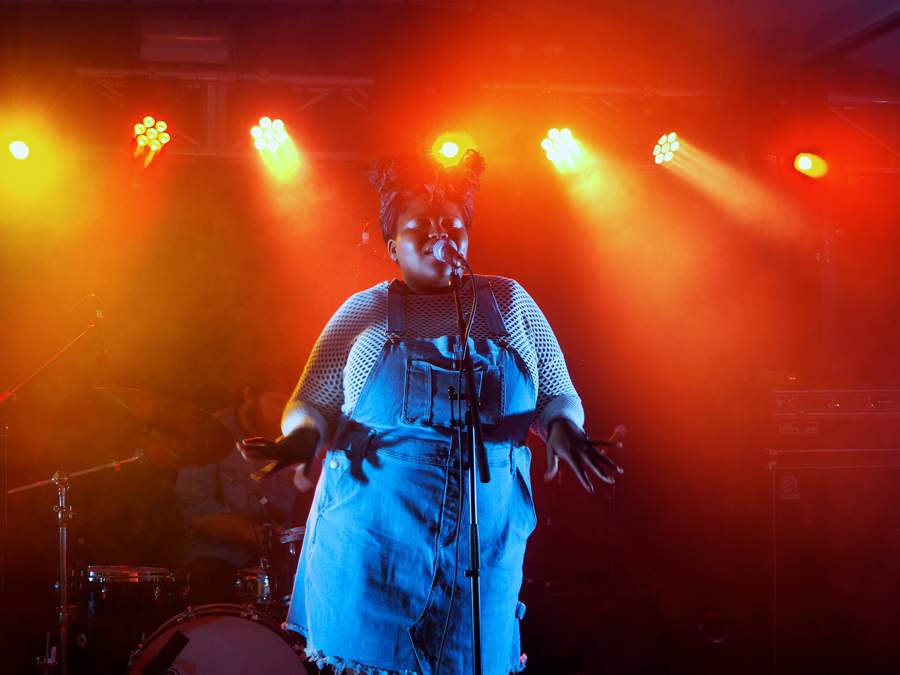 3pm Saturday – 16.2 degrees, feels like 11
'How's van life?'
'Yeah alright, it's kinda become everyone's hang out spot though. I had to kick em' out last night so I could get some sleep.'
On Saturday morning it's raining for Obscura and I can't bring myself to leave the tent. The clouds are moving so quickly that it's impossible to know when to commit to being outside. In a rare moment of sunshine, I get the courage to emerge and sip coffee overlooking the meadow. A group of people have wandered down to get a photo with the iconic 'By the Meadow' lettering. The trees begin to rustle and within a second, they all scream and run back up the hill. A wall of rain approaches.
11:40am Saturday – 12.5 degrees, feels like 6. Heavy rain
'Rain, rain go a-way.'
'Come a-gain an-other day.'
'Rain, rain, go a-way'
'Come a-gain an-other day'
Hemm open to a sparse crowd. They're the first band of many to thank us for watching them despite the rain. Frontwoman, Juice, apologises for talking about the weather too much: 'I did this at a show recently and my brother gave me so much shit.' But since the weather is literally beating down on us, we give her a free pass.
The duo wear matching plastic-look black pants that fit in with the crowd's poncho aesthetic. They are, of course, much cleaner than us though, and the undercover stage becomes an almost cruel barrier between artist and patron. The stage art, big white triangles, are too reminiscent of icicles. Hemm's dreamy synth sounds fit the scene though and no one holds their dryness against them. As the rain clears a massive group run in to steal a dance from their last few songs.
1:15pm Saturday – 13 degrees, feels like 6. High winds
'Put it on my resume: can spot a can from a mile away.'
By late afternoon the festival starts to feel like someone's 50th. The footy has come out and people take turns to kick it with the kids. An ageing border collie wanders up to people for pats and leftover pizza. A few too many friends have had a few too many drinks and a dad-like character scolds them while trying to take a group photo.
It's the perfect time for Merpire and their salmon and turquoise aesthetic. If you have a cool aunt who lives somewhere coastal you'll know what I mean. The set is seamless and Rhiannon's voice glides up the hill bringing more people out of their tents and into the fray. They balance emotional ballads with danceable pop tracks and it's almost like guided meditation. At the end we all feel a bit lighter.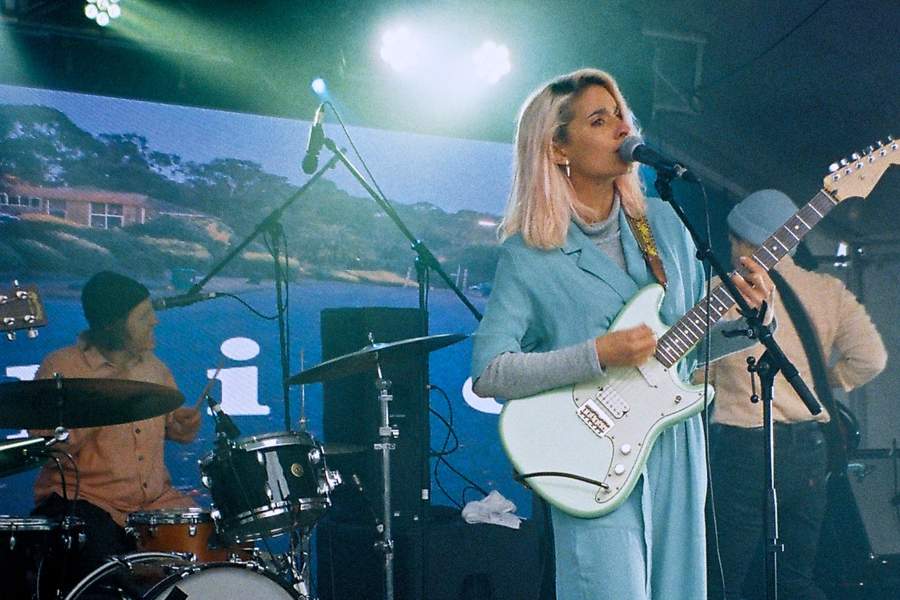 12am Friday – 10.5 degrees, feels like 7
'Can I be the worst person in the world? I just need to get something from the tent.'
'Don't worry, I'll wait for you Kyle. You're my best friend.'
Waiting for Goon Sax to start the DJ plays 'Slow' and, in classic Kylie style, it sets the crowd on fire. Groups splinter to make room for big moves, strangers cheer each other on and that guy who always goes 'woo' emerges for the first time. It's almost disappointing when the band starts and, sadly, they do seem stiffened by the cold. Eventually they do find their tempo though, and a different kind of dancing finds its place – with a strong contingent singing along.
8:15am Saturday – 8.6 degrees, feels like 4
'How'd you go last night? Did you get a pie?'
'Yes it was so good!'
'Oh man, that's one thing I really miss. It sucks too coz I only found out I'm allergic to gluten recently so I still know what I'm missing.'
Lucy Dacus is rugged all the way up and she admits this is the furthest she's ever been from home. 'I'm just going to do it,' she says before to plunging into a high energy set. It seems like she's bloody freezing and, mercifully, only interested in keeping up the pace. The only slow song in her set is delivered when, upon hearing it's her bass players birthday, the crowd bursts into a heartfelt rendition of 'Happy Birthday'.
9:57am Saturday – 10 degrees, feels like 6
'How was your night man?'
'Yeah good, the music ended kinda early but everyone kicked on at the campsite.'
'Sick'
'Yeah except the people next to us got in first and I was like damn! My speaker is louder and I have better music but next thing I know I'm dancing to their music with my speaker still in-hand.'
Murloc's vocalist Ambrose Smith appears on stage with Big Headliner Energy. He starts barking orders to the tech crew while his band gets in position. Their set is loud and long and professional. You could be forgiven for thinking they'd tone it down for such a small audience; thankfully though, they did not.
When it's time for Harvey Sutherland the energy is high but the rain is really coming down. The rain has almost beaten me many times this weekend but it won't beat me now. I turn to the person next to me and say, 'I've been waiting for this set all day and now it's fucken raining.' He smiles at me, lifts up his hood and replies, 'Yeah, the music's still great though.'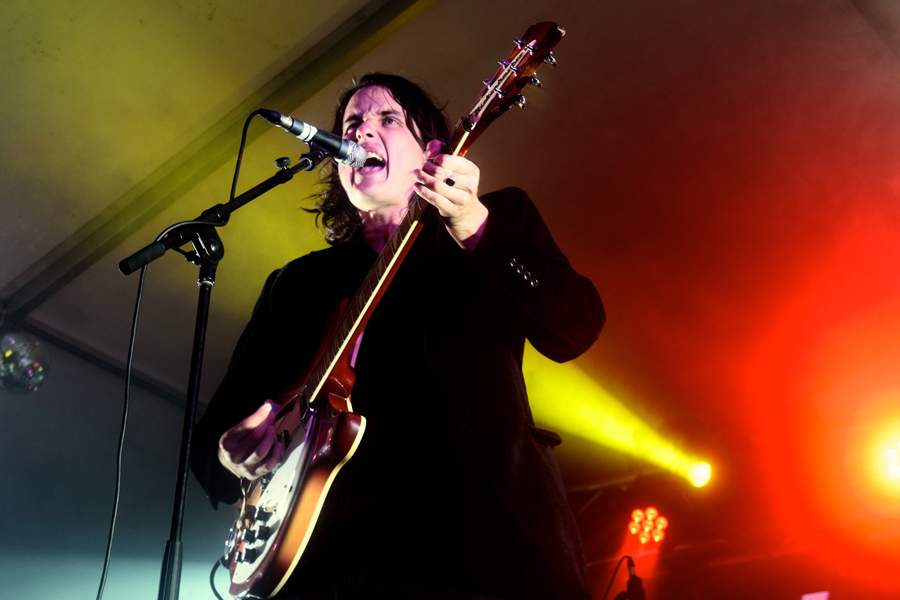 ---
Writer Alix Palmer is one of the very rad people who volunteer creating social media and online content for Triple R. When she isn't here, Alix volunteers as a non-fiction reader at Overland, and works in market strategy at La Trobe University. Photographer Clara Slewa helps out at Triple R, both on the front desk and taking snaps for RRR events and interviews. You can check out more of her work on Instagram.