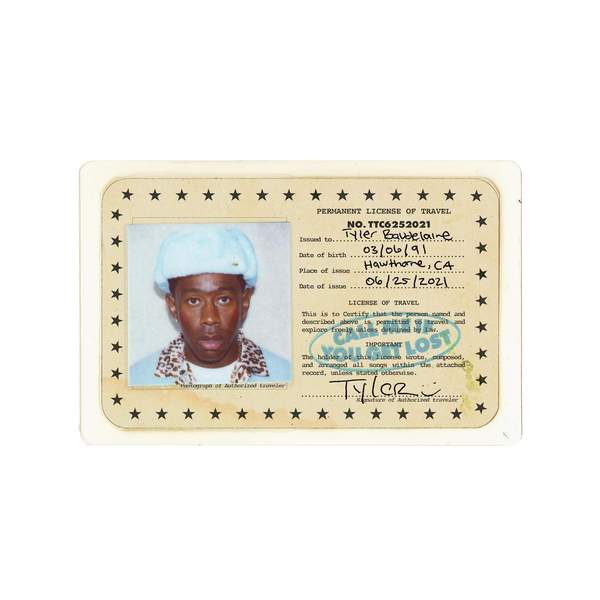 'Call Me If You Get Lost' is the latest album from Tyler, the Creator. It's the follow up to 2019's Grammy-winning LP 'IGOR'.
These new songs balance a sense of nostalgia with a forward-looking perspective, providing a showcase for the artist's skills as a writer, rapper and producer. The structure is a tribute to the recent history of hip hop, an homage to the Gangsta Grillaz mixtape series of DJ Drama, who also appears as host on this album.
Tyler reflects on his own journey as an artist across a range of inspired sample-based beats and pop infused interludes. Opening single 'LUMBERJACK' is a energised reworking of a Gravediggaz instrumental, 'Wusyaname' evokes the high points of '90s R&B by flipping an H-Town ballad, while 'Hot Wind Blows' draws on the strength of a '70s Penny Goodwin original for its soulful grooves and backing vocals.
As previously, Tyler plays with questions of identity. Across the new album he inhabits an alter-ego named Tyler Baudelaire, a worldy, wealthy figure who may be a reference to 19th century French writer Charles Baudelaire. Both are provocative, contradictory figures with an appreciation for the finer things.
The album also features contributions from guests including Lil Wayne, Lil Uzi Vert, Pharrell, Ty Dolla $ign, and Domo Genesis. Jamie xx is credited as a co-producer on the track 'Rise!'.
For the chance to win a download copy of this week's Album Of The Week, Triple R subscribers can enter here before Sunday 25 July 2021. We have a prize policy of 1 album per subscriber per month so we can share the love and make it fair for all!