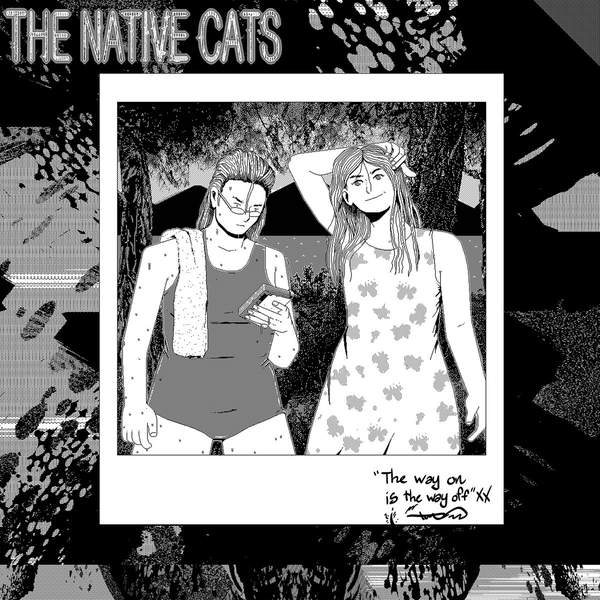 The Way On Is The Way Off is the fifth studio album by The Native Cats, formed by bassist Julian Teakle and singer/electronics operator Chloe Alison Escott. It's a masterclass in concise storytelling and expansive post-punk soundscapes, with a balance of personal reflections and broader commentaries. Chloe's lyrics arise from deep-rooted trauma and identity issues she is finally facing head-on, as well as meditations on music history and lineage - the title of the album is drawn from the set of protocols David Thomas wrote for his legendary band Pere Ubu.
The album represents a notable shift in The Native Cats' approach, with each song distinctively shaped to tell its own story. The lead single, My Risks is Art, crafts a personal narrative of defiance around a tale of roulette and modern art, set to an appropriately avant-garde musical approach.
Small Town Cop Override is both the briefest and most intense track on the album. Its concise 80-second duration is packed with vigorous drumming and Escott's intricate lyrics, laid over a playful post-punk melody. Drawing on historical satire and the Pere Ubu Protocols, the song reflects on band dynamics and broader societal issues.
In contrast, Tanned Rested and Dead extends over seven minutes and explores themes of desire and dystopia. The song's expansive nature and the inclusion of a chorus featuring vocalists from Slag Queens and Philomath elevate it to a grand scale, intentionally echoing the dramatic finales of acclaimed animes Akira and End of Evangelion.
The album thrives on its nuanced execution and the dynamic interplay between Teakle's understated bass lines and Escott's compelling electronic textures.
For the chance to win a vinyl copy of this week's Album Of The Week, Triple R subscribers can enter here before Sunday 26 November 2023. We have a prize policy of 1 album per subscriber per month so we can share the love and make it fair for all!