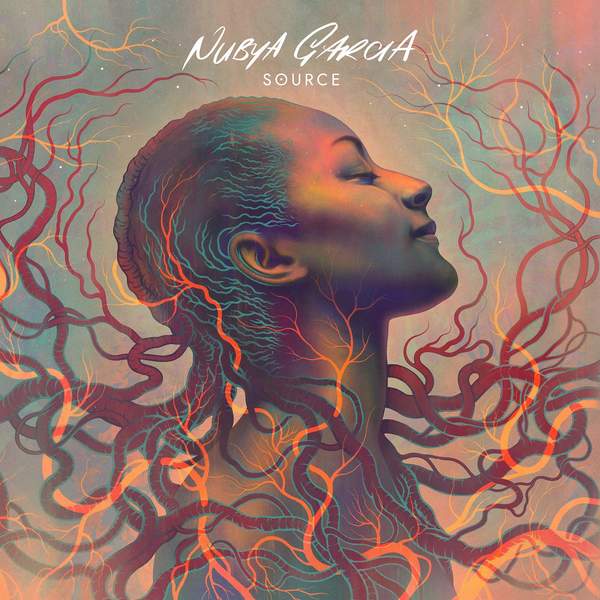 Source is the debut album from tenor saxophonist, composer and band-leader Nubya Garcia. Garcia is a rising leader in London's vibrant jazz communities, and also one of its most prolific figures. When Gilles Peterson released We Out Here in 2018 - a compilation showcasing London's new generation of musicians - Nubya Garcia appeared on five of the nine tracks. Her talents have since been heard on records like Makaya McCraven's Universal Beings, Sons of Kemet's Your Queen is a Reptile and Moses Sumney's grae.
Source illustrates the range, depth and reach of her playing. Songs switch from dub reggae, cumbia, and classic balladry, to fusion funk and deep spiritual jazz. They reflect the rich mix of musical traditions surrounding Garcia growing up in London, and as she's traveled. The album is described by the author as a story "about my heritage, my ancestry, exploring those places and those stories from my parents and my grandparents." Garcia pays tribute to her parents home villages in Guyana and Trinidad in the title of the song Before Us: In Demerara and Caura. The album also contemplates the power of collective action, and features contributions from a number of friends and peers.
Source is produced by Garcia herself in collaboration with Kwes, whose own production credits include records by Bobby Womack, Solange, and Nerija.
For the chance to win a download copy of this week's Album Of The Week, Triple R subscribers can enter here before Sunday 6 September 2020. We have a prize policy of 1 album per subscriber per month so we can share the love and make it fair for all!