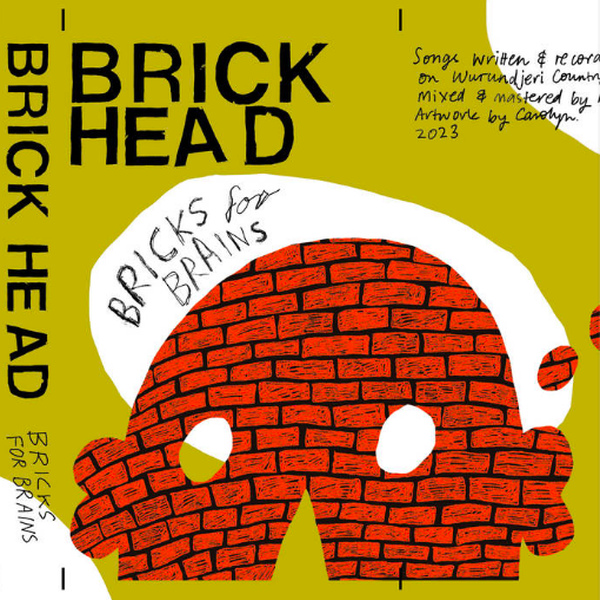 Bricks for Brains is the latest album from BRICK HEAD, the solo project for Melbourne/Naarm musical polymath Sarah Hardiman. 
Born out of the existentialism of the COVID lockdowns, Sarah Hardiman's BRICK HEAD project channels the primal energy of proto-punk, garage and noise rock into the sort of vital, kinetic songwriting that responds directly to the modern anxieties of our time. 
The ever chameleonic Hardiman, also known for their work in a vastly eclectic mix of projects like Deaf Wish, Nightclub, Moon Rituals and LOU, embraces rock minimalism and hypnotic repetition on Bricks For Brains, creating a sort of mutated rock'n'roll boogie that transfixes you from its first moments.  
Bricks For Brains operates from a place of pure DIY spirit, executed with the mastery of someone who understands the potential of stripping back rock music to its barest elements, showcasing the ugly cracks and fragility of the human condition. 
Bricks For Brains is another important piece of Melbourne's underground rock ecosystem, reaffirming Sarah Hardiman's remarkably consistent track record for churning out underground hits.
For the chance to win one of 5 cassette copies of this week's Album Of The Week, Triple R subscribers can enter here before Sunday 28 May 2023. We have a prize policy of 1 album per subscriber per month so we can share the love and make it fair for all!