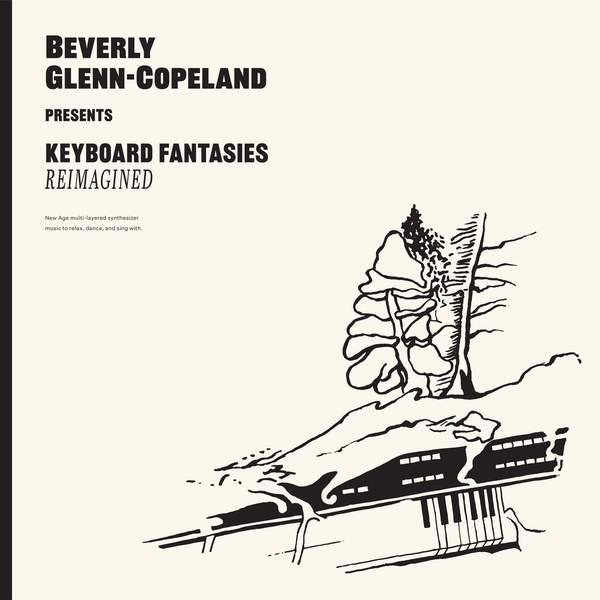 'Keyboard Fantasies Reimagined' offers a collection of reinterpretations of Beverly Glenn-Copeland's original electronic masterpiece 'Keyboard Fantasies', released in 1984.
Since training as a vocalist at McGill University, and releasing his self-titled debut album in 1970, Beverly Glenn-Copeland has remained a vital and pioneering force across creative disciplines. He's written plays, composed soundtracks, and was a regular contributor on beloved Canadian children's TV show Mr. Dressup, and Sesame Street. His music is an extraordinary, singular fusion of styles. His records span folk, classical, electronic, experimental, jazz, ambient, new age traditions and more.
The story of 'Keyboard Fantasies' is an especially remarkable one. Self-released as a cassette in 1984, it sold a small portion of its several hundred copies, with the rest remaining on the shelf for decades. The songs found their way decades later to Japanese record collector Ryota Masuko in 2015, who emailed Beverly Glenn-Copeland and asked to purchase his remaining cassettes. This led to a rediscovery of Copeland's music among a whole new generation of fans, including artists like Dev Hynes of Blood Orange and Dan Snaith of Caribou. Since then there's been international tours, a career retrospective called 'Transmissions: The Music of Beverly Glenn-Copeland', and a documentary focusing on Copeland's incredible life and work.
'Keyboard Fantasies Reimagined' is a celebration of the legacy of the original, and a reflection of the community Beverly Glenn-Copeland has created and nurtured. It features contributions from creative kindred spirits Bon Iver, Blood Orange, Arca, Julia Holter, Kelsey Lu, Flock Of Dimes, Joseph Shabason, Thom Gill & Jeremy Dutcher.
For the chance to win a download copy of this week's Album Of The Week, Triple R subscribers can enter here before Sunday 19 December 2021. We have a prize policy of 1 album per subscriber per month so we can share the love and make it fair for all!