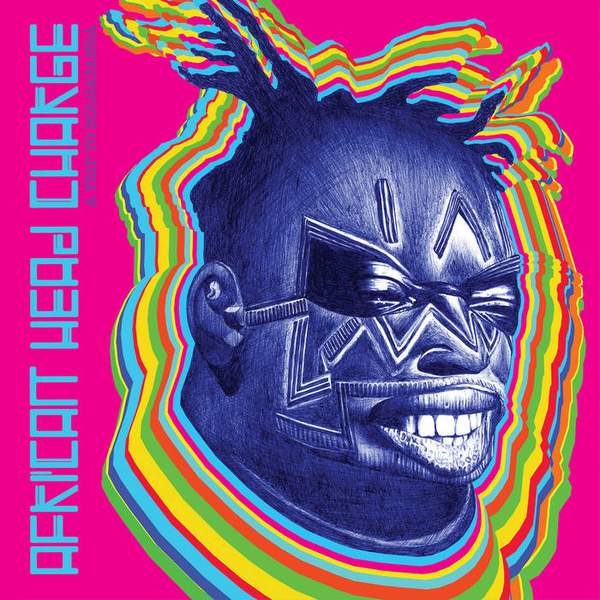 A Trip To Bolgatanga is the first new album in 12 years from the UK via Ghana psychedelic dub group African Head Charge, out now on On-U Sound. 
The project is centred around the fruitful union of two masters of dub - percussionist and bandleader Bonjo Iyabinghi Noah and Adrian Sherwood, the famed producer and founder of the influential dub imprint On-U Sound. A Trip To Bolgatanga marks a sonic journey back to Bonjo's hometown in north Ghana, centering his trademark hand percussion and group chanting alongside the forward-thinking alchemy of Sherwood's dubbed out productions. 
The result is an electric collection of songs that celebrates the rich history of the group, while restlessly pushing the collective into a new era through its heady clash of modern ideas and sounds. Bonjo's re-connection with his homeland defines the sound of the album, highlighted through guest appearances by Ghanaian kologo master and singer King Ayisoba. It's this solid foundation that allows Sherwood to provide his trademark studio embellishments through pulsating electronics, synthetic textures and reverbent bass. 
The collaborative spirit that has come to define African Head Charge is on display throughout the album, also featuring contributions form fellow On-U Sound regulars like Skip McDonald and Doug Wimbish. However, the album's success relies on the innate chemistry between Bonjo Iyabinghi Noah and Adrian Sherwood, whose vision for a psychedelic dub future not only remains intact here, but is pushed further into new sonic realms.


For the chance to win one of 5 vinyl copies of this week's Album Of The Week, Triple R subscribers can enter here before Sunday July 16th 2023. We have a prize policy of 1 album per subscriber per month so we can share the love and make it fair for all!