From an episode of Banksia∙Presented by Vanessa Morris
Interview
Banksia: Zena Cumpston Talks To Vanessa Morris About The Emu Sky Exhibition
Hosted by Vanessa Morris, Banksia is a new pop-up show on RRR celebrating First Nations arts and culture. On her first show, Vanessa is joined by Barkandji researcher and curator Zena Cumpston.
Zena speaks to Vanessa about curating the new exhibition Emu Sky which explores Indigenous land management, knowledge, science, plant use, language and truth telling.
"I'm really concerned about the way that country is being managed," she explains. "And I really wanted to open up a conversation about what we are all missing out on when Indigenous perspectives aren't empowered within those spaces of managing country."
Over the course of the conversation, Zena explains the ideas and inspirations behind her curation and the impact she hopes the show will have.
"I wanted the show to be very much how we do things as mob," she says. "And that's a lot of talking and a lot of storytelling – because storytelling is not fairy tales, there is actually deep knowledge of country and deep knowledge of everything contained within that storytelling."
Listen to the full interview below.
Emu Sky is on now until at at Old Quad in Melbourne University's Parkville campus. Head to the website here for more details.
Image: Language posters, Emu Sky exhibition, 2021, courtesy the artists; Brooke Wandin, Madeline Critchley, Jaxsun Plumley and Zena Cumpston (2021).  Photo Christian Capurro.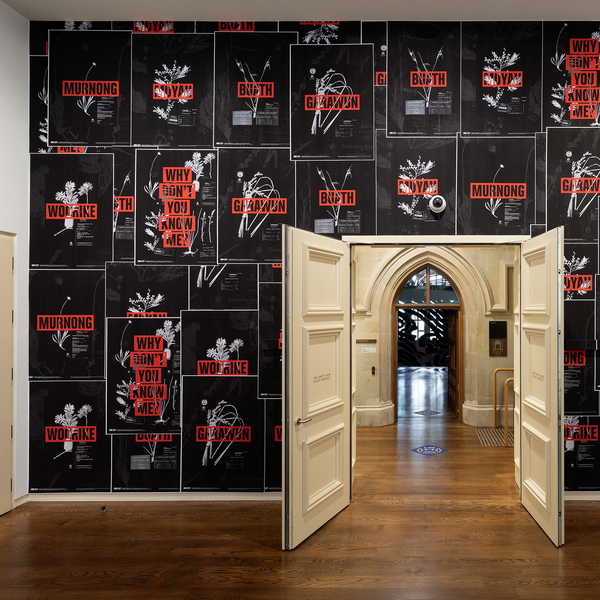 Listen to Banksia: Zena Cumpston Talks To Vanessa Morris About The Emu Sky Exhibition
28:30∙16 May 2022
∙