From an episode of Banksia∙Presented by Vanessa Morris
Interview
Banksia: Kait James discusses permanent art installation at Geelong Arts Centre
Wadawurrung artist Kait James joins Vanessa Morris on Banksia to yarn about the unveiling of a permanent 193 panel installation of their work at Geelong Arts Centre as part of the Little Mallop Street redevelopment project, as well recent exhibition Dirty Laundry at Neon Parc.
"Its nice to be able to show people and talk about the work, and don't think its really quite hit me that this is a permanent display of my artwork forever, until it fades in the next 30 or 40 years.. its just super overwhelming and really special."
The installation features Kait's signature work of colourful embroidery on Aboriginal calendar tea towels from the 1970s and 1980s, to which she explains:
"I embroider over the top of them to give them a new life and sort of change the narrative - they were very, sort of, racist, stereotypical views of Aboriginal people and something I didn't personally relate to at that time.."
Kait also talks about how special it is as a Wadawurrung woman, to have their work permanently installed on a building on Waddawurrung country.
"It's really quite amazing because you go to some towns that don't have any references to First Nations people at all, and Geelong has really turned a corner in that in the last couple of years and the fact that this is on the wall permanently, is really amazing.
"Its so special for me and I'm hoping that its really great for the younger generation being able to see their culture and the visibility of culture."
To view Kait James' art installation visit the Geelong Arts Centre
Kait will have work in an upcoming exhibition hosted by Wadawurrung Traditional Owners in Ballarat from 27 October - 30 November. Find out more here.
They also have an installation with artist Jarra Karalinar Steel at Front Beach, Back Beach Festival on the Mornington Peninsula from 18-27 November.
Listen to the interview below.
Image credit: Tiny Empire Collective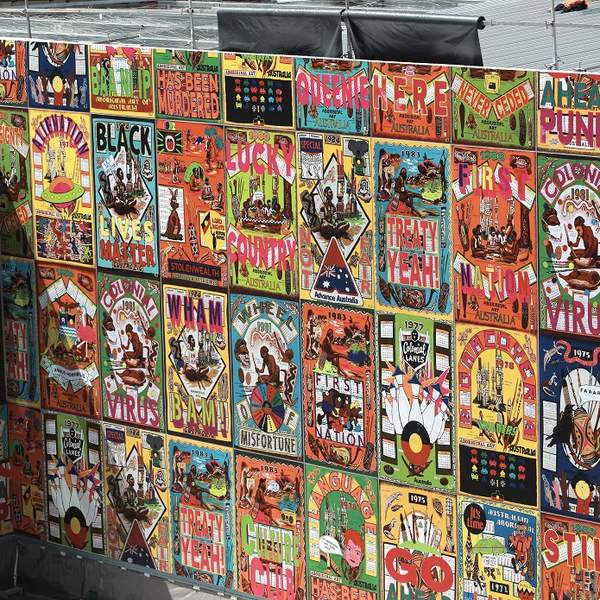 Listen to Banksia: Kait James discusses permanent art installation at Geelong Arts Centre
20:37∙17 October 2022
∙