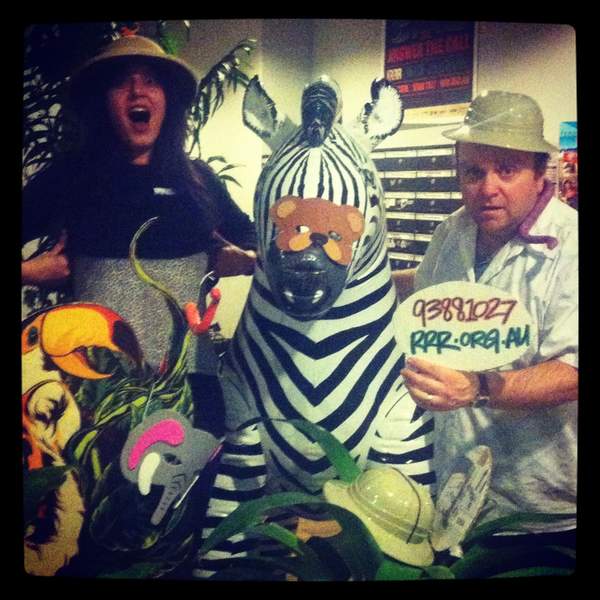 How did you first connect with Triple R?
After listening to Triple R for many years, I heard about a production course the station was running, possibly to raise some much needed funds for the station. 'No experience necessary,' it said, 'Just send cash.' So really I 'bought' my way onto RRR.
What/when was your first show?
My first regular show was 'BEST OF THE BRAT,' which ran from 1996-2007 with Glenny G & Holly C.
What's your favourite Triple R story?
Triple R really has a BIG extended family. There are so many people involved with the station. Often during our show a lot of volunters are at the station, working on different things. Brett Cropley is preparing the gig guide for the week. Nerida Haycock is podcasting. And Brian Driscoll is washing the dishes, whilst he builds a new desk for a studio. Nerida, however also prepares baked treats for us each week. She doesn't have to, she wants to. One week she knew it was my birthday. She asked Gen what sort of cake I would like. 'BEER' says Genny B. So when I arrived at the station I was greeted by all my tuesday night friends with a Guiness cake, with candles & a choir of 'happy birthday.' Now this sums RRR up. Meeting people, that decide to make me a special cake for my birthday, that tastes like Guiness.
Your favourite other Triple R program and why?
All Over The Shop. I listen in each week to hear the latest update in the saga of Triple R's own odd couple. Will Leapster walk out before Stu finally snaps & beats Leapin' Larry to death with an NWA boxed set.
What does Triple R mean to you?
To me RRR means total independence for all broadcasters that are on it. No playlist, no scripts and sometimes even no human error.
The studio door has accidentally jammed shut with you stuck inside. If there was only one CD in there with you what would you want it to be and why?
Lou Reed's Take No Prisoners. It runs for over 90 minutes. Features an 8 minute version of 'Sweet Jane' & a 17 minute version of 'Walk on the Wildside', complete with a 'quick' Lou who rambles in between songs. This recording from 1978 has been referred to as 'Lou Reed's comedy album.'
If you could see any band alive or dead, who would it be & why?
It could be Elvis in Las Vegas in the 1970s. Or AC-DC with Bon Scott in about 1977. The Stooges, or New York Dolls, or the MC5 in the late '60s or early '70s. But ultimately, if for one night only, I would see Melbourne's own Powder Monkeys tearing up the Tote Hotel in Collingwood. They were an awesome sight to see & hear live throughout the '90s and I would give almost anything to witness it again.