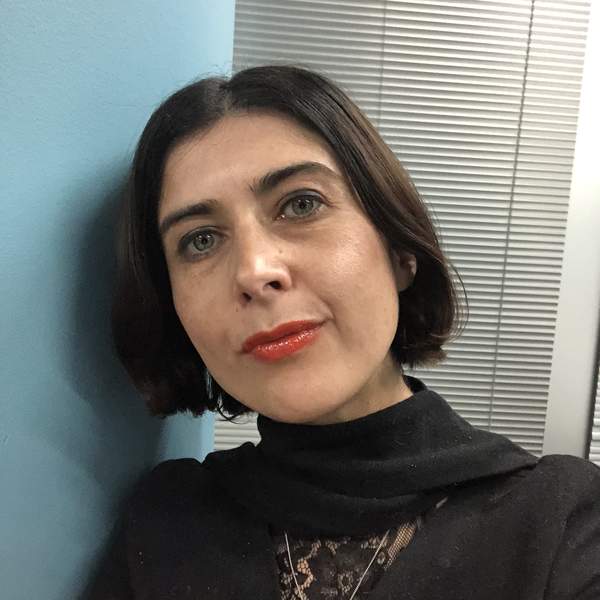 A show about books, stories, the craft of writing - and the people behind the lines. 
Birthplace?
I was born here! In Melbourne. In Carlton, in fact. Although I didn't grow up here, I like to think I had a love of the inner-north from birth.
If you could present anyone else's show at RRR, whose would it be and why?
Such. A. Tough. Question. Honestly? I struggle to imagine doing a better job of running someone else's show than the presenters themselves. Each show at Triple R is imprinted with the personality of the host so completely. We host shows that match our particularly nerdy passion. So. If someone else were to host, they become a different show. That's what I love about this station. Having said that, I would like to know what it's like to do the Breakfaster's slot. Just for a week. Programming three-hours of radio every week day morning seems like a super-human feat to me.
Finish this sentence: 'I really hope that tonight I …'
…somehow manage to bend space and time so I can read the books for my show…and also find the time to do some additional leisure reading. Oh. And listen to a few podcasts. And talk to a few friends over a wine about it all afterwards.
You're heading into the middle of the desert for six months and you're allowed to take three albums – what do you take?
Wow. So no tough questions, they said. A simple Q&A, they said… Um… Okay. So. I'm gonna side-step this little sand trap, and step right into the bottomless hole beside it and opt instead for three 'desert island' books. So, deep breath, here goes… Anne Lamott's Bird by Bird: Some Instructions on Writing and Life. This is a great, accessible writers' manual, and one I've turned to a lot when I feel overwhelmed in writing…and life. I feel like this would motivate me to treat the time on the island as an enforced writers retreat. And…really? What writer wouldn't be tempted by six months stuck somewhere without an internet connection to finish off that novel, hidden like a poorly buried body, on their laptop? Zora Neale-Hurston's Their Eyes Were Watching God A serendipitous find on a remainder's table in a Brooklyn bookshop first brought this book into my life and my heart. Overdrawn and purple though that sounds – a little like the book itself, at times. This 1937 coming-of-age novel is interwoven with the local African-American dialects of the post Restoration American South – something Neale-Hurston, an anthropologist who grew up in the region, was able to effortlessly re-produce. The story follows Jeanie Crawford on her journey from a girlhood defined and confined by the needs of men into a true sense of herself. A decade after I first stumbled across it, a reissue of the book – with a forward by Zaide Smith – landed in my office. Re-reading it, older now, gave me yet another, older, perspective on the life it describes. And I feel like I will be re-reading this book for years to come. Okay. I have clearly opted for dog-eared comfort reads I can hold close. So my final pick is Virginia Woolf's Orlando. This epoch-spanning, gender-defying flight of political fancy never fails to win me back with each re-reading. Woolf will ever be my first and best literary love.
Favourite place to hang out in Melbourne?
Everyone is going to say Triple R, right? Yup. Triple R. That…or flopped in the Exhibition Gardens on a sunny afternoon, with a book or three.
Who do people say you look like?
Anyone of my siblings. Seriously. We are spaced apart in age, but people have mistaken me for my sisters on more than a few occasions. And they definitely know my brother is my brother. Plus my aunt and I looked so much alike that I have actually mistaken an old photo of her for a picture of me. And visa versa. Seriously. Creepy. Genetics.
Describe the state of your bedroom in five words or less...
Books. Shoes. Bed for days.
Best gig you've ever been to?
Okay. The year before he died Jeff Buckley did a sound check at an innercity Melbourne bar, that turned into an impromptu set. The unwitting audience had no idea who he was. But – as a confirmed atheist – it is the closest I will ever have to a religious experience. His voice, with just a simple guitar accompaniment, filled that space. I can't imagine anyone who was there that day felt unchanged by it. I later heard he had built up his name creating that very sense of serendipity. But even knowing that can't take away from that incredible experience. Will never top it.
Person you'd most like to interview and why?
Killing me here. Ah… Maybe Zaide Smith? Not so much that I love everything she writes. But I feel like she reads voraciously, allows herself to evolve and would have some incredible insights on a broad range of literature.
Most amazing on-air experience?
Hard one? But – I'm going to air my political biases and say that it was probably the day John Howard lost his seat to Maxine McKew. I was on air on commentating about the election when the news was announced, and I think everyone in the studio started scream-laughing, whooping and hugging each other. I'm sure it was terrible radio. But. What a moment.
Most horrifying on-air experience?
The time I realised I'd been talking for a solid five minutes with the mics still turned on, while a track played. Fortunately, it just sounded like people murmuring in the background. But still. My heart!
How will you be bringing in 2019?
Hopefully somewhere with trees and water. With people I love, food, wine and a book to lazily read in between fresh water swims. Know anywhere like that?
Any new year's resolutions?
Read more books I love. Finish my own.
Do you have a life philosophy?
Overprepare? Definitely something I do. I guess…try to empathise with others. Have a view. But be prepared to listen and be challenged. Change your mind. Learn. Be a good friend.
What advice would you give aspiring broadcasters?
All of us find listening back to our voices weird. And we only hear our slips and stumbles. But those little idiosyncrasies define us. They are beautiful. So don't do a 'radio voice' do your own voice.
Tell us something we don't know…
I have never watched any of the Jurassic Park films. Not one. There, now you know. I have read all the Harry Potter books, though. So I guess I get a pass. Right?
Melissa Cranenburgh's programs