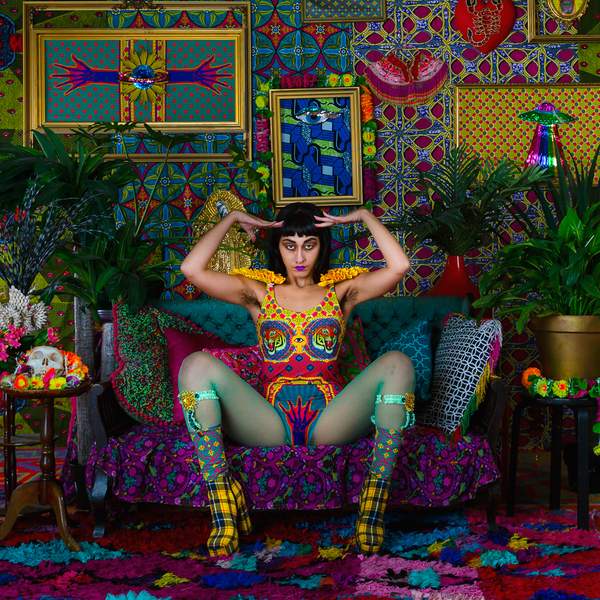 How did you first connect with Triple R?
I moved to Melbourne from Perth when I was 16 and RRR was the first
Station I got into. At 21 I moved to Brunswick and RRR's presese grew, bumper stickers on every corner. 
I started listening more regularly and became kinda nocturnal and eventually applied to do a graveyard slot. 
What/when was your first show?
The first time I came in for a show was with my band LoVision. We played a live set on the air after we had been partying for days for my band mate's birthday and this show got super weird, wild and experimental!
It's still there somewhere in the Queer The Way archives. 
I then had my first go at broadcasting filling in for Eva on POCNESS and loved Graveyard Shifts a little toooo much.
Radio Broadcasting has very quickly become my new passion and am now officially frequency obsessed!
Your favourite other Triple R show and why?
A tie between 3, I cannot choose just 1. Queer The Way and POCNESS! For variety and inclusivity!  Also Strange Holiday for impeccable taste and vibe.
What does Triple R mean to you?
A safe place to explore my self-expression and others' self-expression! A home for Melbourne muso's and listeners alike, the slice of '90s video shop dream life I always hoped I would find! (Empire records vibes)
The studio door has accidentally jammed shut with you stuck inside. If there was only one CD in there with you what would you want it to be and why?
Kruder & Dorfmeidter 4 vinyl set - genius magic I can listen to over and over again and somehow never tire of. 4 calendar cafe Cocteau Twins - would be content as a fat cat just humming along and drinking tea to the end of my days to this one.