What's It Actually Like to Be a Member of Tropical Fuck Storm
By Triple R volunteer writer Katherine Smyrk
The lovechild of partners Gareth Liddiard and Fiona Kitschin – long-time bandmates from The Drones ­– Tropical Fuck Storm has tornadoed into the music world with their special brand of squalling rock. Their first album is named after a neurodegenerative disorder found in Papua New Guinea where people literally laugh themselves to death; they have a music video where they eat and regurgitate spaghetti in a paddock; and they're about to come to Triple R's Performance Space (on Monday 7 October at 6.25pm during Maps) with what will undoubtedly be a raucous show.
In heady anticipation of that, we thought we'd try to find out a little more about what it's actually like to be a member of a band described by the Chicago Reader as 'dystopian Australian scuzz-rockers'.
It's Random
To be a member of TFS, it would seem that you have to be open to anything. It all started with a random phone call from two excited pals.
As TFS guitarist/keyboardist/instrumentalist Erica Dunn told Vice: 'They just rang me up. Gareth and Fi were on loudspeaker like excited children. The pitch was "Do you want to play guitar? We're just going to do some weird shit." And I was like, "Okay, sure." Then Gareth said, "We might go to America in the next month, are you free? And we have to write some songs." Sure, I'll clear my schedule.'
There was jam session at Gareth and Fi's country house in Nagambie, 120 kilometres north of Melbourne.
And then, before a name was chosen (Tropical Fuck Storm eventually won over Three Women and a Baby) and before a note had been recorded, they agreed to a US tour with King Gizzard and the Lizard Wizard.
As Erica told Vice: 'This was a rare project because it wasn't articulated to begin with. It was wild because it was on the fly.'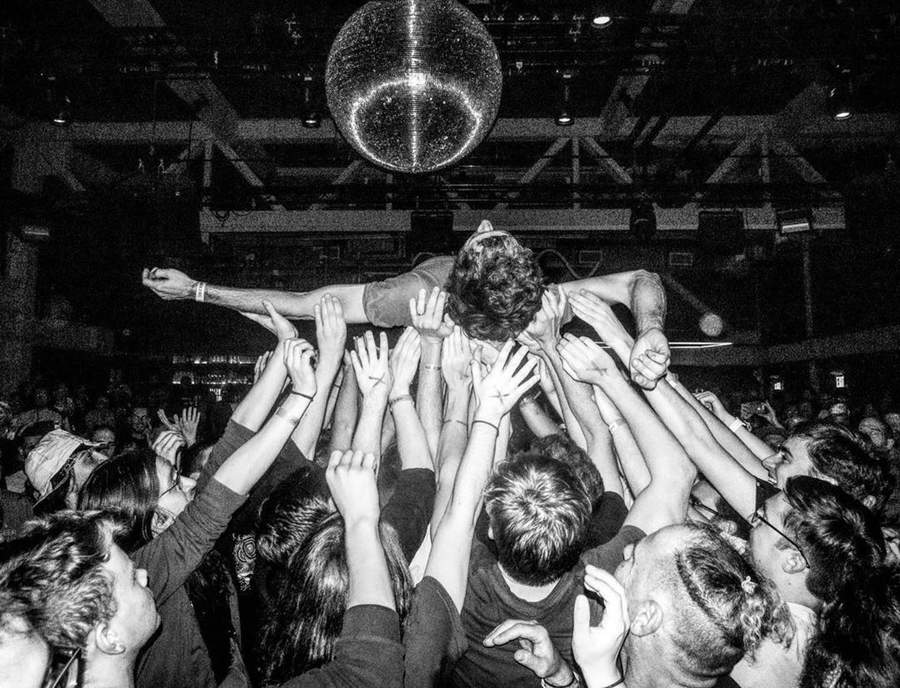 It's Frantic
After their first rehearsal in May 2017, TFS's debut single 'Chameleon Paint' came out in September, and then they kept creating, as it was literally the only song they had. They put out their first album, A Laughing Death in Meatspace, in May 2018.
'It was all done in a rush,' Liddiard said in an interview with Spectrum Culture. 'We were trying to figure out what each of us were meant to be doing while we were doing it. Mad experimentation, really. It was a good way to make a record. We didn't have much time to reflect, which is good. We just banged everything out and got on the road.'
There was no time, no process, no structure to figuring out if this band was going to work. As Erica said to Vice: '85 hours in the van is the test.'
This had a big influence on the things they were writing about, i.e. everything.
'When you've got a new band and you need songs, anything anyone says will go into a song,' Gareth told Sydney Morning Herald. 'Trust me, I'm not waiting for a choice moment. I was frantically scrambling to gather ideas and as soon as I had them organised we were recording. It was rush, rush, rush.'
It's Loose
'We're the loosest electronic band in the world,' Gareth told Happy Mag.
He was referring to their musical style and the way they put tracks together: 'This isn't revolutionary, but for this new record we all played in the room together. We'd have a general idea of a song, then we'd jam it, then we'd fuck it up; bastardise it, pervert it, do it the wrong way. There were bits of the album where Hammo [drummer Lauren Hammel] was just throwing shit at her kit.'
Loose could also refer to their general way of operating. In Happy Mag, Gareth said that magic mushrooms were an important development tool in the creative process for their first album. In Vice Erica and Gareth talk about getting kicked out of a strip club and almost getting shot by 'rednecks' while on tour in the US. Fiona maintains they didn't use drugs to help put together recent second album Braindrops, but admits they were on acid when they made an original live score for No Country for Old Men for the Hear My Eyes project.
'That was very effective,' said Gareth.
It's Liberating
Gareth and Fiona had been playing with The Drones for 19 and 14 years respectively – TFS was a fresh breeze of experimentation and liberation. They started with what they didn't want to make.
'There were some principles, like we didn't want to do a regular rock and roll rhythm section. There was a bit of choice by avoidance,' Erica told Vice.
'We were trying not to default into our usual habits,' Gareth added. 'Fi had a lot of say in it. She was sick of screaming guitars. Not because there's something wrong with it, we've just done it… grooving away while guitars go spare everywhere. There was an idea to make it a bit more trashy, a bit more groovy and not as long.'
TFS also gave them freedom from the business of being an established band. It had sometimes been hard to find a time when every member of The Drones was free to tour and write and play.
'One of the hassles with The Drones was all the boys were very busy all the time,' Gareth told Mixdown mag. 'And it's a big organisation, it's just hard to get it going and get it moving at speed. With the girls it's really fucking easy. The whole point is to play and record, so if we've got time to do it, we'll just do it. I'm a musician, they're musicians – what else are we meant to do?'
---
Tropical Fuck Storm will play live in the Triple R Performance Space during Maps at 6.25pm on Monday 7 October (doors are at 6pm).
This is a subscriber-only event. Subscribers can go in the draw to be in the audience by sending an email to tfs@rrr.org.au with their full name and subscriber number in the subject line by 5pm Wednesday 2 October.
---
Katherine Smyrk is a Melbourne-based writer of fiction and non-fiction, and the Deputy Editor of The Big Issue. When she's not reading or writing she is usually eating cheese, playing footy or dancing to Beyoncé. You can follow her on Twitter.