Christmas Card from a Musician in Brunswick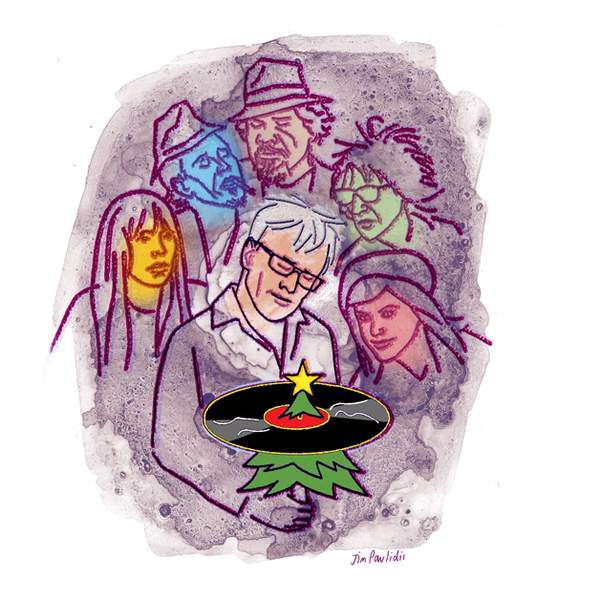 Words David Bridie
Illustration Jim Pavlidis
Every year, Christmas day, midday till 4, I do my solitary radio stint. 'The one day of the year'. Have done for 28 years. I'm guessing this because in a cardboard box in my studio, beneath old Not Drowning, Waving posters and outmoded masters on half inch tape, DAT, minidisc and beta tapes, lies a smashed blue TDK-AD cassette case marked 'Bridie Xmas day show RRR 1989'. I presume that was the first of my annual shows, though my memory is pretty flakey.
Christmas Day is subdued. After the frenzied consumerism, the day quietens out like no other. The newspaper is only 12 pages long, social media crawls to a pace of sickening Christmas greetings and desperate pleas for company. 'I hope you and your family receive the seasons blessings' with photos of children and feasts. There's no sport, no gigs, Canberra is shut down. TV is only repeats. It's a perfect day to binge watch Deadwood. Is the Lomond open across the road? I've never checked. Probably is, it's always there when you need it, that pub. Though this may be the last year it's so. I hear it's up for sale. Everything has a price, especially at Christmas.
This show has become part of my yearly ritual. In the air-conditioned confines of RRR central, playing a range of music, things I've come across through the year and whatever I feel like on the day. Stuff from my world, indie 80s, Pacific passion, spoken word, electronica, soundtracks, from Victoria St, Fitzroy back in the day to the current Brunswick location. I force my way through the 35 degree wild north wind, through litter swirling round like willy willies in the sparse concrete carpark next to the station on Nicholson St, to arrive half an hour before the show, as much as to make sure any technological changes to the desk don't flummox me. I have a bottle of wine and some leftover Xmas breakfast, a box of LPs and CDs and a laptop. It has a loose structure to it. Very loose. I'm not that great at it. One show a year is certainly enough.
People listening in their cars while driving from Cheltenham to Boronia, from Flinders to Frankston between two family occasions. People listening while sitting on the couch with a full belly and the fuzzy brain from having had three wines by 1pm. Or hiding away from the family skeletons in the closet. Others may have organised an afternoon with friends, the new millennium family, RRR in the background as the soundtrack for the afternoon.
Sometimes friends ring up knowing it's a surefire way of catching me. Regular calls from people's living rooms. A mate who I played cricket with in his teens who ran The Sharps fanclub back in the day when he didn't know better. He rings every year and requests one of their songs. Another part of the ritual. And every year I have no idea where to look (best excuse I can find, though that ruse has now gone).
There is a bracket of what I call Christmas tunes… I start with it every year. Some just with a sideways association with the day.
1. 'Beasley Street' – the bard of Salford, John Cooper Clarke, off Snap, Crackle and Bop. Social realism at its finest, where Tory minister 'Keith Joseph smiles and a baby dies in a box on Beasley Street' spoken rhythmically over Vini Reilly's atmospheric guitar (The Durutti Column), a killer bass and Martin Hannett's production.
2. 'River' – Joni Mitchell off the album Blue with its melancholy piano refrain of Jingle Bells and a yearning to escape.
3. 'Nguta Waltjilpa' – Frank Yamma off Countryman from sparse Pitjantjatjara country, Docker River near the border of SA, WA and NT .The title translates as 'lonely place'. Frank wrote it with charcoal on a VB box. His voice soars. He is one of this country's greats.
4. 'Christmas Card from a Hooker in Minneapolis' – Tom Waits off Blue Valentine. Confessionary poetry from a sex worker over a back jazz dumb piano 'Don't have a husband, he don't play the trombone'. In a perfect world it'd be Tom at the Music Bowl the night before, not Daryl Somers or Dennis Walter.
5. 'Fairytale of New York' – Kirsty MacColl, The Pogues. 'Christmas eve babe in the drunk tank'; 'Got on a lucky one, came in 18-1'; 'Cars big as bars they got rivers of gold'. Exquisite. I know you'll also hear this song on 774 but 'tis too good to leave to Blackburn.
6. 'Bombs Dropped on Xmas' – The Reels off the 5 Great Gift Ideas From The Reels EP. Nails Christmas with Santa being called out for being a business man's dream with its chorus refrain 'And the bombs dropped on Christmas and I watched it on TV'.
7. 'A Child's Christmas in Wales' – John Cale off Paris 1919, with its shared Dylan Thomas spirit of wry childhood remembrances.
8. 'Ship Building' – Robert Wyatt always gets a guernsey with its Falklands War critique. Wyatt's voice and story are unique.
9. 'Cycling' – Boards of Canada, off the Peels Session. Love 'em. This merges textural beats, analogue keyboards and bleeps with British seagulls.
10. 'A Heart Needs a Home' – Richard and Linda Thompson off Watching the Dark. A heart needs a home, indeed…
Once I've got over my Christmas songs set, I move on. It's like doing a car tape. Not much talk or announcing, play 8 to 10 songs in a bracket, occasional breaks for carts. This, of course, means I have to read an endless list of tracks out in quick succession. I presume Xmas day ain't the day to give little curios on tracks. I am the DJ, I am what I play. Or as my friend Byron Scullin says in his hilarious North European DJ mimic, 'I play other people's music better than anyone else'.
The only acknowledgement to the religious side of Christmas is Melanesian choirs. My only church attendances since I was twelve (apart from funerals) are in PNG, Vanuatu or the Solomons because the four part harmony singing of the local lotu (church) rings out, through the surrounding gardens and concrete structures. It's a rich, saturating joyous wall of sound singing. I record them and play them on the show with kids chatting and laughing in the mix. The sermons are a bit of a hoot too, spoken in Tok Pisin with hilarious metaphors and flow. "Na Jesus I tok tok, 'Olsem Wanem?'" ('Jesus says, "How's things?"'). It helps you get past the absurdity of western religion cramping traditional custom. It is what it is. That battle was lost years ago. I also play an array of Wantok Musik artists that I work with. They rarely get heard enough so if I'm guilty of insider trading, so be it. George Telek, Frank Yamma, Kamalita (Bougainville), William Takaku, Emily Wurramara (Gruyte) or Kas Futialo (Efate) with his Samoan hip hop, some of our region's finest. They transcend any notion of 'world music'. They help define our region, they are artists who more than hold their own played next to The Blackeyed Susans, Kraftwerk, Cat Power and Thievery Corporation or whatever. I'm a fan of shows that don't delineate. Besides, you're a mean-spirited soul if the Junior Devils String Band can't put a smile on your dial.
One of the side benefits of the show was eligibility to play with the Megahertz back in the day. Now I know that these days, the Hertz are reduced to playing the Washington Generals opposite the Allstar Rockdogs Harlem Globetrotters, but being a recalcitrant musician playing on the side of PBS and RRR announcers in two winning teams featuring Sam Pang, Sam Lane, Jacinta Parsons, Rachael Warren (god bless her), The Big O, Tony Wilson, Fee B-Squared, JVG and Tom 'Hot pants' Elliott (before he turned slightly right of Genghis Khan), those victories are to be treasured. Jason Evans flippantly jibes me, 'Why Megahertz, Judas?' to which I reply 'because Phil Wales asked me, the Hertz have a better jumper and I produced the club song' (cue Gary Glitter's Rock n Roll).
In the last hour as I tire and the good folk of Melbourne drunkenly snooze on the couch amongst the snoring of Uncle Barry and Aunty Esme's brandy trifle, Gavin Bryars' 'Jesus blood never failed me yet' might take us home. I've never played the full 74 minutes, that'd be indulgent ☺ but it's the perfect Yuletide piece. An eloquent and understated ode to spirit and optimism from a rough sleeper.
RRR is a bit like the PNG wantok system. Anyone I meet who has an association with the station, I assume to be a good person until they prove otherwise. The otherwise has only occurred a few times. I like the RRR family – smart, rebellious, in the arts for the right reasons, not big-headed (too much). It's an important part of my life.
'I wrote a letter to Santa Claus to get a job for me,
I put it under the Christmas tree, I asked him please,
How could I kid myself, he's a business man's dream
And the bombs dropped on Christmas and I watched it on TV'
Dave Mason, The Reels
David Bridie is a founding member of Not Drowning, Waving and My Friend The Chocolate Cake, and has released a number of solo albums as well as producing numerous soundtracks and albums. Ditch Christmas lunch to catch him on air midday to 4pm on December 25.
This story first appeared in the December 2017 issue of The Trip, Triple R's subscriber magazine.