'What Do You Define as Original?': No Sister on Their New EP 'Influence'
Ahead of the release of their new EP, Melbourne band No Sister speak to Triple R volunteer writer Nicholas Kennedy about perspectives on pop music, originality and DIY feminism in an industry where it's all been done before.
Words by Nicholas Kennedy
There's a scene near the end of Boogie Nights wherein Mark Wahlberg's character, 'Dirk Diggler', is frozen on a couch, trapped in the garish early '80s living room of cocaine dealer Rahad Jackson. Diggler stares at Jackson with a mix of bemusement, fascination and rising anxiety as he convulses about the room in a drug-induced stupor. From the stereo, Rick Springfield's 'Jessie's Girl' envelopes Diggler's mind, smothering all other sound. The experience Diggler has in that living room is supposedly a formative one, rich in terror and choice and consequence.
So, why can't he stop listening to 'Jessie's Girl'?
'There's something sad about pop songs, and that scene reads so much into "Jessie's Girl" rather than "Jessie's Girl" reads into that scene,' says songwriter Tiarney Miekus. 'I can't be the only one who feels this way. When you listen to a great pop song, it feels like it promises so much, but in that moment, you're getting really swept up, and then reality is going to come back in. I feel like that scene reminds you about that.'
So, what's the promise being made to Diggler? Salvation? The idea that everything will be OK, even this drug-deal-going-bad that he finds himself in the middle of? Pop music isn't going to save Diggler; it isn't going to save anyone – you only get out what you put in.
Tiarney is an arts writer, if you couldn't tell. Away from music, she interviews the likes of Patricia Piccinini and Darren Sylvester. Up until recently she edited Difficult Fun, a long-form music blog, rich in strange and artistic subject matter. Mino Peric is a guitarist, film composer, and the other main songwriter in No Sister, alongside Tiarney. They both share a quiet intelligence – happy to play with ideas out in the open, but confident in their positions. At one point, regarding No Sister, Mino remarks, 'I've never had to regret anything'. Bold, but it sounds like he's telling the truth.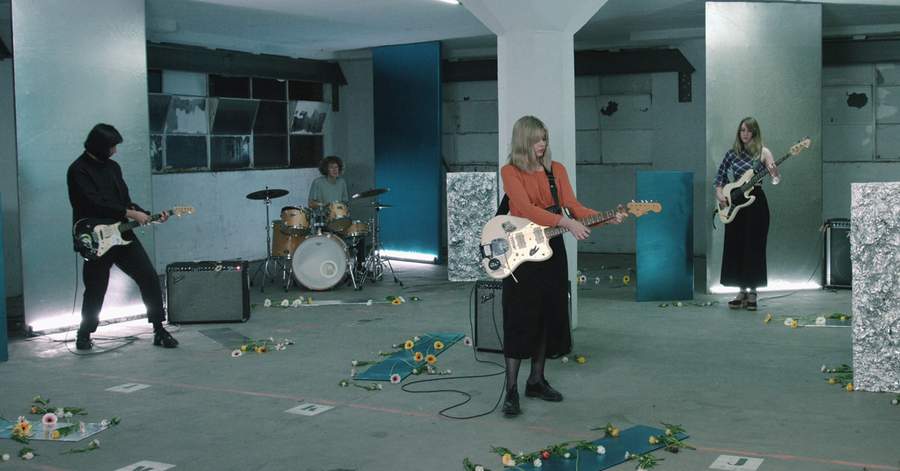 They also know all about getting swept up in a good pop song. With Murray Coggan and Gemma Helms on drums and bass respectively, as No Sister, the two have spent the last seven years refracting interpretations of icy, verbose post-punk, emotive pop music, composition, and influence. Most recently, they've arrived at their newest EP, Influence – a four-track exercise of refracted influences and original works, interwoven.
Titling an EP with the word Influence is a pretty loaded move. Determining the originality of a work seems pointless in the post-internet, open content landscape of today, with entire genres and forms of entertainment existing based on the re-interpretation of pre-existing work. On Influence, No Sister have decided to lean into the discussion, placing lyrics and ideas not-entirely-their-own at the fore of the record. Referencing the frank outlook of Italian philosopher Umberto Eco regarding 'influence', Tiarney says, 'There's always a push for things to be solely original or new, especially in art and even more so in music sometimes. I'm sceptical of that. What do you define as original? [Eco] talked about how, in art, it's original because it comes from him… that's a nice answer to the problem of originality – if you even think it's a problem.'
However, Tiarney also rejects the idea that any art is safe from influence. 'It's so pivotal to anything creative, and I guess [Mino and I] come from that school of thought that art comes from influence, rather than the genius or sole creator.'
The EPs opener 'My New Career' is rich, swooning and pregnant with anticipation. Stuck between the safety of the familiar and the desire for the new, Tiarney ponders newfound ambition: I used to tend to home and garden / Now I think of trying arson. The music video reads like a collection of zines brought to life; collages of flowers projected onto columns and cut flowers scattered across a warehouse floor, just waiting to be pressed between pages. Drawing lyrics directly from the work of Melbourne visual artist Ruth O'Leary, Tiarney sings, I used to do my hair with rollers / now I use spray cans and pliers, a DIY feminism mantra that O'Leary herself learned secondhand at 16.
Tiarney says, 'Me and Ruth talked about how [DIY feminism] seemed like something you could use in your day-to-day life, as you please. I thought, Well yeah, it is really DIY feminism to be a female car mechanic in the '70s; it's more like a fundamental way that you live your life.
This 'DIY feminist' approach matches with the tactile, sonic physicality of No Sister's instrumentation. Mino speaks about the kind of self-referential experimentation the band is often implementing: '[We're] using things on guitars and coming up with different sounds, but without trying to add too much more into the mix – making use of what we have and seeing where we can go with that.'
During an interview with Essendon Airport's David Chesworth, Mino and David spoke about the ringing of church bells near David's childhood home. The sound of the bells didn't immediately present as musical, but it was their ringing patterns that first struck David. This appreciation for 'sound-as-sound' is an idea Mino has explored before: 'To put it very simply, I like the sound of things, rather than where they come from or what they mean, or even how they fit into a pop or rock context.'
A detachment from the identity of sound allows Mino to approach the building of a No Sister song with a constantly evolving perspective. Motifs are forgotten and re-learned; elements of past recordings are used as springboards for new creative avenues. All band members have a hand in editing the ongoing product.
'There's this constant back and forth of rearranging and editing,' says Mino, whose other musical outlet is composing for film. 'As a composer, at least for me, you want to give the audience something that they can finish off. You want them to be able to finish the sentence.'
If you're able to string an audience along narratively with a good pop song, such as 'Jessie's Girl', you can imbue a scene with a potent emotion, a sense of inevitability. 'It's almost like making it a little bit predictable,' Mino says. 'You need to leave the audience members able to ground it themselves, and that gives them the satisfaction.'
Sometimes that inevitability is an image conjured in the mind. Large fields / Small bodies, recites Mino on 'Something (All at Once)'. Islands? Graves? War crimes? 'Something (All at Once)' has its own meaning, determined by Mino and the band, but the interpretation allowed between passages in where a sort of horror emerges. Small bodies – what did he mean by that? It's the sharp guitars, the clattering drums – like the creaking of floorboards overhead, in a house where you thought you were alone.
For 'Burning News', which initially reads as some sort of eulogy for truth in a post-Trump era, Mino drew on entirely different memories. 'When I was a kid, in Japan, we were clearing out a family home of all this rubbish, and burning it in the yard,' he says. 'I looked up, and there were all these newspaper ashes floating in the sky, and they looked like crows flocking. Some years later, I was watching an Akira Kurosawa film, and there's this scene in it where there are all these crows that are digitally green-screened in, and it clicked in my head that I'd even had that memory in the first place.'
For Mino, the ultimate meaning of the song is the feeling of a foreboding occurrence. As he puts it, 'There's something up ahead'. What that 'something' will mean, its influence, remains to be seen. Mino's memory, resurrected by happenstance, warped by art outside of the self – influence in action.
---
No Sister launch their EP on Friday 30 August at The Tote. Nicholas Kennedy is a Melbourne-based writer and Triple R volunteer. You can follow him on most social media sites at @nickkennedy.