Things You (Possibly) Didn't Know About The Teskey Brothers
By Triple R volunteer writer Katherine Smyrk
It's Josh's voice that you first notice when you listen to The Teskey Brothers, described on their website as 'smoked whisky' that 'defies expectation'. Behind that voice is a solid Motown sound that is making blues and soul fans around the world tap their toes.
But this is no niche outfit: the band has been selling out shows on virtually non-stop national and international tours since 2017; their first album, Half Mile Harvest, got to number one on the ARIA Independent Album Chart and number five on the American iTunes chart; and they've played at Meredith Music Festival and Byron Bay Bluesfest.
To celebrate their much-awaited second album, Run Home Slow, we thought we'd dig up some things you might not know about The Teskey Brothers.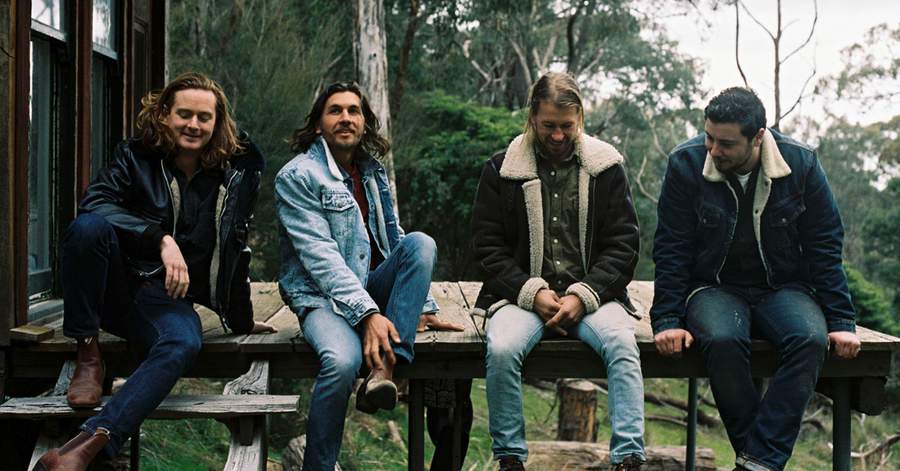 They are simple country boys (and not all brothers)
The four blokes that make up the band hail from the verdant outer-Melbourne suburb of Warrandyte.
The two brothers – Sam (lead guitar) and Josh (vocals and rhythm guitar) ­­– have been playing together since they were young, busking amid the knick-knacks and soft piles of vintage clothes at the St Andrews Community Market. Brendon Love (bass) and Liam Gough (drums) were other neighbourhood kids, and the friends started jamming when they were teenagers.
They discovered blues and soul through their parents' eclectic record collections – journeying through Otis Redding, Sam Cooke, Donny Hathaway – and used to sneak into the St Andrews Hotel to watch musicians like Geoff Achison and Chris Wilson.
Although they now tour all over the world, Warrandyte is still home, and provides the moody, lush backdrop to a lot of their music videos. Both albums have been recorded in the basement studio of their home.
---
They have other jobs
Until very recently, playing music was something that could only happen on the weekends and evenings after work. Sam Teskey did a bit of music engineering, but is first and foremost a carpenter; he actually built the recording studio in their house. Josh is a plumber, and kept his vocal chords limber by singing along to the radio on site, earning himself the nickname 'the singing plumber'. It's only recently they've changed from their normal routine.
'We're definitely stepping back,' Josh told the Sydney Morning Herald. 'I'm really flexible with work, luckily, but the music takes priority. I'm just this hopeless plumber to most people because I'm never available – which is typical of plumbers!'
---
Their overnight success took a minute
If you look at the last few years, the band members have become superstars at almost frightening speed.
Just two years ago, Josh admitted to the Sydney Morning Herald that they'd never really toured before: 'This is the first time we've played outside of Victoria, so it's really exciting,' he said. 'The crowds at shows are a real eye-opener – people are singing along, which is a definite first for us. To see people connecting with our music like that is an amazing thing.'
And now the band is touring the world, topping charts and stealing hearts.
But before you get carried away with this rags-to-riches fairy tale, it's important to realise that this seeming overnight success has a long backstory.
The band officially formed in 2008, and since then the fellas have been playing gigs in Melbourne and around the Yarra Valley practically every weekend, 'busking at the local farmers' market, backyard party jams, and eventually moving up to the inner-city pubs of Melbourne'. Until recently, they performed most Sunday afternoons at the St Andrews Hotel.
---
Their music is a digital-free zone
To keep the raw, '60s-inspired sound that so defines their live sound, The Teskey Brothers eschewed the whizz-bang advantages of modern recording technology and did things their own way. This meant recording Half Mile Harvest on a 24-track tape machine, previously owned by Jimmy Barnes.
'We wanted to record specifically to this tape machine,' Josh told The Industry Observer. 'We wanted to go through the recording process that the old artists would have back in the '60s and '70s, the people who influenced us. We wanted to make this record that had this old sound… that was the inspiration for us to record the album at all.'
It certainly gave the album – named after the length of tape that goes into the machine – a distinct sound that people responded to. But it didn't come without its challenges.
Liam described the recorder to Scenestr as 'a washing machine combined with something from Doctor Who'.
'It's always breaking down, so it's a labour of love,' he said. 'We're kind of held ransom by the tape machine as to whether we can get things done.'
---
Their promotion was originally all DIY
When The Teskey Brothers first released their album they didn't have a manager or a label. They did all the promotion on their own, schlepping around the city to drop the record off to community radio stations with a handwritten letter.
'We just kind of went into the deep end with it,' Josh told The Industry Observer. 'Community radio here in Melbourne was really what pushed it, on stations like PBS and 3RRR particularly. All the blues and souls shows gave it a really good spin and it stemmed from that.
'It was a fun journey doing it that way, running everything yourself is terrifying as well. As the year went on, we'd get calls from industry and we had no idea what we were doing. It was crazy.'
Since then, they have built a team around them that is helping to manage the heady tumult of success. Their manager is now Jeremy Furze, who owns Clifton Hill bar Some Velvet Morning, where the band had previously performed.
'They played a month of Sundays and by week three I was very intrigued,' says Jeremy. 'I'd gotten to know them and realised they were very down to earth guys, very genuine musicians and very genuine people.'
In 2018 they joined Ivy League Records – the home of bands like Rolling Blackouts Coastal Fever, Hatchie and Cloud Control – in 2018. They made that choice, they told The Music Network, because the people there 'are a forward-thinking and enthusiastic bunch of music nerds. We couldn't imagine a better home for our band.'
---
They have stayed true to the blues
Soul and blues has always been at the root of what The Teskey Brothers are all about. And while they have polished and refined their craft over the last decade, they are still playing the same kind of tunes.
'It's simple, I've always loved it,' Josh told Beat. 'I feel like that kind of music is timeless. It's not a new trend, it's always been here. I feel like it's at the core of a lot of music genres. There's always been someone doing it.'
There was a fear that the kind of music they were making would never make it onto the mainstream, but they stuck it out, and are now being celebrated for doing what they do best.
'I think it's been really good that we've stuck it out, always playing the music we love playing,' Josh told Isolated Nation. 'Eventually people will get behind it. I think just stick to the music you love.'
---
Katherine Smyrk is a Melbourne-based writer of fiction and non-fiction, and the Deputy Editor of The Big Issue. When she's not reading or writing, she is usually eating cheese, playing footy or dancing to Beyoncé. Find her on Twitter.