Things You (Possibly) Didn't Know about Sharon Van Etten
By Triple R volunteer writer Katherine Smyrk
It feels like Sharon Van Etten is having a moment. The musician/singer/songwriter originally from New Jersey, USA, released her first album, Because I Was in Love, in 2009. Three more acclaimed records followed this quickly.
But the arrival of new album Remind Me Tomorrow, five years since her last, has shown the world a different side to the 38-year-old artist – her folky roots have been darkened, amplified by synth and electronic instrumentation. And people are lapping it up – including us (Remind Me Tomorrow was a recent 3RRR Album of the Week). Pitchfork describes it as 'the peak of Van Etten's songwriting, her most atmospheric and emotionally piercing album to date'.
Now, the star is bringing her soulful music to Triple R for our Winter Warmers Live to Air event series (Sharon will perform for an audience of lucky subscribers during Maps with guest host Jazz Feldy on Monday 10 June at 6pm). Before she graces the stage here, we wanted to get to know a little more about the philosophies, fears and feelings behind Sharon Van Etten.
HER NEW RECORD IS ABOUT PURSUING YOUR PASSIONS
The title of Sharon's new album is pulled from something startlingly mundane – the computer pop-up asking you to update.
'The album title makes me giggle,' Sharon writes on her website. 'It occurred to me one night when I, on autopilot, clicked "remind me tomorrow" on the update window. I hadn't updated in months! And it's the simplest of tasks!'
Sharon's fifth album is one written in stolen time, often with headphones on while she watched over her sleeping toddler. It found its formation when she was meant to be taking a break from music – she was studying psychology, adjusting to becoming a parent for the first time, and had just accepted a role as sweet-voiced Rachel on supernatural drama The OA. She performed for an episode of the reboot of Twin Peaks and was also writing the score for indie film Strange Weather. She has aspirations to write a show of her own, and has recently tried her hand at stand-up comedy.
'I want to be a mom, a singer, an actress, go to school, but yeah, I have a stain on my shirt, oatmeal in my hair and I feel like a mess, but I'm here. Doing it. This record is about pursuing your passions.'
SHE BELIEVES IN THE POWER OF LETTING GO
While deep in the tumult of this stage in her life, Sharon has had to relinquish some of the iron-clad control she has asserted over past albums. She also yearned for something different. Sick of guitar, she began noodling around on the Jupiter-4 synth owned by her studiomate, actor Michael Cera (who she met on the set of Twin Peaks).
Then, for the first time, she gave herself over to a producer – John Congleton, who has worked with the likes of St Vincent and Angel Olsen. She went in clutching records by Portishead and Nick Cave as inspiration, and opened up to a whole new way of making music.
'I was ready to let go of these songs,' she told The Guardian. 'I feel a lot of falling in love and settling down and becoming a mother, so much you can't control, you have to let go. And I feel like the more I let go and trust other people to do the things I need to do, the better off I am and the more I progress as a human being. As soon as I let go, I just feel that I open up as a person.'
SHE RECKONS 'WE'RE ALL A BIT FUCKED UP'
Sharon has spoken openly about the abusive relationship she fell into when she was just 17 years old, which estranged her from her family for years and stifled her musical output. This experience has undoubtedly influenced the depths of her artform, and still impacts her now. But she says that making music is her therapy.
'I'm not a sad and depressed person,' she told Vice. 'That's why I do this or else I would be. We're all a little bit fucked up, you know? It's OK to be sad,' she adds. 'It's OK to feel dark. It's OK to question what's going on in your life. I'm a really emotional person and I like to talk about my feelings, especially with my friends and my family.'
SHE WANTS TO HELP PEOPLE
This emotional honesty has always permeated her music – and resonated with her fans. That became abundantly clear after the release of her album Are We There (2014), which she describes as an album 'all about a breakup and me being in an unhealthy relationship'. At the signing table after shows, she noticed a shift in how people were talking to her.
'The people who came up to me weren't just sharing stories, they were seeking my advice,' she told Vulture. The things they were sharing were heavy, hard for her to hold on to – breakups, terminal illness, suicide. 'And I thought, I don't have it in me right now – but I realised I also kind of wanted to.'
Part of her motivation for putting her music on hold and enrolling in a psychology undergraduate degree was the leagues of hurting people she was encountering. She particularly wants to work with young people who are struggling, like she once was.
'I don't want to tour forever. I want to have a job outside of music where I'm still communicating and helping people to get in touch with their emotions,' Sharon told NME. 'Therapy wasn't an option when I was growing up. People would sweep things under the rug and never tackle their feelings head on. That's changing. You need to open those doors.'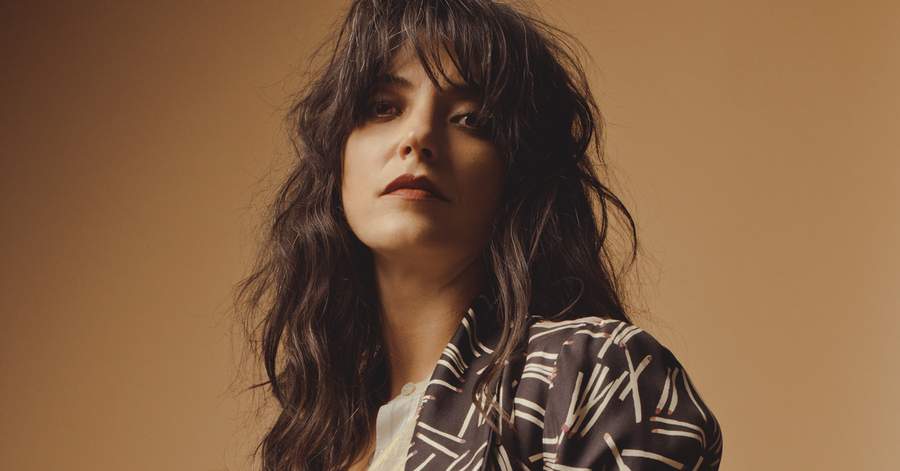 SHE SEES HER JOB AS BEING A POSITIVE ROLE MODEL
Remind Me Tomorrow was written during a strange time for her home country – and for the world. She told The Guardian that on the day Trump was elected she was alone, pregnant, and trying not to cry – she didn't want the bad energy to flow through to her unborn baby.
'It's a dark time. I'm not proud of our country for all that, but he doesn't represent me. So I said: "My job right now is to make my kid feel safe and to be a positive role model and to rise above that."'
She echoed the same sentiment to NME when talking about the new album: 'I'm reflecting on bringing life to Earth during a mix of emotions. Past records have been heartbreak records or break-up records. This is still an album of love songs, but about the state of the world while trying to stay positive for another human being.'
As she said in The Guardian, she is determined to focus on the things she can control, closer to home.
'It's about the micro and the day-to-day and who you are and the little small acts of kindness, and that is what my son will remember.'
---
Subscibers: want to see Sharon Van Etten live at RRR? Well, maybe you can! Sharon will perform during Maps with guest host Jazz Feldy on Monday 10 June at 6pm; she'll also be in conversation with Jazz from the stage before the live set. Doors open at 5.30pm; show starts at 6pm. Subscribers can email sharonvanetten@rrr.org.au with their full name and subscriber number in the subject line by COB Wednesday 5 June for the chance to be part of the audience.
---
Katherine Smyrk is a Melbourne-based writer of fiction and non-fiction, and the Deputy Editor of The Big Issue. When she's not reading or writing, she is usually eating cheese, playing footy or dancing to Beyoncé. Find her on Twitter.