Sweet Dreams Are Made of Cream
Words Geraldine Hickey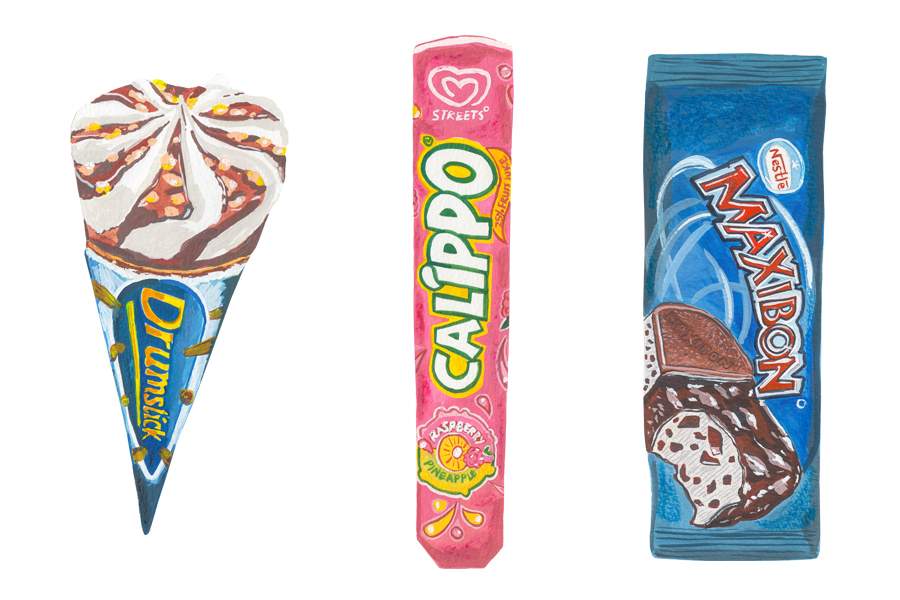 CLASSIC VANILLA DRUMSTICK
I went in with low expectations on this one. It's vanilla. No-one gets excited about vanilla. Yes, you can claim that you think vanilla is underrated, but it is rated adequately. We all know it's good, but there's no reason to get excited about it. Peters has done away with the cardboard circle on top and has replaced it with a clear plastic top, which means you can see the ice-cream; it looks like how you think it looks. The plastic is also domed, which means there is no touching of the ice-cream, so no licking. The nuts on top add a nice texture, but you wouldn't eat them on their own. I'd give it a three out of five for the creaminess of the ice-cream. The chocolate is good, but more is always better. Put it in a blender with Frangelico, Bailey's, Kahlua and a dash of milk for a Toblerone cocktail.
RASPBERRY AND PINEAPPLE CALIPPO
What a magical icy treat. The slushy-like consistency of a Calippo has always fascinated me. How do you explain it? Thick juice that's frozen? That doesn't sound delicious, but it is. Perhaps a little too sweet, but if you love straight cordial and living on the edge, then get a box and go nuts. Yes, a whole box because I just don't think one is enough. The packaging is the best around. The flattened cone end makes pushing up the icy treat a dream, and the packaging is thick enough for those with sensitive teeth to use as a buffer when biting. Blend with white rum and coconut cream for a piña colada.
MAXIBON
The Maxibon is marketed as an ice-cream for men. It's an ibon to the max! What's an ibon? Who knows? Something tough and blokey. The Maxibon has been a long-time favourite of mine. The ice-cream, though vanilla, is combined with delicious bits of choc chip and has a rating of four out of five for creaminess. The chocolate coating is thick enough to bite off in big chunks without the ice-cream losing shape and the biscuit is a welcome change to wafer. Best to eat in two bites followed up with a shot of Jägermeister.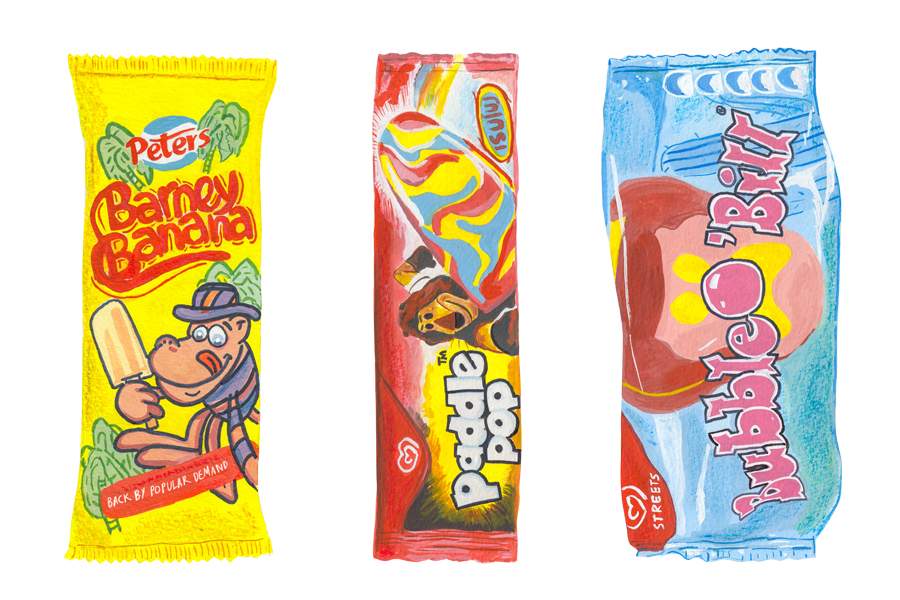 BARNEY BANANA
Do not understand the hype. They taste exactly like a banana lolly. Once when I was in prep, I fell off the slide and the teacher gave me a banana lolly to ease my pain but my mouth was full of blood so now I associate that flavour with trauma, so I could be biased. It needs to be said that this ice-cream is about as bland as they come. It's a pale yellow in colour and the ice-cream is not creamy at all. A frozen banana is more exciting than this. Blend with white rum for a frozen banana daiquiri.
RAINBOW PADDLE POP
It is smaller than you remember, but that's because it actually is. A few years ago, Streets reduced the size by 15 per cent, which they claim was for dietary requirement standards or some hogwash like that. It is $1.60 and I think probably one of the best value ice-creams on the market. Deliciously creamy and highly satisfying. The flavour is absolutely rainbow. Don't @ me trying to tell me it's actually caramel-flavoured and I only think it's rainbow because that's what I'm seeing. I walked down the street with my eyes closed eating one and it is rainbow- flavoured. Yes, I did walk into things (many things), but it was a sacrifice I was willing to make. Blend with Kahlua, vodka and espresso for a frozen rainbow espresso martini.
BUBBLE O' BILL
An ice-cream named after Bill. Bill is a cowboy. He has a Neapolitan-flavoured face, but the good kind of Neapolitan that has caramel instead of vanilla. He has strawberry-flavoured skin, caramel eyes and moustache and a chocolate-flavoured hat. The hat has a bullet hole in it, which quite frankly is a waste and should be filled with ice-cream, but sometimes you're lucky and the bullet hasn't gone all the way through and there is just a dent. Bill got his name because his nose is a ball of bubble gum. I recommend throwing that bubble gum straight in the bin. It is hard and after two chews it has no flavour. There is a chocolate coating on the back, which could be thicker but it is sufficient. Keep a box in the freezer because they are perfect for a hangover.
---
When Gez isn't assessing ice-cream flavours, she's hosting Breakfasters (weekdays, 6am to 9am). Anjana Jain is the designer of Smith Journal and is very excellent at drawing things.
This story first appeared in the summer 2018 issue of The Trip, Triple R's print magazine, sent to subscriber letterboxes in April, August and December.