Deeper Read: Tributes To Dave Thomas
Respect The Rock's Nicole TadPole and Dog Meat's Dave Laing tell us about the impact and legacy of local muso Dave Thomas, frontman of Bored!, member of Magic Dirt, and more.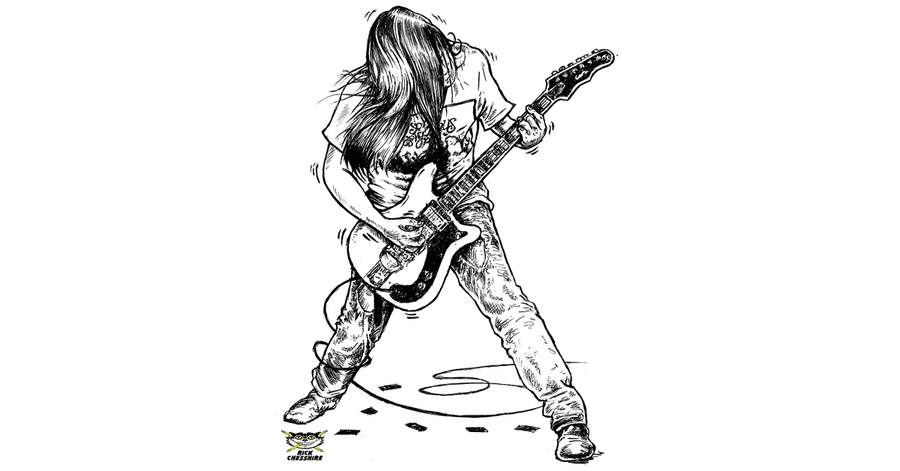 From Nicole TadPole
TadPole presents Respect The Rock
I am so saddened to hear about the passing of Dave Thomas. For a long time he's been described as Geelong's 'Godfather of Punk Rock' and it's a really apt title for Dave, who was a founding member of the great band, Bored!
Bored! are one of those bands remembered for being there at the start of a scene. Heaps of awesome rock bands continue to come out of Geelong and Bored! definitely paved the way for most of them.
So many Bored! songs and riffs painted the soundtrack to my teens and 20s, and endure to the present day. If you walked into the Barwon Club in the '90s and didn't recognise the Bored! song playing over the PA between bands, you'd probably have copped a punch in the nose from a local. "Little Suzie" and "Feed The Dog" were very regular picks on the Tote jukebox in the late '90s into the 2000s, and probably beyond. I don't think there has ever been a time when I've been overseas at gigs, and had conversations with rock fans about Australian bands, when Bored! or Powdermonkeys or Magic Dirt weren't mentioned.
Dave was also one of those hugely talented musos who didn't have his head up his own arse. I think many rock fans worldwide would hold a special place in their hearts for Dave Thomas - his riffs, his wry smile, and his willingness to give a leg up to other bands in the scene. He'll be sorely missed.
Tadpole xx
From Dave Laing
Dave released Bored!'s early records on his Grown Up Wrong! and Dog Meat labels. He was also a Triple R presenter in the late '80s
We recently lost one of the unsung heroes and genuinely good guys of Australian rock n' roll. Dave Thomas led a band called Bored! out of Geelong in 1988, instantly making everyone else, locals and internationals alike, sound tame by comparison. Bored! were an incredible force and as powerful live band as you could see. Their local impact cannot be overstated. They literally created the Geelong scene – there would have been no Dirty Lovers, Warped or Magic Dirt without them – and they brought new energy to the Melbourne scene. Bored!'s energy has continued to reverberate over the decades, in bands ranging from God to The Meanies and Spiderbait, to Hoss and the Powder Monkeys, Magic Dirt of course, and, whether they're aware of it or not, through to the likes of Power, Rot TV and Amyl & The Sniffers.
Bored! played hard and heavy music. Dave loved everyone from Radio Birdman and the Saints to the Coloured Balls and Rose Tattoo, from the Stooges & MC5 to Black Sabbath and Blue Cheer, from the Damned and the Sex Pistols to Black Flag and Husker Du, from Motörhead and Girlschool to the Dead Boys and the Runaways. Even early Metallica. Dave also got into Dead Moon before most people; he loved that level of rawness. Bored! were influenced by all these bands and one point or another they covered them all. Their sound was an unprecedented blend of it all. Their first record appeared just months before Mudhoney's first; if they'd been from Seattle they would have been worldbeaters.
Bored! were a phenomenal live band, but it was that first record, and the huge amount of play on RRR and PBS for "Little Suzie" in particular, that kicked things off for them. They were complete unknowns to that point. They basically came out of nowhere and blew everyone away. Within months they were playing with the big boys and scoring supports for the likes of Iggy Pop, Sonic Youth, the Ramones, Dinosaur Jr., Faith No More, Rollins Band etc. Within a year they had two more records out and were on their way to Europe.
Bored! was Dave's vision. He was riff-master supreme, and always had a fantastic sound. An underrated guitarist, his playing came to the fore in the second incarnation of the band, in which he carried the guitar load himself. Dave's guitar sounded like a flame thrower at that point; his super-heated tone just enveloped everything. Around this time Bored! did some studio stuff with both Pete Wells of Rose Tattoo (including a cover of X's Degenerate Boy with Wells on slide) and Kent Steedman of the Celibate Rifles. They also played a bunch of shows with Dark Carnival, the incredible Detroit band featuring Ron Asheton from the Stooges. Dave was working with his heroes. They sadly never did anything with Lobby Loyde alas, despite having covered "Human Being" on the first record.
A couple of years in and Dave started getting more heavily into the Wipers and Sonic Youth, and those bands would start informing his music. Dave let his freer inclinations run wild after Bored! split in '94 and he joined Magic Dirt, a group he had nurtured – he'd even managed them early on – and massively influenced. Dave combined all his different stylistic inclinations in his post-Magic Dirt band, the little-heard Tiger By The Tail, which he formed around 2005 with members of younger groups including Red Shift and the Sailors. They released two excellent albums – check them out.
Dave was there to help out any bands he dug. God, even before the release of "My Pal", were one of the first to benefit from his support. He was unassuming but a natural mentor. There were older bands that Dave championed as well, like original '77/78 punks the Chosen Few, years before the whole KBD punk thing became a thing. The outpouring of tributes over the last weeks is indicative of the regard and love so many people have for him.
Personally speaking – I met Dave in '85 or '86, I think at a gig by Slaughterhouse, a short-lived Melbourne band he was in who were an influence on what he did with Bored!. We bonded over our love of Detroit-style music, and a couple of times I visited him at his folk's house and slept over in a folding bed they'd make for me. I was starting up a label and was going to release a single by his band White Noise. The recording was good but live the group was a bit of a goof-off – at the time Dave lacked the confidence to take it seriously – so I held off. Eventually, I released the first few Bored! Records and being involved in all that had a big impact on me. We drifted apart over the years, but on occasion we'd catch up, and it was always good. Dave was a great guy.
I heard (thanks Rick Chesshire) that the day Dave died was also the day that Geelong's infamous Barwon Club closed its doors because of this freaking virus. The BC's closure is cause for sadness in itself, but the timing is fitting because Dave made that place and the whole Geelong scene. Of course, it's an extra pain they don't need down there, so spare a thought for all the good rocking souls of Geelong who are grieving. (Once again.)
As I started writing this, Leisa is saying goodbye to her husband, and Charlie and April are saying goodbye to their dad in a private ceremony. My heart bleeds for them, but hopefully, they can take some comfort in the knowledge Dave had a massive impact on the lives of countless others, and he's going to be remembered. And when this freaking virus is behind us, there'll be myriad friends and fans out there, getting together to celebrate that very fact.
In the meantime, I asked a bunch of Dave's fellow musicians if they'd say a few words. Here's what they gave me...
Jo Roberts (former editor, The Age EG): "It was an amazing time to live in Geelong when the Barwon Club started having bands. And Dave was at its epicentre. I don't think calling him the godfather of Geelong rock n roll, then or now, is a stretch. He was an encourager, educator and orchestrator. He made stuff happen but importantly, made others believe they could do it too. After playing in one local band, I started jamming with a bunch of women. Dave would sit in, encourage us and play lead over the top of us (of course!). He introduced me to the Stooges. I'm proud to say that the first time I played 'I Wanna Be Your Dog', it was with him."
Mike Chrystal (played with Dave in pre-Bored! band Slaughterhouse, and in earlier Melbourne band the Virgins, White Elephants and the Gas Babies): "I remember thinking at the time that the scene was fading a bit, but meeting Dave restored my faith. Dave's unblinking DIY approach, energy and enthusiasm for in particular Detroit style punk rock, i.e. MC5/Stooges, is something I'll never forget. He captured that style in the moment and put his own take on it for generations to enjoy."
Joel Silbersher (God, Hoss etc): "I remember that, in Melbourne, no matter how good we thought we played, we were received either with love or hate but that Geelong got it straight away and welcomed us with sweaty bosoms before 'My Pal' even came out. Dave got in my ear to do with music he knew I'd love. Tapes of Rocket from the Tombs, Stooges live, Sonic's Rendezvous… all things that were decades away from being officially released. Instructive stuff. Zeroed in on all the stuff that fell through commercial cracks but were obviously to him as mighty or mightier than anything on the overground. As soon as Bored! solidified and he started screaming, they just became the ultimate custom built live band for me. Him taking all his favourite guitar bands – Stooges, Runaways, Sabbath, Flag, Girlschool, Dead Boys – and removing any pop element, leaving only the riffmeat, made them so satisfying. Once they got good, every show would leave me feeling so full and happy. I have so much to thank him for. He also had a horribly good memory of what a dreadful teenager I was, and was still teasing me about it a bit."
Cris Wilson (Warped): "Aside from giving my band its first-ever gig in Geelong when I was 13, Dave had a gift of giving people a hand-up, a boost, a shout-out whenever he could. Growing up, he would mentor me and my friends on all things music, art, movies and more importantly, life. He taught me how to shave f'r cryin out loud! A huge part of my life has gone, and I'll never come across another like him. His legacy will live on through all the bands, music and people who had the fortune to associate with him. Love always, Thomo."
Ross Knight (Cosmic Psychos): "I always enjoyed a beer with Dave. What a great musician. What a great bloke. I'm a genuine fan of his work."
Dave Curley (Proton Energy Pills, Tumbleweed): "I met Dave Thomas in 1987. We had an immediate affinity, and we became pen pals (it was 1987 after all), he sent me his band's first demo, told me about Lobby Loyde as well as Sonic's Rendezvous Band and others. I would see his band whenever they were in town, even shared a bill a few times. I was in contact with him as recently as January; things were looking up. The last time I saw him was at my brother's funeral. He drove from Geelong to Wollongong to show his respects. I will never forget his generosity of spirit."
Kent Steedman (Celibate Rifles): "Dave T was a great character who I was lucky to spend time with. I liked Bored! a lot, the irony and humour and the power of the racket they made. I certainly didn't know Dave as well as many mourning his passing, none the less he was a gentleman and eccentric who I am happy to have known and shared music and time with."
Ray Ahn (Hard-ons): "I liked Dave a lot. I related to him. He sent me a VHS tape once. It had a whole lot of metal, hardcore, noise, punk, pop, avant-garde, and old rocking stuff like Alice Cooper and Kiss. And the Hard-ons, here we were thinking we were the only kids into a big broad spectrum of stuff. We thought everyone in Victoria was pretentious Nick Cave wannabes. We were glad when we met Bored!. I won't forget Dave's wonderful rock and roll spirit, a spirit that was liberally sprinkled with a genuine, unpretentious warmth of the human heart."
John Spittles (Asteroid B6-12, Johnny Casino etc.): "In 1992 Dave Thomas took me 'under his wing'. He took a chance on me, and my music when no one else would, if not for him it is possible I don't do what I do today. I have friends and family that are such a big part of my life that are directly linked to Dave. I love him very much and i always will. I carry Dave around with me always with the many funny stories we shared together and the music and people he exposed me to."
Richard Stanley (The Onyas, Ooga Boogas, Dropkick Records, Aarght Records, The Tote!): "I first read about Bored! in Hot Metal magazine in 1989, when Negative Waves came out. I went out and bought it immediately. I still remember lying on the floor on a hot Brisbane afternoon listening to it, my mind blown apart by the completely over the top riffs and snarling vocals. For a teenage metalhead feeling his way into punk, this was all I needed. Over the years, Dave always went about things in his own humble way, helping everyone else out more than he needed to, seeing the bright side of everything and everyone around him."
Leaping Larry L (Triple R, The Leapster's Bugle on Patreon): "There were a few different line-ups of Bored, and whichever one you were seeing over time, they always tore the hell out of it, from the start, where there wasn't much around like 'em in Geelong, or Melbourne, right to the end. That's a fact. They were a band for an audience who intended to get sweated up and go nuts, and they always played it loud and hard like they meant it. If you hear the records now, you can't mistake it. Dave Thomas himself I found could be kind of a prickly guy early on, but always with the laugh and kind of sly and smart. I enjoyed his company. Years later, I found him a real welcoming presence on the occasions we'd run into each other, and always enjoyed the heck out of meeting up with him."
Simon Keeler / Welsh Git (after his rock'n'roll education in Melbourne, Simon went home and became one of the UK's foremost rock gurus!): "I used to work at a distributer in London in the late 80s, and we would get amazing shipments from Australia. In my early days of working there we got the first Bored! EP. It completely blew my mind. Fast forward to '91, and I'm travelling to live in Melbourne. I knew no one really, and when Dave Laing introduced me to the new Bored! (Dave, Buzz and Russell) I was welcomed like a long lost friend. Upon my return to the UK, I ended up booking Bored!'s only UK tour. The first show at the Shepherds Bush Empire with the Cosmic Psychos was amazing... £600 for each band, and 600 cans of VB!! If only the rest of the tour had been that good!"
James Saunders (Tiger By The Tail): "Hearing Bored! on RRR and PBS as a suburban kid was a fucking revelation. The first time I saw them play live they were supporting Faith No More and absolutely blew them off stage. I was maybe 16 at the time. Fast forward 15 years and I'm standing next to Dave on stage with Tiger By The Tail. I'd gotten to know him pretty well by then. He'd given me a lot of guidance, advice, and laughs in the meantime. I counted him as a friend, but he was also a mentor, as he was to so many people. There was just no ego with Dave, even though he was THE pivotal figure in the Melbourne/Geelong underground rock scene. His influence can't be overstated. I'm incredibly proud of the music we made together. That first Tiger By The Tail album is probably the best thing I ever did. Dave had a vision, but he let us do our thing, giving encouragement and guidance along the way. He was a very special guy."
Claire Birchill (Claire Birchill & the Phantom Hitchhikers): "All of us music folk in Geelong are connected. But Dave's the centre of the family tree. I even got to play his famed Epiphone guitar at my debut gig at the Barwon Club, when it's second owner, Daniel Herring (Magic Dirt), loaned it to me. An honour I still can't believe was bestowed upon me. Dave always made you feel like a human being, even if you were just a shy teenager. And he'd listen to your demo. And get in touch right away! Then you'd get to share a stage with him if you were lucky. Thanks Dave, I'm a lucky one. May your music ring loud always."