An In-Depth Tour of Melbourne Independent Record Stores
Interviews: Justin Cantrell
Photos: Xavier Fennell
Come on an in-depth tour of some of Melbourne's finest independent vinyl retailers; find out which record store owner's first purchase was Tina Turner's Private Dancer; and discover why these people quit their day jobs to sell music full-time.
---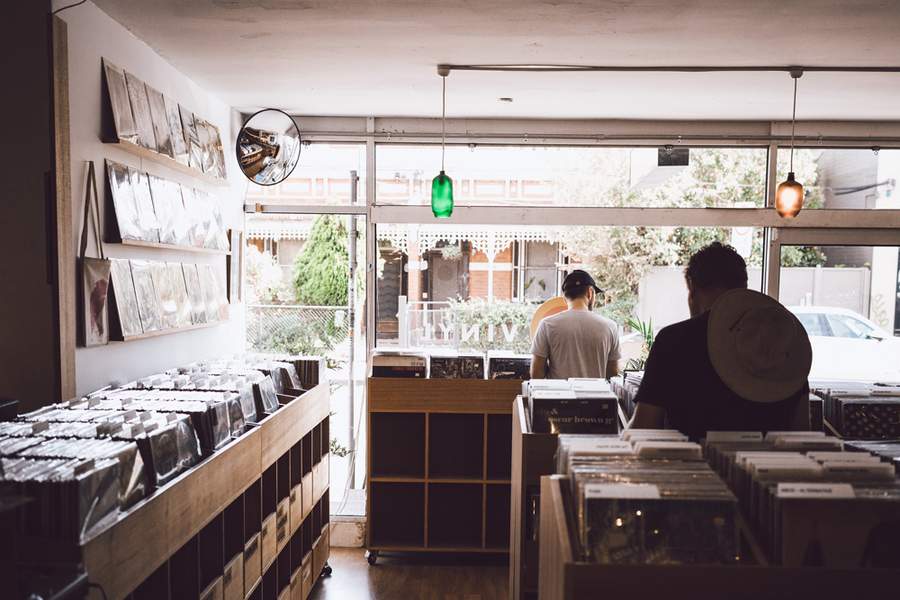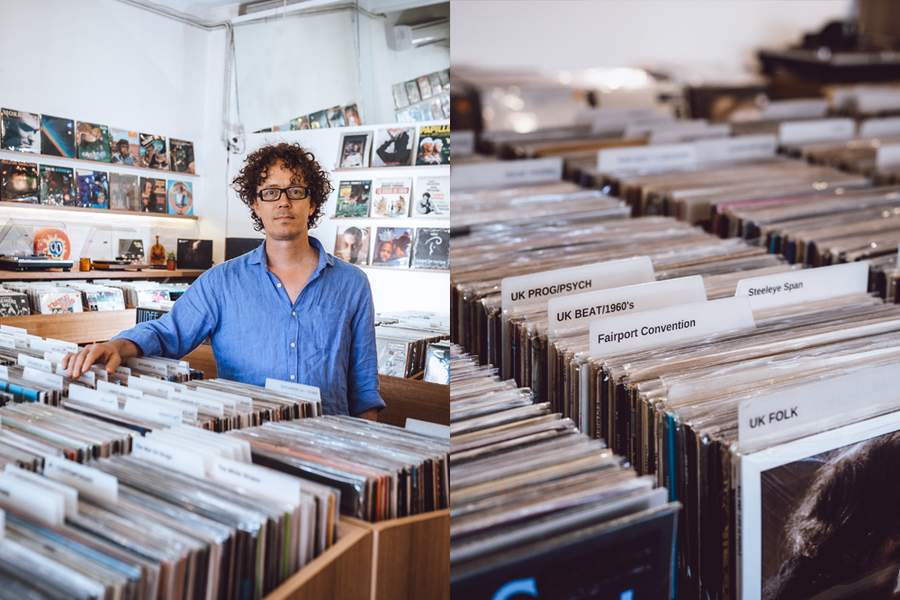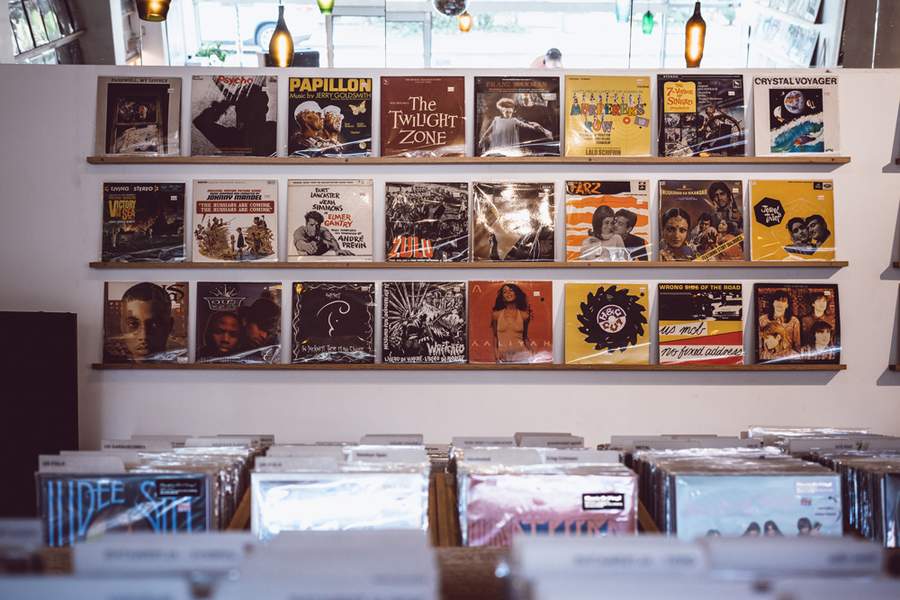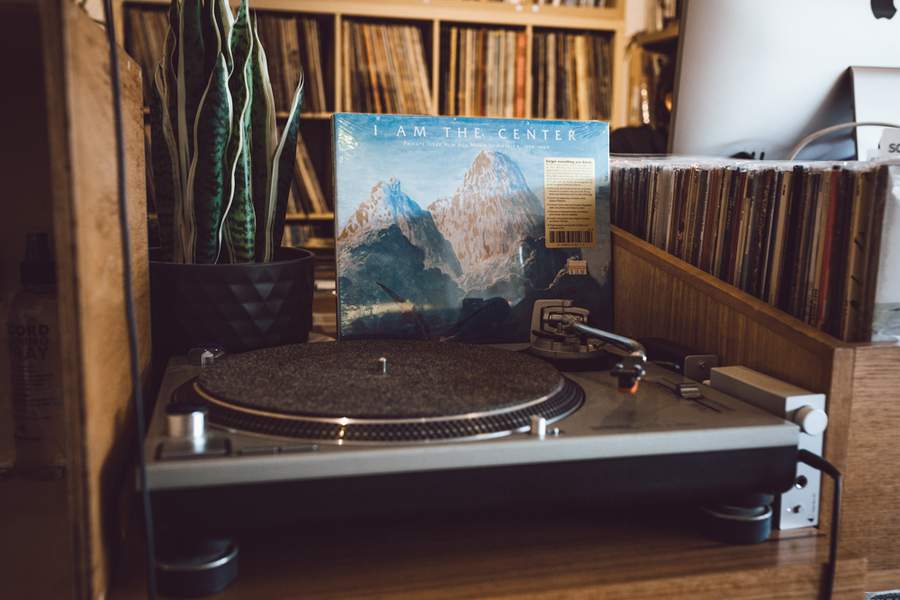 DUTCH VINYL // MARK REUTEN
269 Johnston St, Abbotsford
dutchvinyl.com.au
Why open a record store? I've been in the web design business for over 20 years and really wanted to do something new. The idea was first triggered by seeing the space, which I first took on as an office space. At the time I was playing with the idea of an online record store, but having the space got me thinking that opening a physical store would be much more fun.
How is Dutch Vinyl different to other record stores? We cater for everyone, both from a monetary and a genre perspective. We also don't curate our second-hand stock. This makes our second-hand offering pretty random and exciting, as we never know what will be next: a killer blues collection, metal, hip hop, prog… We pride ourselves on having a pretty amazing sound system: a top of the line Pro-Ject turntable, McIntosh amplifier and our beloved 1979 Infinity speakers, combined with a lovely pair of Tannoys. The interior of the shop has always been a key focus for me, too. I wanted a well-cared-for and nicely designed environment, which is why we've built all our own furniture.
What's your record collection like? Just like the shop collection, it's pretty eclectic, as I like to listen to pop, soul, jazz, funk, disco, rock, reggae and more. I only keep around 400 records in my home and use the shop as my own personal vinyl library. Every week I take a bunch of records home, most of which I return to the shop at some point.
---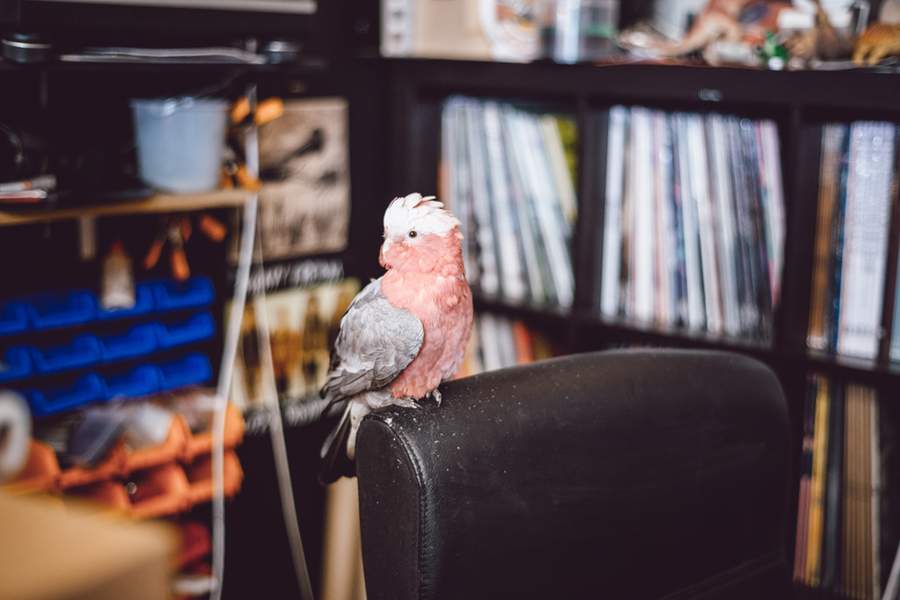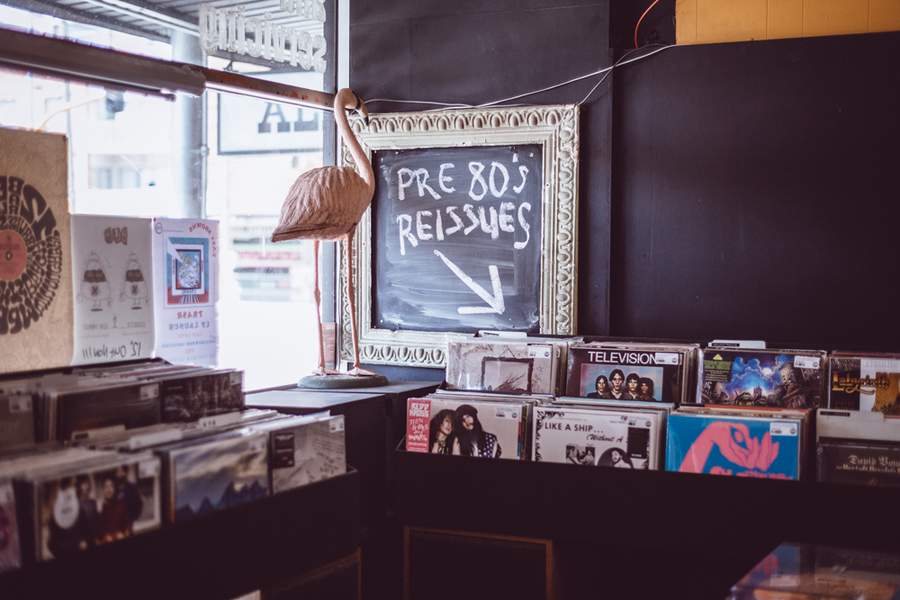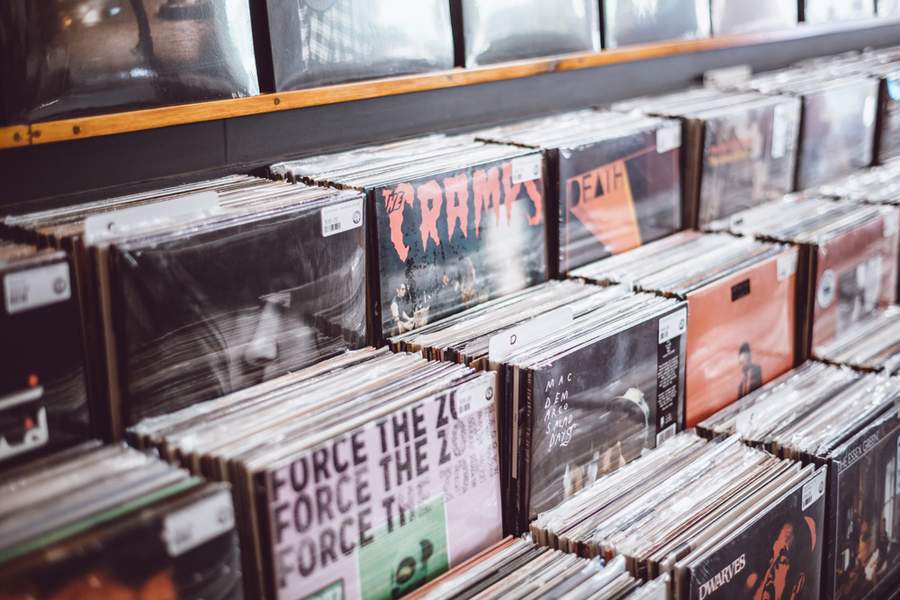 THORNBURY RECORDS // CLAY PEGUS
591 High St, Thornbury
thornburyrecords.com
What got you into music early on in life? The '90s. Growing up as a teenager in rural Victoria meant there was plenty of boredom, and music was the perfect escape.
Why open a record store? I quit my job to stir things up a little and figured (with some creativity and desperation) that I'd work something out. I was looking for a new rental house and I came across one with a shop at the front; that got me thinking.
How is Thornbury Records different to other record stores? T-Recs is unique in that we are one of the few record stores that doesn't sell second-hand music. The store was conceptualised at the dawn of the vinyl resurgence with a strict focus on new vinyl (to try and do one thing well).
What keeps your enthusiasm for music on a high, day to day? Receiving loads of new releases each week is exciting and we try to absorb as much as we can. As a teenager I thought it would be great to have a job where you could listen to music that you love all day. Seems to have come up bickies.
What's your record collection like? Genre-wise it's a mixed bag, but I'm mostly into psychedelic and fuzzy-sounding, heavy stuff. My vinyl collection has mostly been acquired since opening the store, but there's plenty of CDs that Marie Kondo would like me to thank for their service. I'm probably due for another IKEA Expedit bookshelf soon, but there's still some room on the floor.
---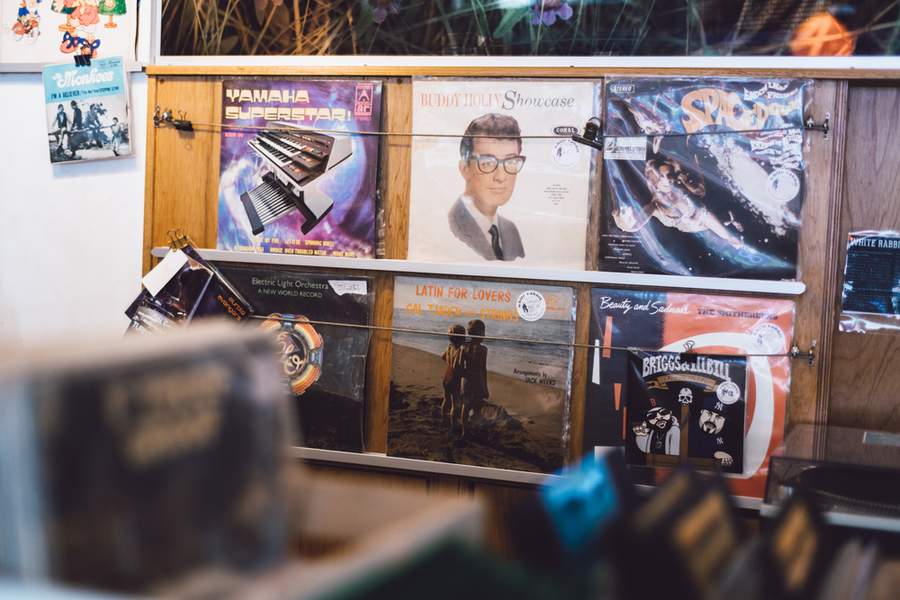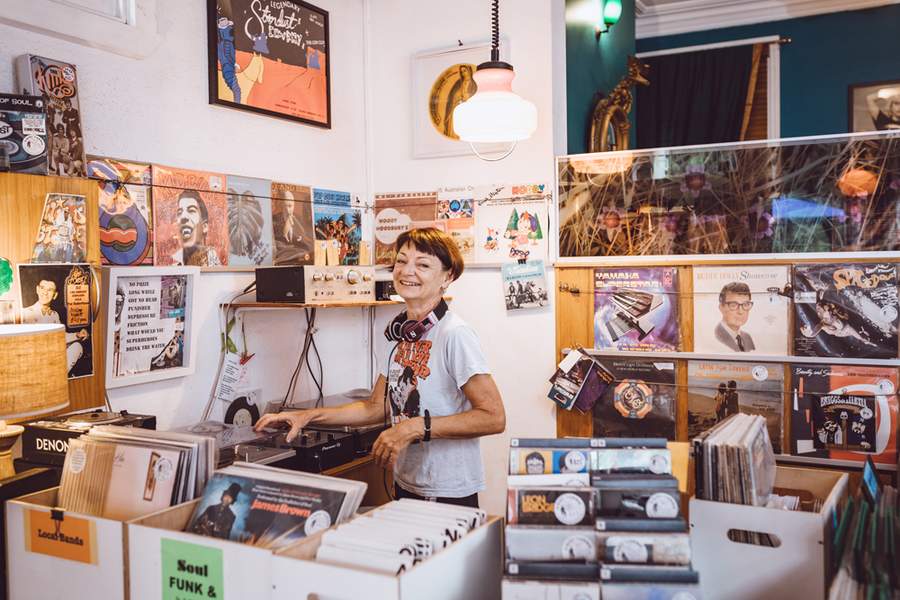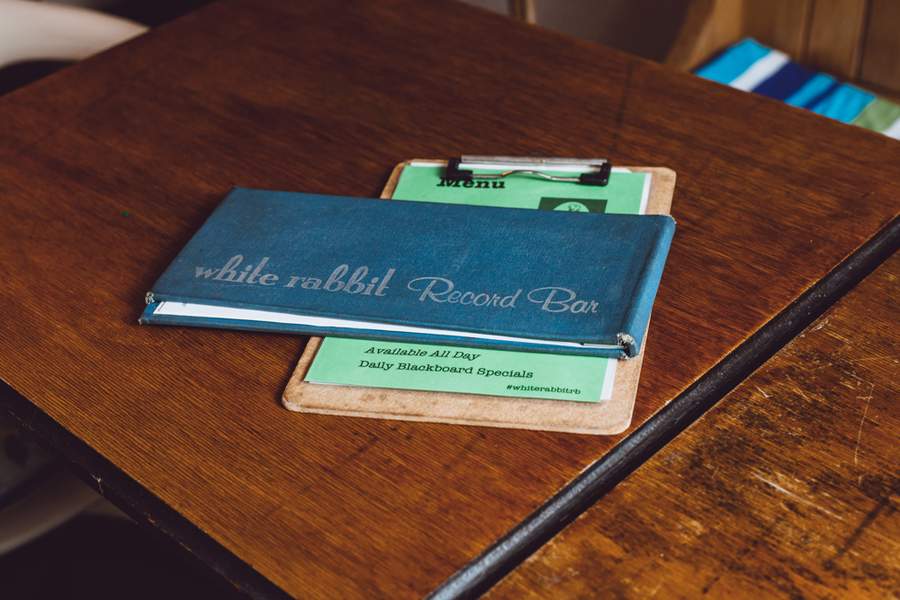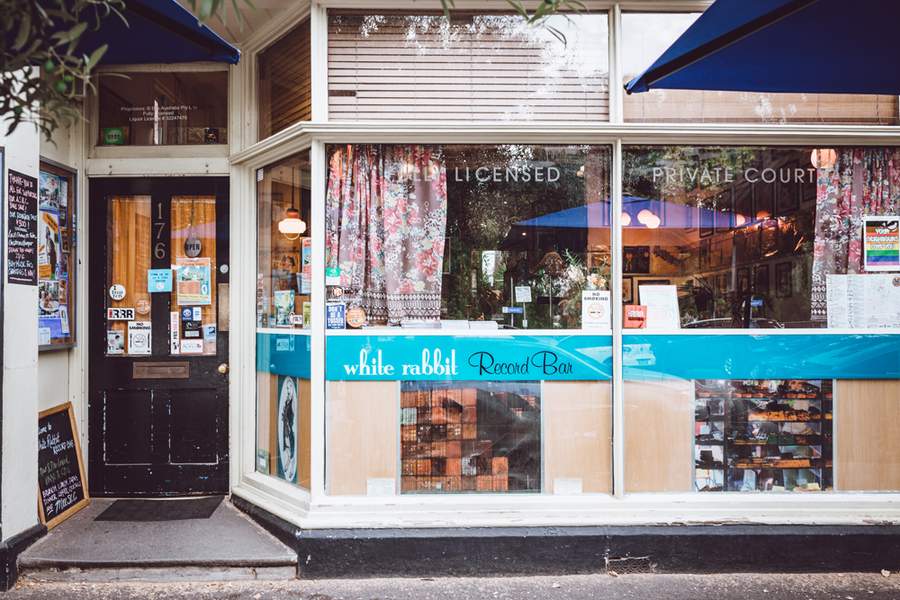 WHITE RABBIT RECORD BAR // ANN MULRONEY
176 Bellair St, Kensington
whiterabbitrecords.com.au
What got you into music early on in life? I grew up in Brisbane in the 'Countdown Generation', complete with David Essex poster on my bedroom wall. My musical tastes probably didn't stray from the mainstream until I got to uni where 4ZZZ would regularly host their 'Joint Effort' gigs with a mad mix of bands in the same gig for peanuts. We got to see The Riptides, The Go-Betweens, Died Pretty, Lime Spiders, The Screaming Tribesmen, Ed Kuepper, loads of great shows. At that time, living in sharehouses, it seemed everyone was in a band – even my brother.
Why open a record store? After an extended stint living in Dublin, my late husband Mark and I returned to Melbourne in 2002, resettling in Flemington. Mark was an avid collector of vinyls and retro memorabilia and was often lamenting the lack of music retail in our part of town. By 2005 we found ourselves setting up what is now White Rabbit Record Bar.
How is White Rabbit different to other record stores? We're a mixed business, a cafe, bar and record store, so there's never a dull moment!
Before you had your own, what record stores did you go to? In Brisbane there was and still is Rocking Horse Records with Warwick, the encyclopaedia of obscure indie rock. Back in the day, I loved Raoul Records in St Kilda. Chris at Northside has always been a guiding light. And a day in the city wouldn't be complete without sneaking down to Off The Hip.
---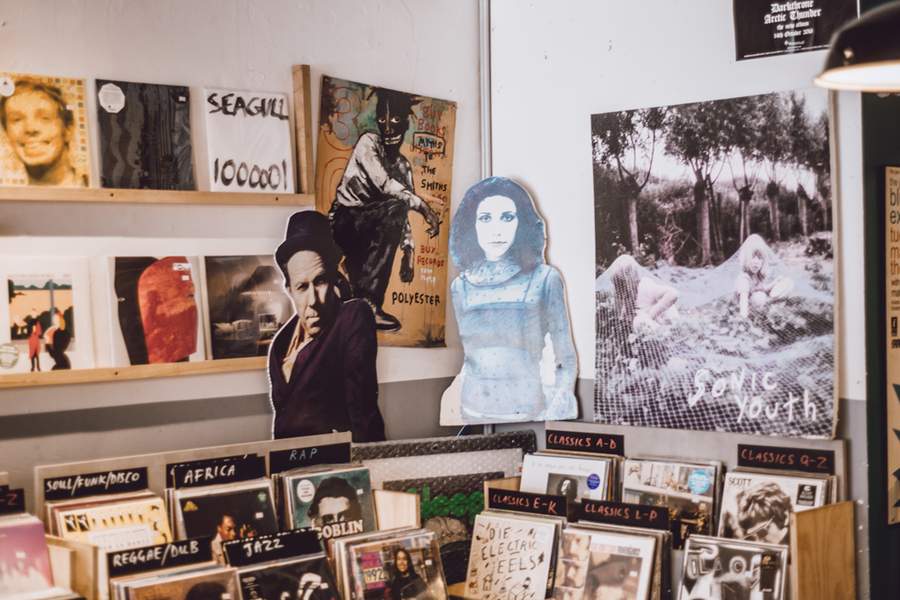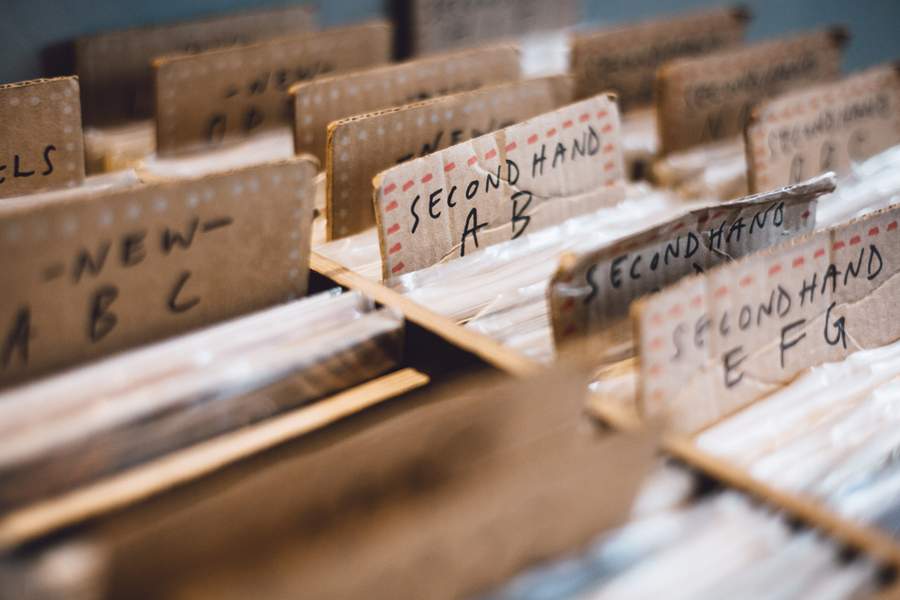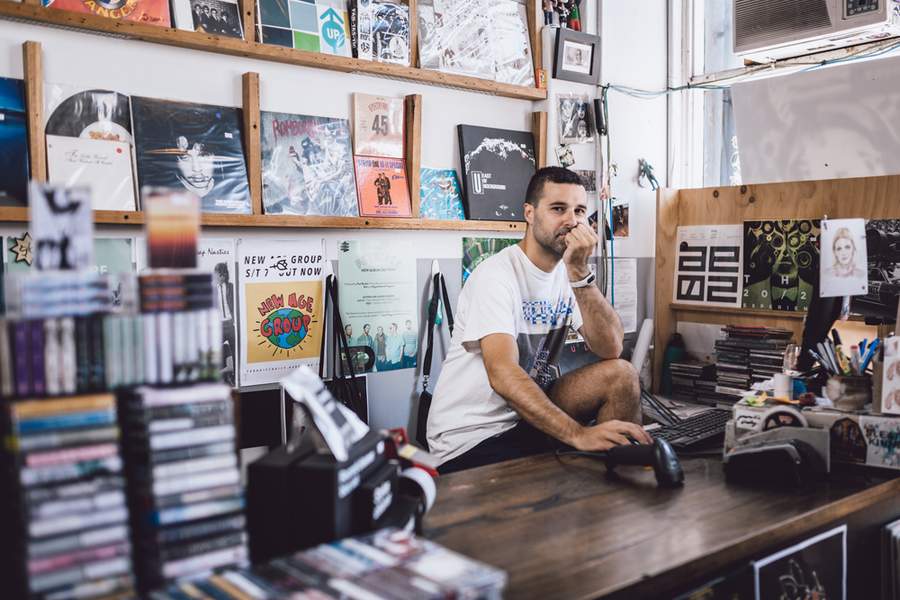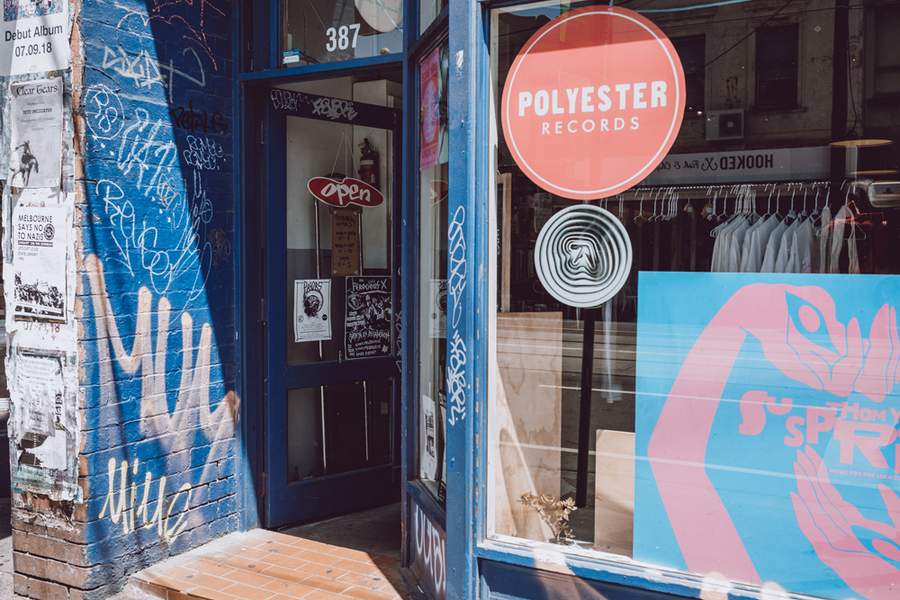 POLYESTER RECORDS // SIMON J KARIS
387 Brunswick St, Fitzroy
polyesterrecords.com

What got you into music early on in life? Might sound hard to believe, but I think I could very plausibly attribute it to having a Fisher Price cassette player with a built-in microphone as a very small child. Capturing and replaying music and recorded sound was an abstract and malleable world in my brain from early on. I just wanted to understand it and be part of it, or inside it.
Why open a record store? Straight out of Year 12, I got offered a warehouse monkey job at the once-massive Gaslight Music in the city – a strange and unexpected thing, in retrospect. I feel quite lucky to have had that opportunity as an awkward teen. It set me off on a path of enjoying being in music retail and wholesale my whole adult life. Whilst working casually at Polyester for the previous owners in 2010 I was presented with the opportunity to purchase the business with Nate Nott, who was immediately kindred to me upon our first meeting. It seemed right!
How is Polyester different to other record stores? I guess we have a pretty good lock on new local/upcoming stuff in lots of different musical areas. We like to really get behind them and there's just so much good stuff happening here in Melbourne, so it's quite a joy to be involved. Also, Polyester is lucky enough to be associated with lots of bigger international indie releases, and has made a name on this over many years.
What's your record collection like? It's absolute nonsense, to be honest – that's my jam.
---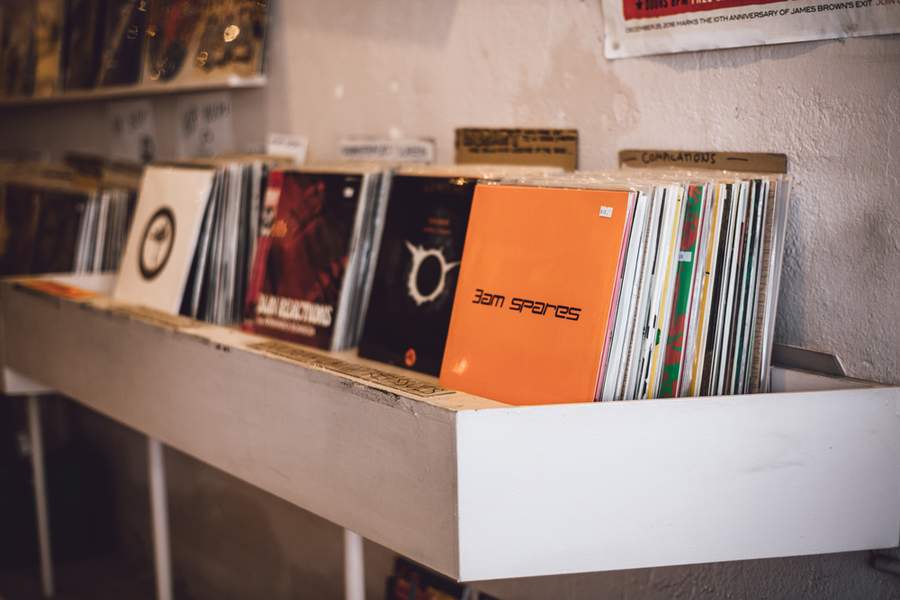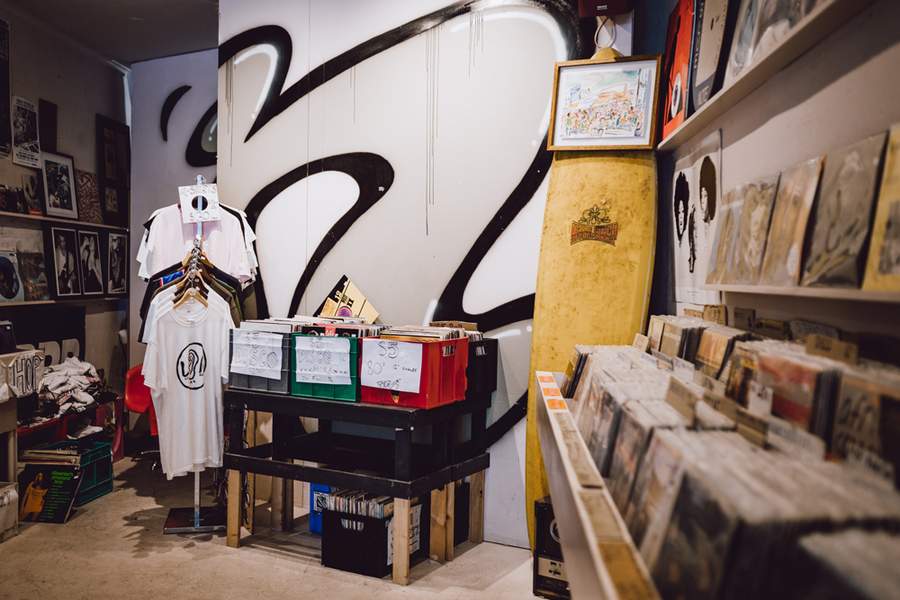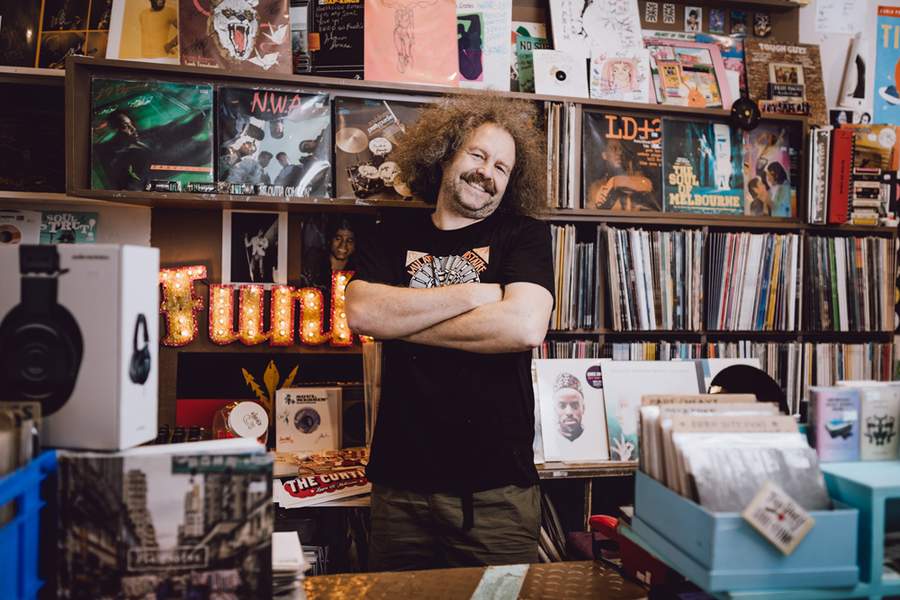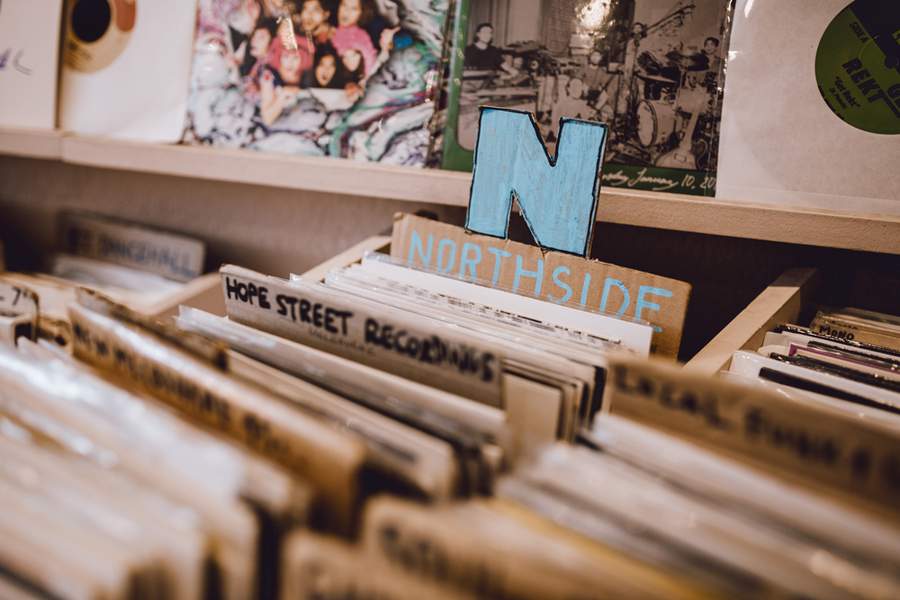 NORTHSIDE RECORDS // CHRIS GILL
236 Gertrude St, Fitzroy
northsiderecords.com.au
What got you into music early on in life? Beautiful music got me in and kept me in. Also my nanna. When I was 12 she made me buy my first-ever record, Tina Turner's Private Dancer. I used to dance for her, was her private dancer (wow, that's weird). Still, she knew a professional dancer when she saw one. There was also a pivotal teacher when I was about 13: Dot Connors. She and I shared a love of Billie Holiday. Then there was driving to sports with my dad, where I got to hear Frank Sinatra a lot.
Why open a record store? I was about to have a kid and I was working in a video store. You can't be a dad in a video store; I saw the writing on the wall for videos and decided to step it up. Being a DJ in town since 1991, it was only logical to open a record store. I was perfectly qualified. I did the NEIS course at RMIT, which is a great small business start-up pathway. I decided to do Northside Records as a space to celebrate the music of groove, as there wasn't anything like it and the city really needed it. It was such a heavy rock vibe in Melbourne in the 2000s. Now rock is a cute sub-genre of this super-funky city.
How is Northside different to other record stores? Got the funk. I actually have a light-up 'Funk' sign. I don't think any other stores have a light-up 'Funk' sign.
---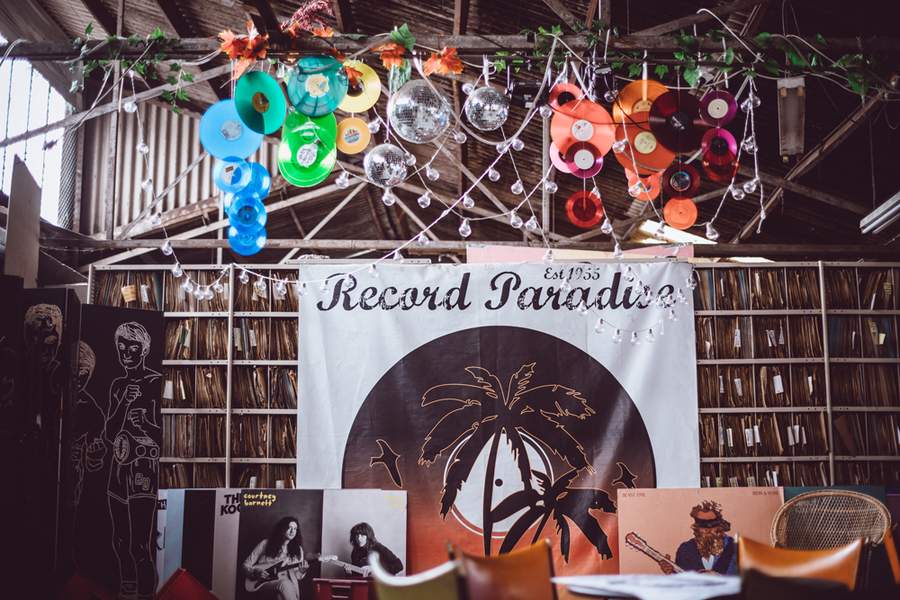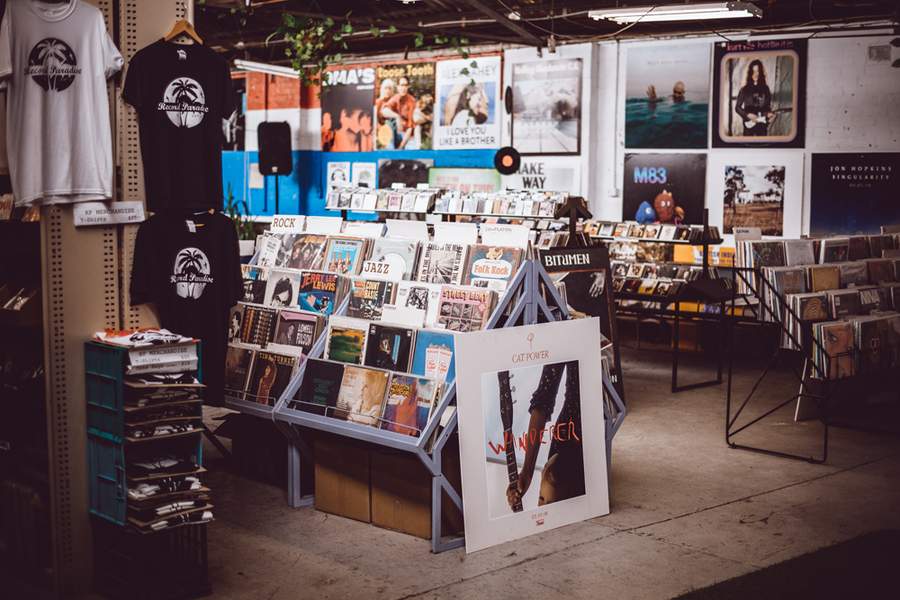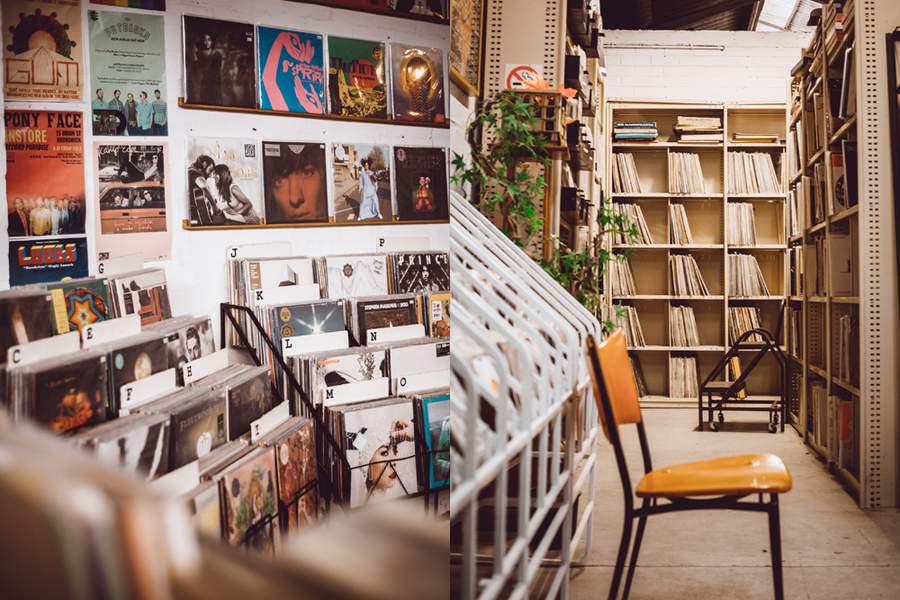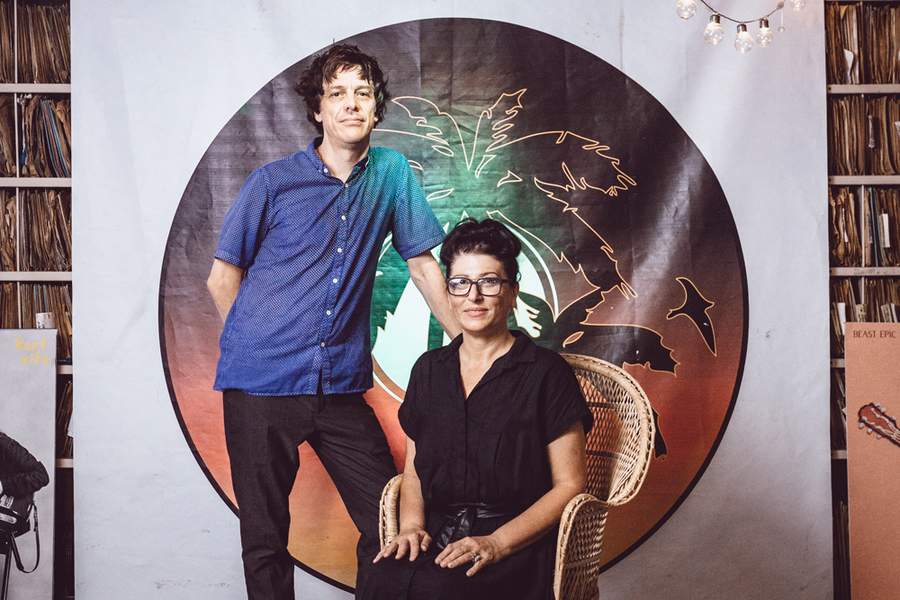 RECORD PARADISE // RENAE MAXWELL & PAUL ALLEN
15 Union St, Brunswick
recordparadise.com.au
Why open a record store? We purchased Warren's Record Paradise in 2009 with a view to recycling the thousands of records needing a home. We also wanted to ensure that the institution of the record store continued in a changing music industry and to facilitate a hub for local record collectors and makers.
How have things changed from when you started? It feels like nothing's changed. Things have changed, though: we now have over 1000 local vinyl releases; and the music industry is behind vinyl reissues and releases, meaning that half of our business is new records.
How is Record Paradise different to other record stores? We have a huge warehouse space in Brunswick to store tens of thousands of recycled records, stock loads of new releases and host local vinyl releases, too. Our size, diversity and selection of second-hand records, connection to local artists and diversity has meant that we've developed a great support network from within the music industry and record collectors and makers.
Have your tastes evolved over time? As the music evolves, our tastes change. There are things we didn't like as kids that we dig now. We've always been fans of indie music and, as such, it seems like we're riding the edge looking ahead with the past flowing behind.
What's your record collection like? Indie, cool, nostalgic and vast. Lots of Australian releases; loads of 12" and 7" indie classics and dance tunes; and crates of female artists.

---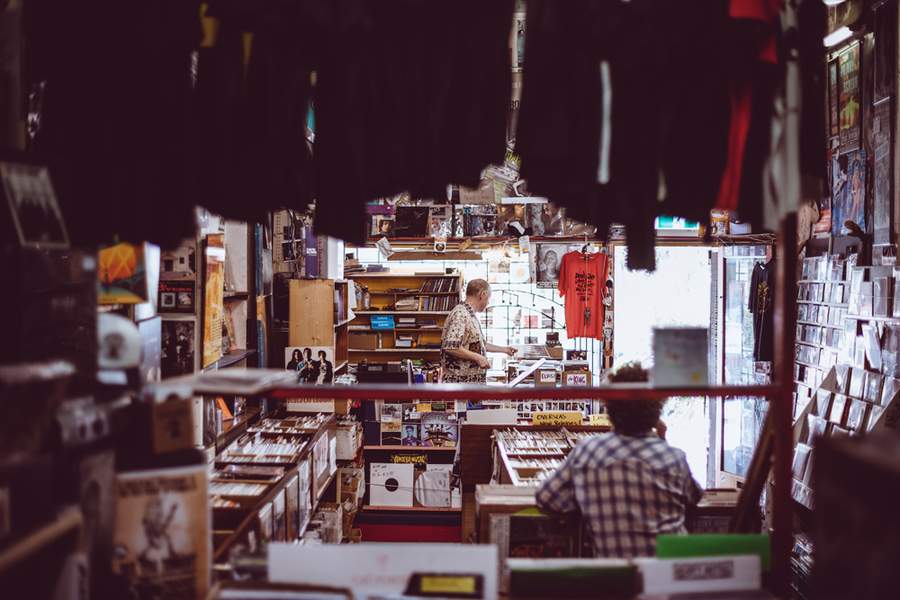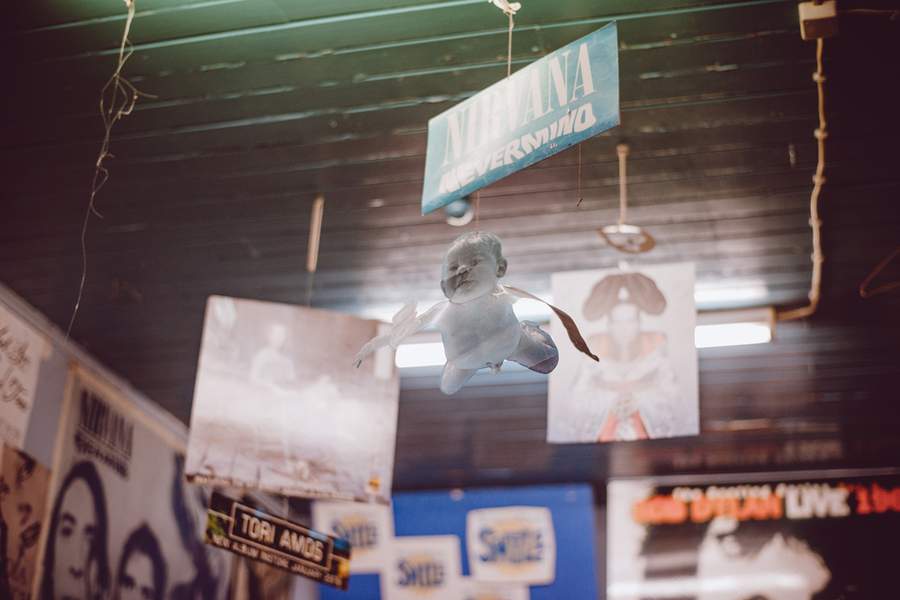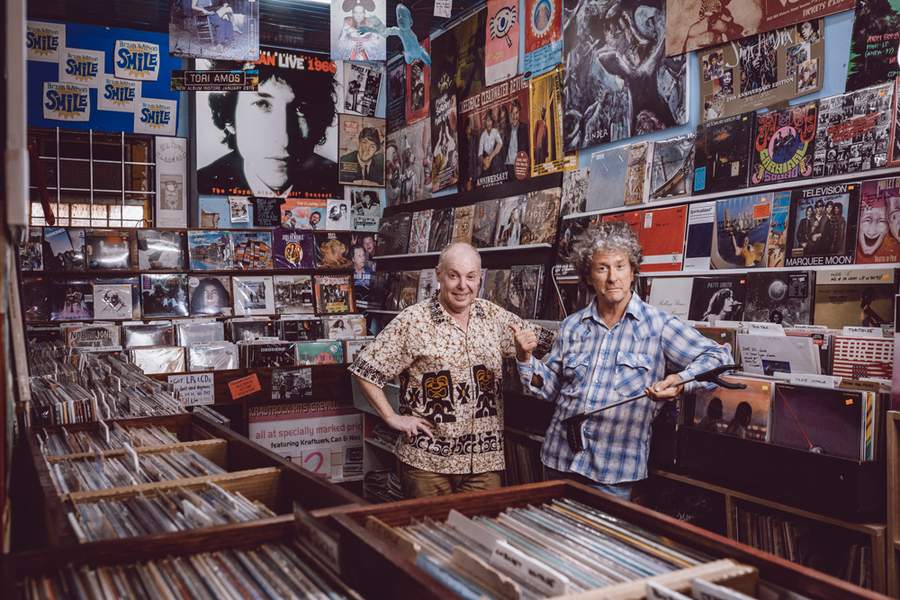 GREVILLE RECORDS // BRUCE MILNE & WARWICK BROWN
152 Greville St, Prahran
grevillerecords.com.au
What got you into music early on in life? Bruce: The Beatles. Hard to explain what an atomic bomb they were. Grade 3 in school at lunch we could either go outside and play, or stay in the classroom and learn to sing a Beatles song. Every day we chose to stay in the classroom. Warwick: In 1969, when I was 6 years old, my family moved to a university campus in Lae, New Guinea. There was no television there, so music was the main form of entertainment. The first rock album we owned was Creedence's Cosmo's Factory. Then the neighbours bought Abbey Road. Those two albums became obsessions.
Why open a record store? Bruce: I started working at Missing Link in 1978. Then Gaslight and Greville. After that, I decided it was time to open the Au Go Go store (in the mid-'80s). And now I'm back at Greville! Warwick: I was obsessed with records from those days in New Guinea when each Saturday we would drive into town to buy groceries and I would head straight for the record store. It was the only work I ever really wanted to do.
How is Greville different to other record stores? Warwick: All indie shops have their quirks and subtle differences. Their stock range is somewhat governed by the staff's personal tastes, even if it makes no financial sense. But there's a worldwide similarity: record stores are largely run by music fanatics who are probably unemployable anywhere else!
---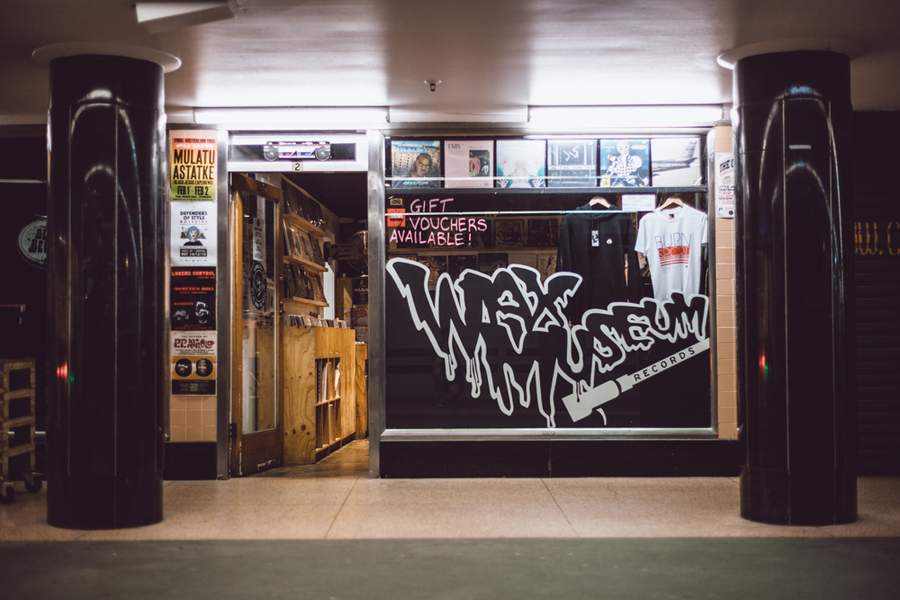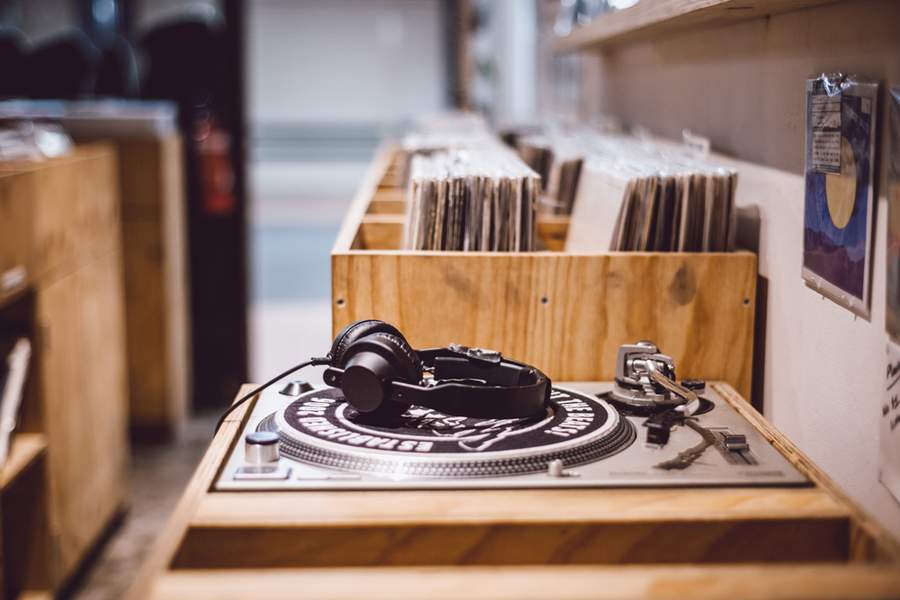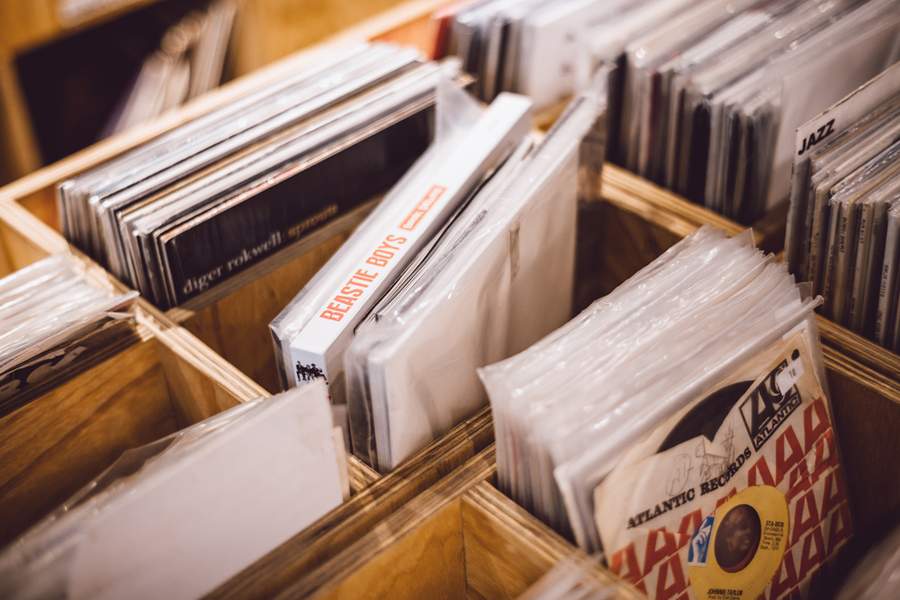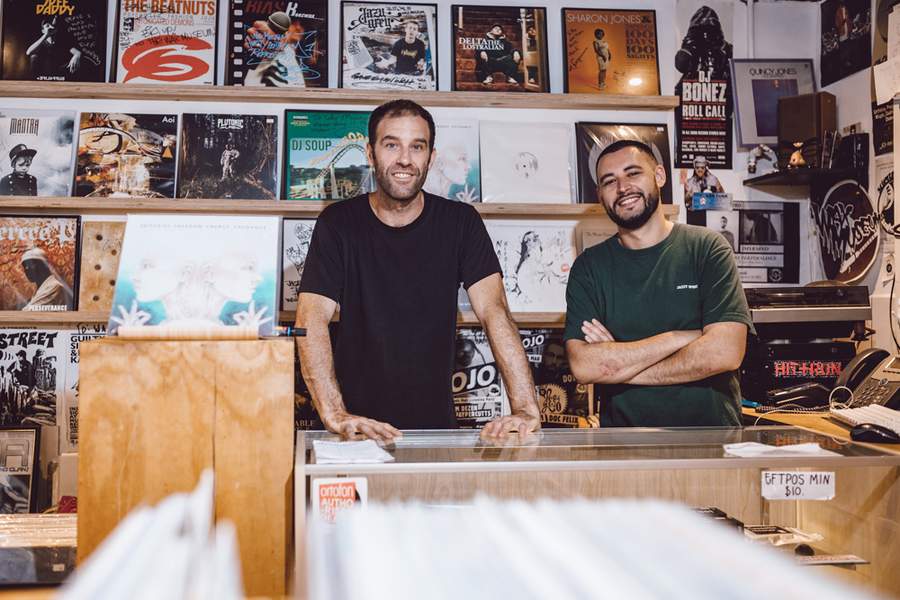 WAX MUSEUM RECORDS // TIM BARTOLD
Shop 2, Campbell Arcade, Degraves Street (Flinders Street Subway), Melbourne
waxmuseumrecords.com
What got you into music early on in life? The dad got me into music at a young age; he used to play a lot of blues and Hendrix. But I started getting heavily into music around the time I started skateboarding. All of the skate videos I'd watch had such a big influence on me musically. Late '80s, early '90s skateboarding was all about punk and metal. We also had a great underage live venue called EV's out in Croydon where I grew up, which put on so many great local and international bands: Fugazi, Tumbleweed, Spiderbait, The Meanies, Damnation, The Dweebs, The Aqua Nuggets, to name a few!
Why open a record store? I was DJing and collecting records; it was just a logical progression.
How is Wax Museum different to other record stores? When I was younger I always felt so intimidated going into some stores; they were so uninviting and the staff were really unhelpful. So when we opened, it was our mission to be as helpful, friendly and as unintimidating as possible.
Have your tastes evolved over time? As skateboarding evolved, so did the music that was attached to it. By the mid '90s skateboarding was all about hip hop, and I was hooked. This led to DJing, which led into finding all the artists hip hop producers were sampling – then the floodgates were wide open.
What's your record collection like? I've cut it down so it's manageable, probably 2500. I love music, but I don't like filling my house with stuff I don't use. If I get new records, I try to sell the same amount from my collection.
---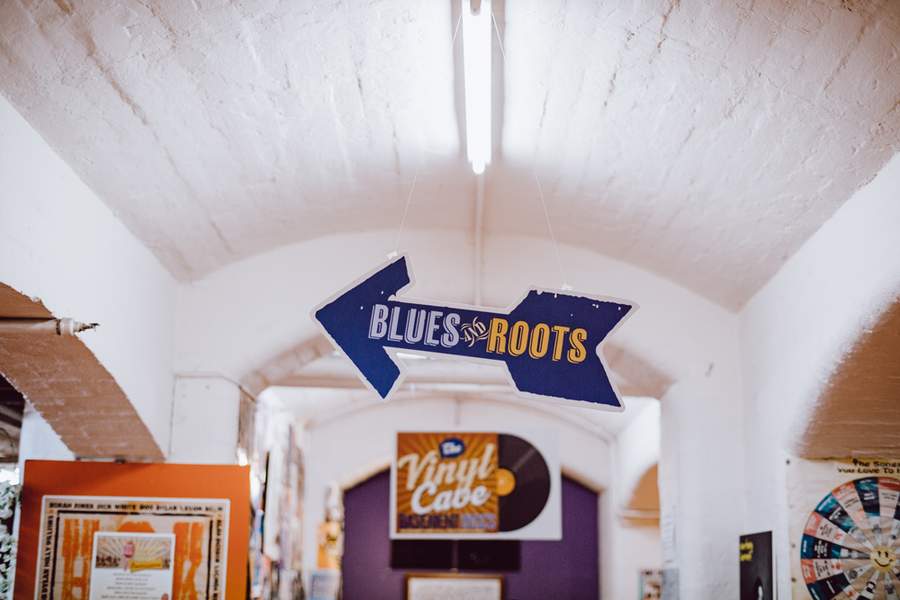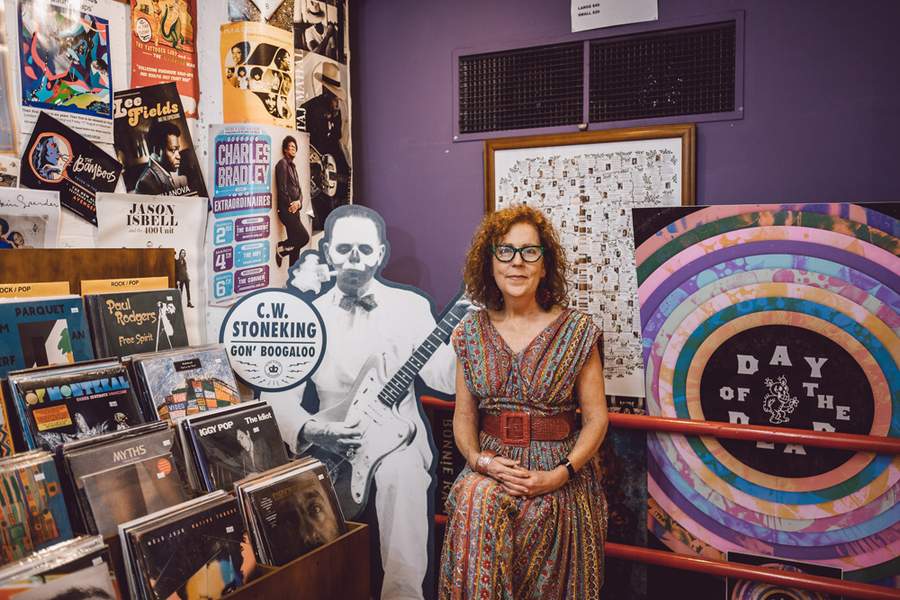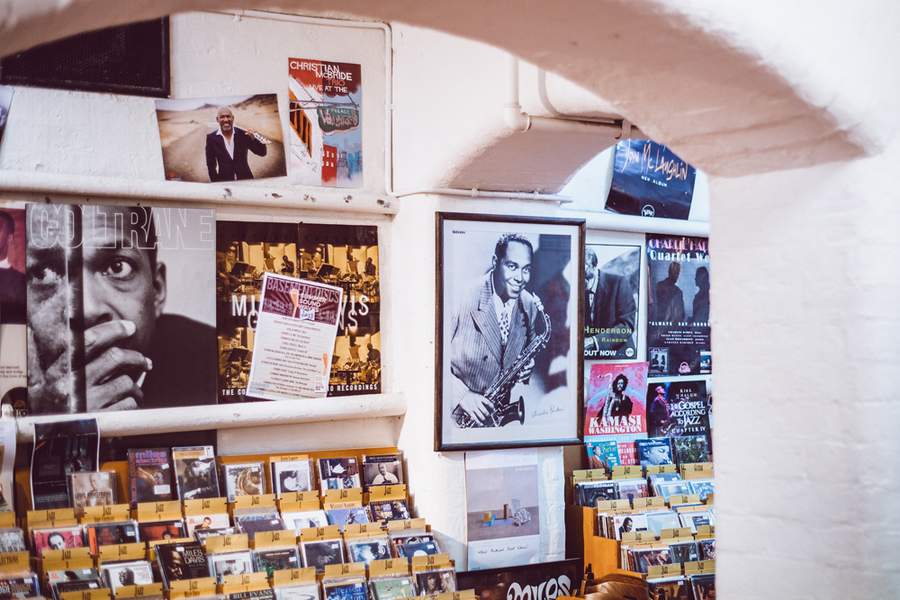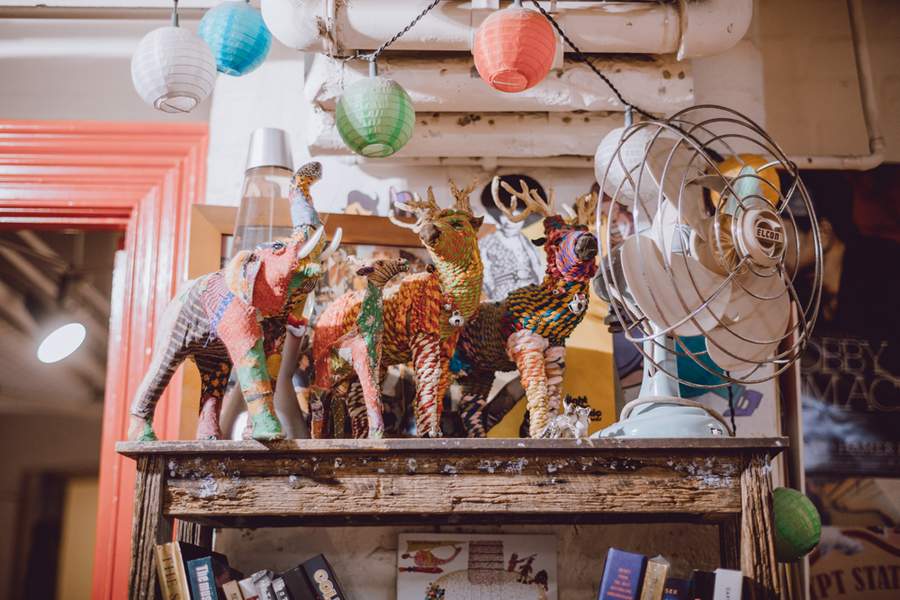 THE BASEMENT DISCS // SUZANNE BENNETT
The Block Arcade, 24 Block Pl, Melbourne
basementdiscs.com.au
What got you into music early on in life? Having an older brother and sister who were teenagers during the '60s meant the house was always full of music. So I was (very fortunately) exposed to a huge variety. I remain forever grateful to them for lighting the fire!
Why open a record store? I'd been working at an established music store in Melbourne for 15 years (Discurio), then we were told it would be closing imminently. We thought, 'It's now or never – let's give it a go.' With a great deal of help from family and friends, we're still here 25 years later – seemingly against all odds.
Before you had your own, what record stores did you go to? We mainly shopped where we worked, at Discurio – often spending more than we earned in any given week.
How is Basement Discs different to other record stores? We hope we curate a really interesting and carefully selected range, and that the vibe of the shop and the layout is welcoming and user-friendly. We're constantly told the shop has a great feel and range, and that people love and value what we do; that's pretty damn fine feedback.
Have your tastes evolved over time? Incredibly so. Obviously the more music you're exposed to across all genres opens your ears and mind. I thank all of the incredible RRR presenters who add so much to my musical education on an ongoing basis.
---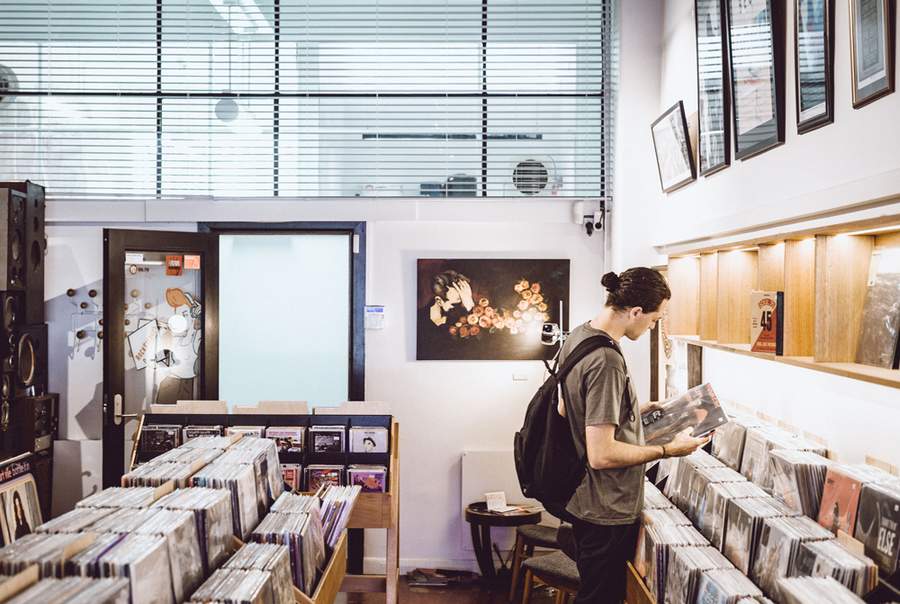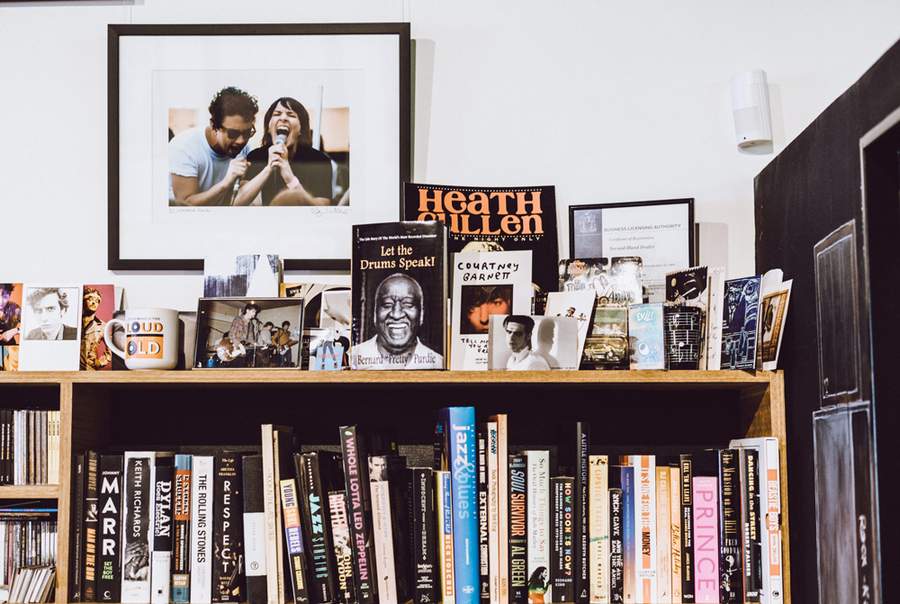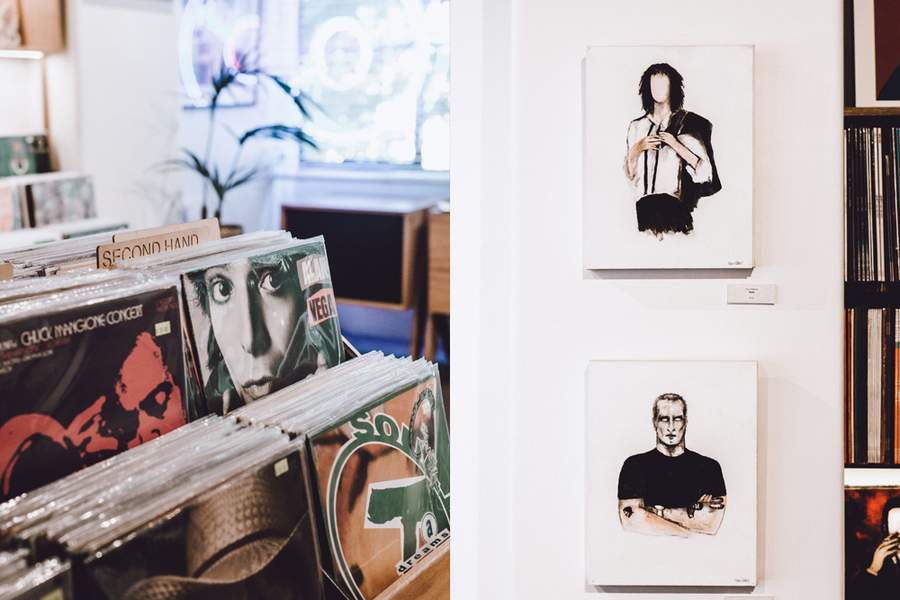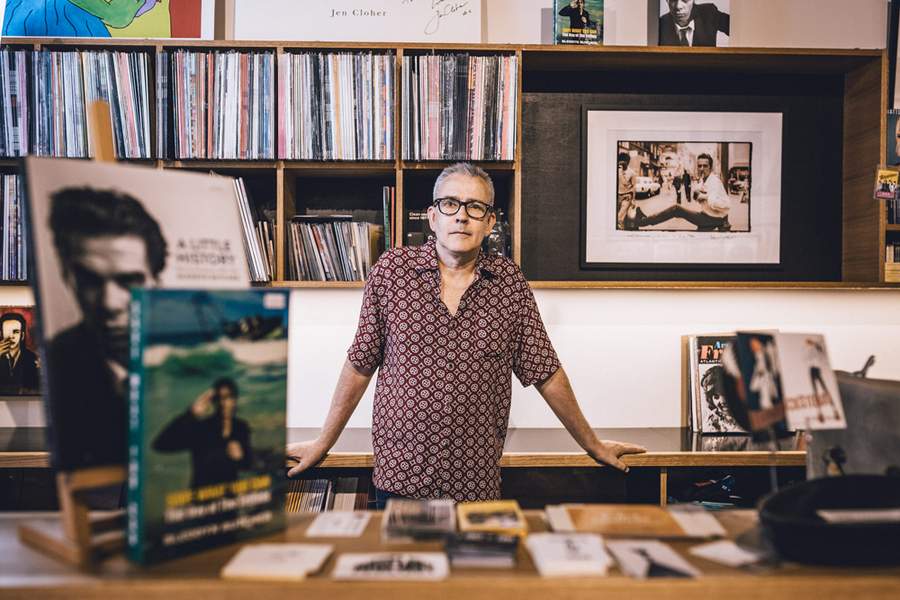 ROCKSTEADY RECORDS // PAT MONAGHAN
Mitchell House, Level 1 (Upstairs) 358 Lonsdale Street, Melbourne
rocksteadyrecords.com.au
What got you into music early on in life? Without a doubt, radio. Initially, just what I chanced upon via AM stations. A little later, a deliberate decision to wander to the left of the dial (where community radio dwells) opened up a whole new world, full of local and international treasures.
Why open a record store? Most of the resonant moments of my education took place (and continue to take place) in record stores, bookshops, venues and the like. I have always wanted to maintain and share that experience.
How have things changed from when you started? When I began working in a record store, it was all about vinyl and cassettes. Then the CD arrived in a marketing tsunami and seemingly swept everything before it. The truth is that vinyl never went away; it was kept very much alive by various dance music genres, hip hop and the indie underground. Now vinyl and cassettes are the strong selections.
What keeps your enthusiasm for music on a high, day to day? The endless and exciting variety of new and old music that seems to arrive every day from sources as close as two streets away and as far away as Iceland and Sudan. That, and the opportunity to learn so much from the musical passions of others.
How is Rocksteady different to other record stores? All record stores are different because they reflect the passions and personalities of the people who run them.
---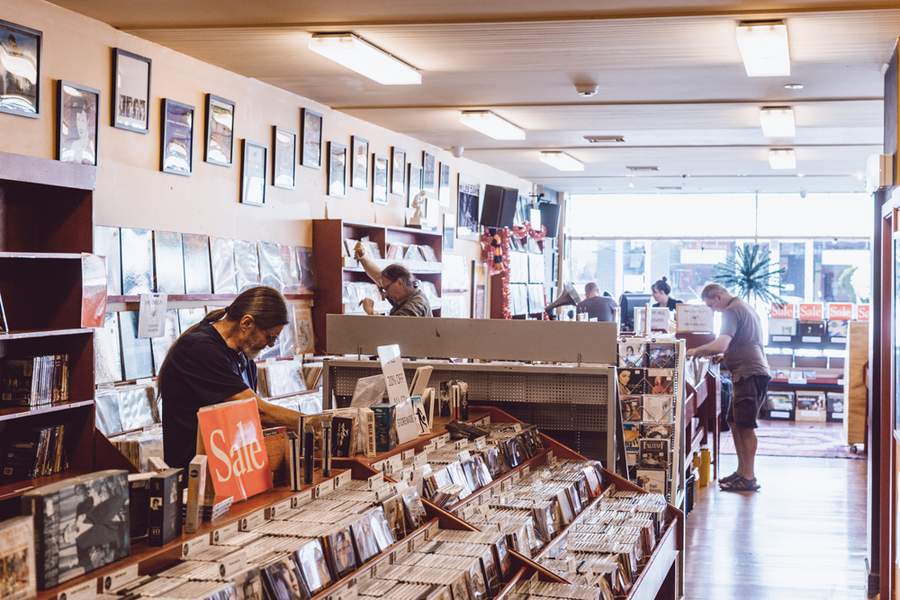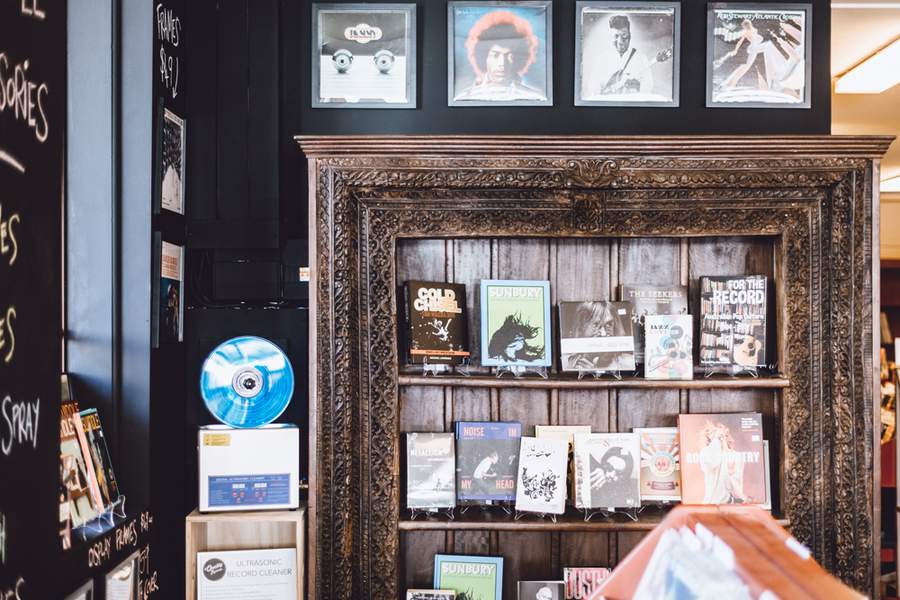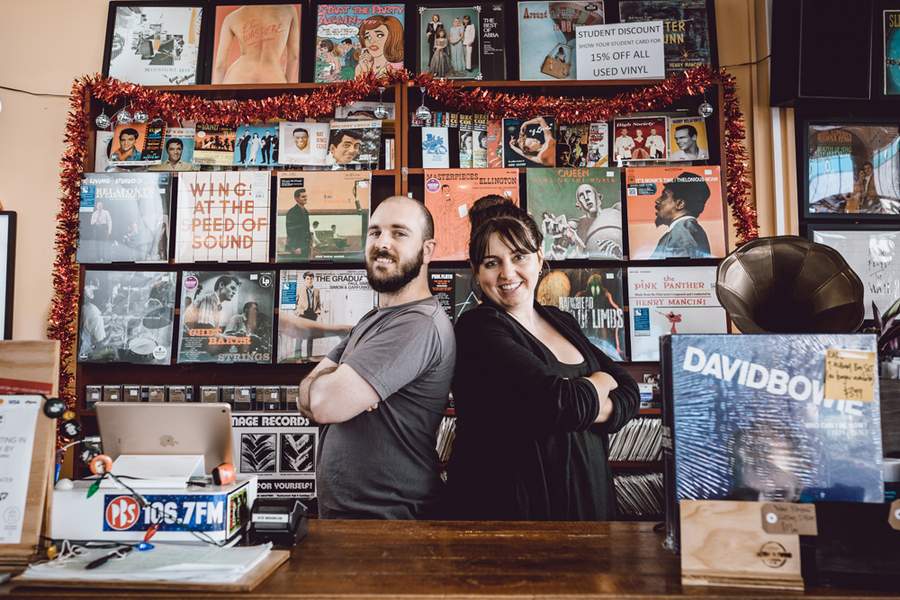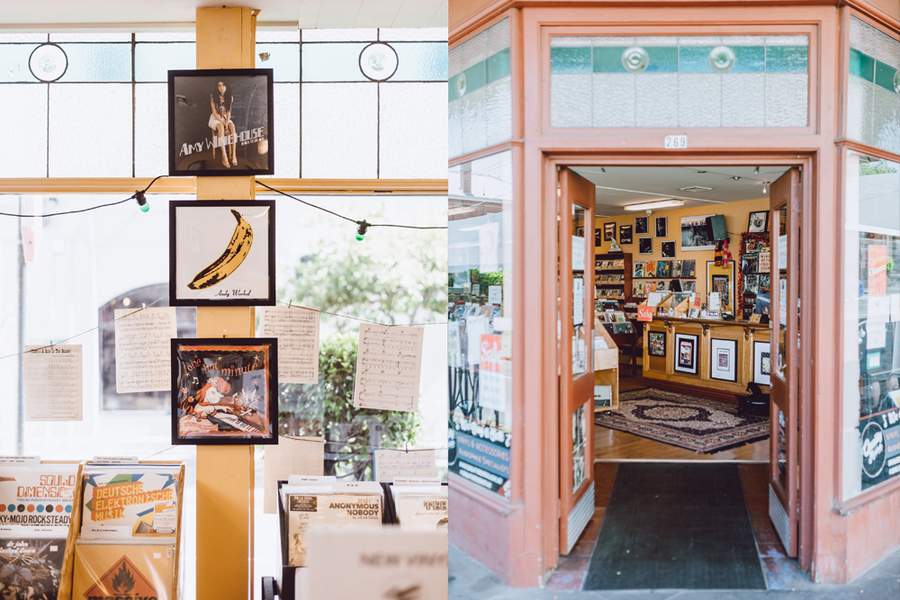 QUALITY RECORDS + // KELLY GRIFFITHS
269 Glenferrie Rd, Malvern
qualityrecords.com.au
What got you into music early on in life? I heard Paul McCartney playing on the radio when I was around 10 – it was 'Band on the Run'. As soon as I heard the heavier guitar riff come in, I was hooked… There hasn't been a day go by that I haven't had music in my life.
Why open a record store? It was the perfect way of combining my business skills and passion. Having always worked in business management on a more global/corporate scale, I couldn't pass up an opportunity to branch into the music industry at a grassroots level, and create a space where people can be themselves and share their passion.
How is Quality Records + different to other record stores? It's a love letter to record stores as they used to be, where people go to hang out, talk shop and find something unique that they never thought they would find. It's also ultra-friendly, approachable and run by staff who know their craft and genuinely love the space! We don't stock a lot of top 40 pop stuff; it's really a treasure trove from the past and an extension of our lounge room.
What keeps your enthusiasm for music on a high, day to day? Interaction with the customers is the greatest gift. The store attracts a really eclectic audience of people, who are always interesting and inspiring, and from all walks of life; that's what keeps me buzzing.
---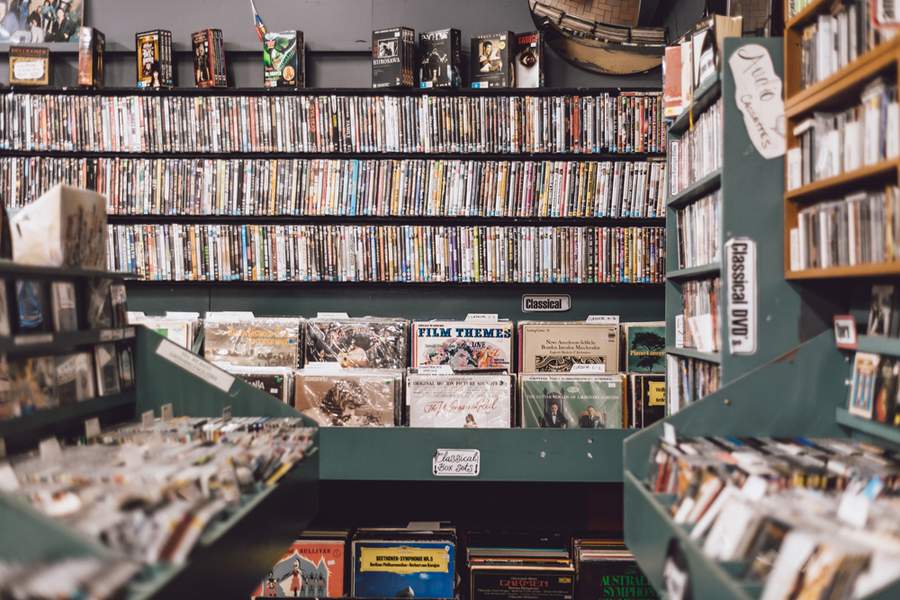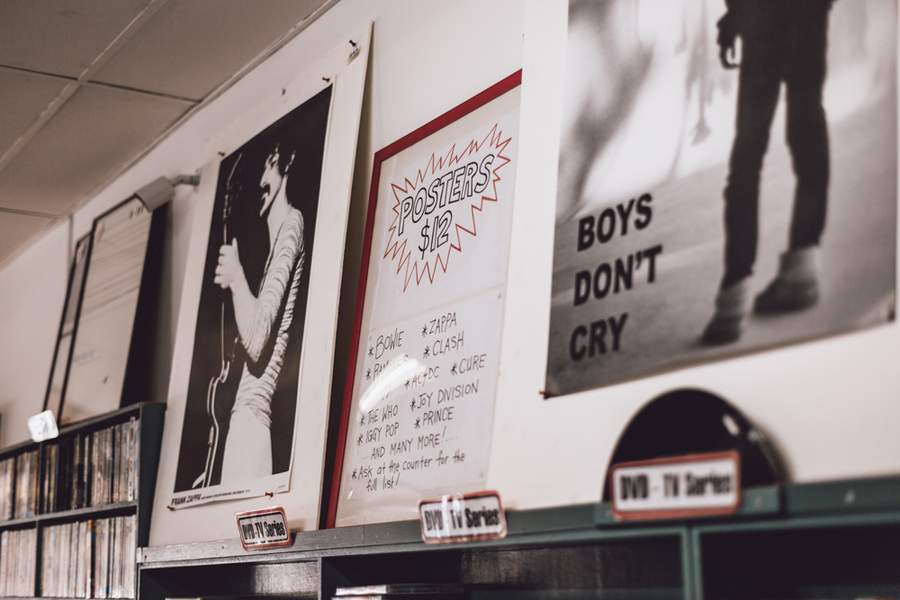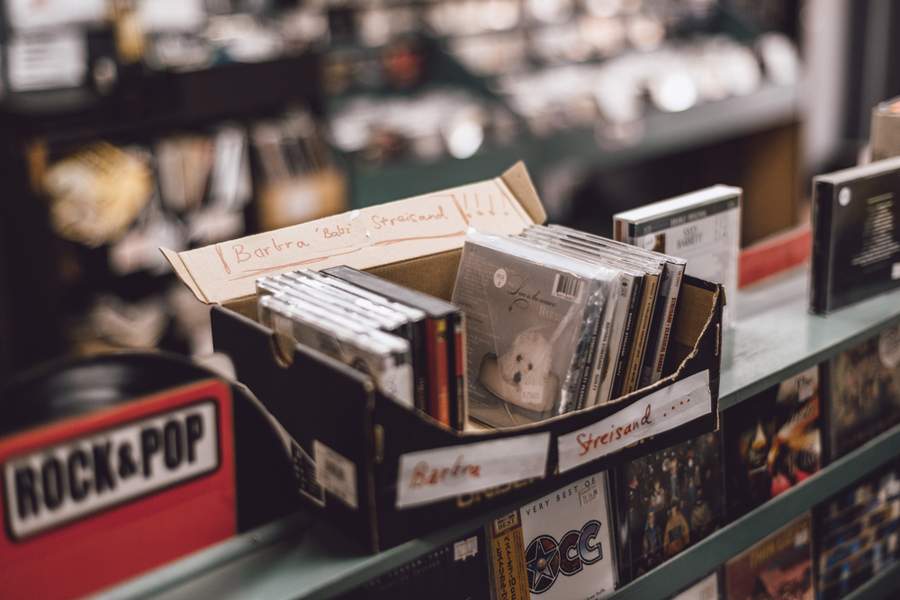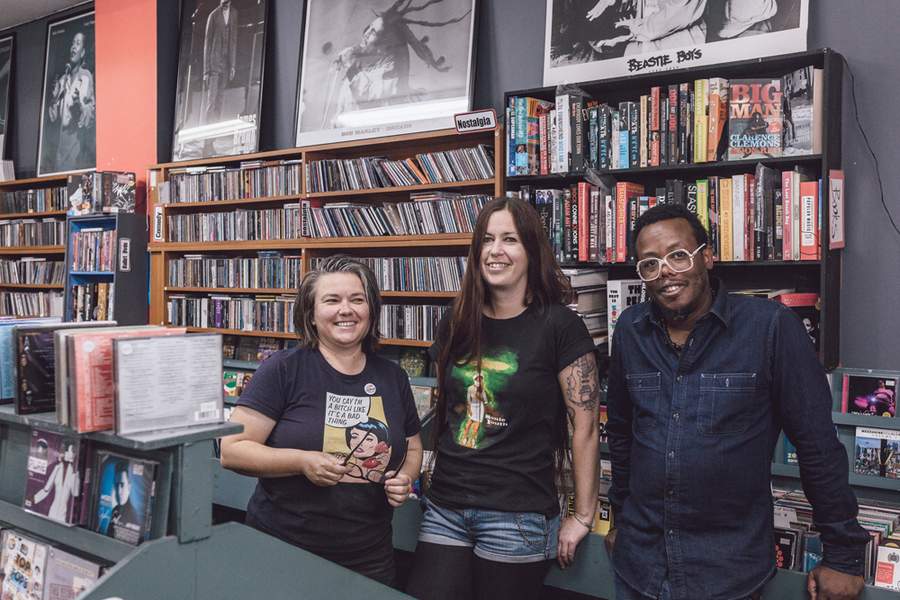 DIXONS RECYCLED RECORDS // JEN CROWLEY
414 Brunswick Street, Fitzroy
100 Railway Road, Blackburn
dixons.com.au
What got you into music early on in life? My roller-skating coach, Linda. She would choose artists such as Prince, The Models, The Runaways, The B-52s as the music I would perform my skating routine to (you know, like Tonya Harding stuff – but on roller-skates). This opened the door for me to search for more and I found radio, such as 3RRR and 3PBS, to widen my tastes.
Best thing about working in a record store? Being asked if it's really like High Fidelity (book or film). But seriously, it's the finding out about new sounds and artists you've never heard before, from fellow workers or customers.
Have things changed from when you started? Trends and fads come and go; new technology replaces old. But really, it's still about the music.
How is Dixons different to other record stores? We're a second-hand store; we buy our stock solely from the public. So it's a real treasure trove – you just don't know what you might find, and we don't know what gems might make their way to our counter. As we have two stores – one in Fitzroy, the other in Blackburn – it doubles your chance of finding some gold when you venture into either store. We also don't just do vinyl; CDs are a big part of our business, as are DVDs, and we try to stock those hard-to-find titles. We could be called Old School or maybe just Daggy Hipsters, but either way, we're really just into music.
---
This interview series first appeared in the April 2019 edition of The Trip, Triple R's subscriber magazine. To learn more about local record stores and all the cool stuff happening on Record Store Day, head to recordstoreday.com.au. Justin Cantrell has hosted Room With a View and the occasional Graveyard Shift. Xavier Fennell is a freelance photographer. Check out more of his work on Instagram.