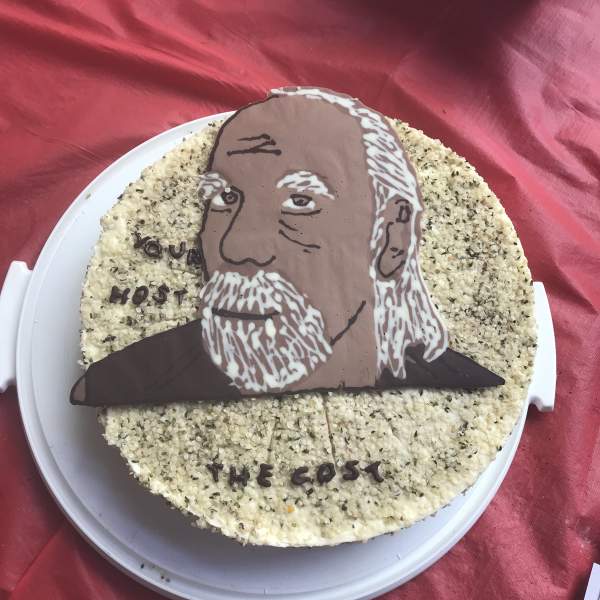 Your Stephen 'The Ghost' Walker cake was amazing! What inspired you to make it? I love to create cakes for RRR. I wanted to make a cake different from the previous ones I made, designed to the Radiothon theme (like every year). As Stephen Walker had just handed his show over to the new host Woody, I had the idea to create a cake with the Ghost and looked for a suitable picture of the Ghost on the internet.
How did you get involved with Triple R? When I migrated to Australia, Dave gave me a job (thanks Dave, hope you subscribed), and he told me about Triple R, the best radio station in the universe. I've changed my job since then a couple of times, but I stayed with RRR. Once I lost my job for good (due to a back injury) I had more time to listen to RRR and started to volunteer during Radiothon. When I did the volunteer course for Radiothon I mentioned that I like to make cakes and someone said, 'Oh yeah, the station runs on sugar.' Well, there's not much sugar in my cakes, but a lot of flavour.
Do you have a background in cake decorating, or are you self-taught?
I once learned the profession of pastry making, which was not just the decorating but also making the cakes. Making pictures with chocolate is self-taught. I did one chocolate picture for my daughter's bridal party with her and her hubby.
Can you tell us a bit about the process of making Stephen's face? Stephen's face was made of different chocolate. I mixed milk chocolate with white chocolate for the skin colour. The first face looked like Stephen after a three-month holiday in sunny Queensland. I made small piping bags with small pinholes to squeeze the chocolate out in shape. I needed different bags for different chocolate. After I made the basic outlines, Stephen needed to cool down for the chocolate to harden and went for a while in the freezer. This process needed to be repeated a couple of times. At the end I turned the face upside down. What I liked the most was that it was a thin chocolate face that would melt in your mouth.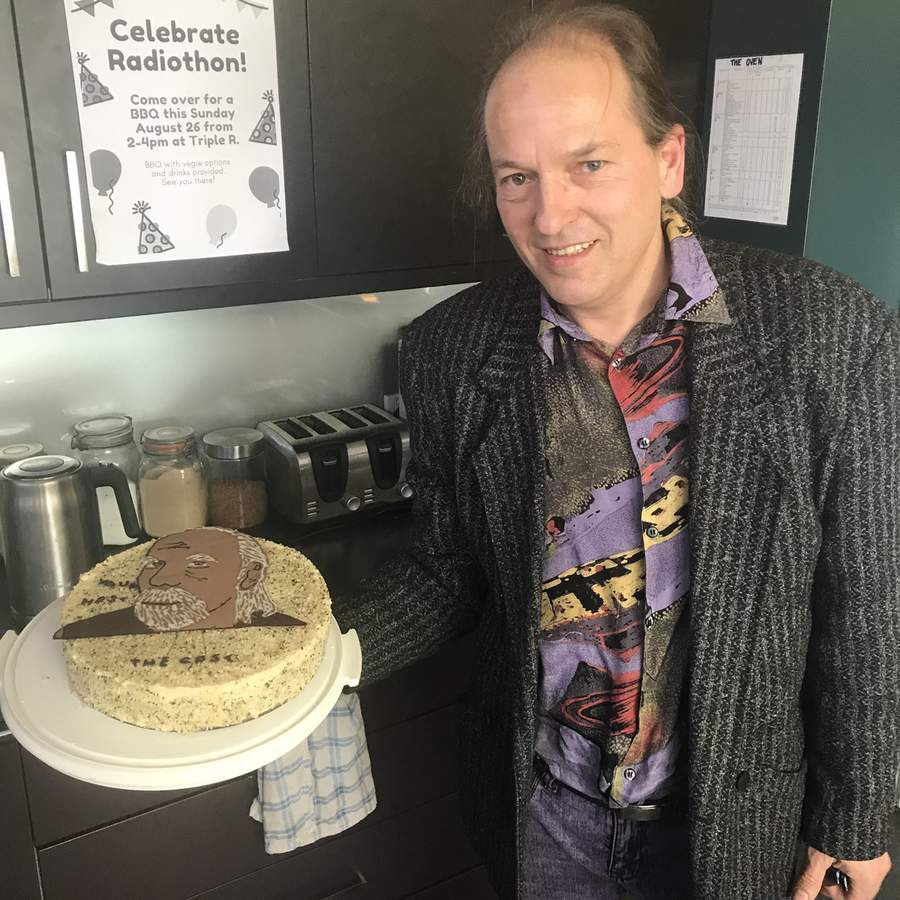 How long did it take you to create, all up? I worked on the cake over a two-day period, but I didn't look at the time. The face took the most attention as I did it twice.
Was it difficult for you to see all your hard work get eaten? Not at all. The whole point of making cakes is for them to be eaten and to make people happy. It is such a delight to see people eating my cake with a smile and telling me they like it, and that it's really yummy.
What flavour cake was it? Green walnut liquor was the main flavour with a hemp seed coating. The flavour comes not just from the liquor but from the different layers with liquor, separated with vanilla cream. The base was made from a thin layer of shortbread with hazelnuts and chocolate coating. It is equally important how the cake breaks down in your mouth. You just needed to push your tongue up your palate to squeeze the cake and celebrate a party in your mouth.
Did it meet your artistic and culinary expectations? My culinary expectation is that everyone will enjoy the cake and I think this expectation was fully met. I don't want to judge myself on it.
What do you love most about The Ghost? As a radio host he has excellent taste in music. His shows reminded me a lot about the old times when no-one could stream or download any tunes, every tune came from a record and sometimes tape. If you listen to the Ghost, you can imagine how it was to listen to Alan Bangs from WDR (public broadcaster in Germany) in the 1970s and early '80s, so I felt right at home. It must have been 40 years ago that I heard someone playing ELO's Out of the Blue album on the radio – I mean the whole album. Stephen was the next radio host who would do the same.
---
This story first appeared in the December 2018 issue of The Trip, Triple R's susbcriber magazine. In addition to helping out at RRR, Herbert volunteers at Meredith, Golden Plains and with My Care (visiting folks with dementia in nursing homes). In between Meredith and Golden Plains this year, Herbert and his treasured wife Susanne will become grandparents. He dreams of opening up a café with a kitchen in which he can create yummy cakes. He's also a beekeeper and regularly provides the RRR kitchen with a jar of honey made by his own bees.