How Gordon Koang's Music Spreads a Message of Peace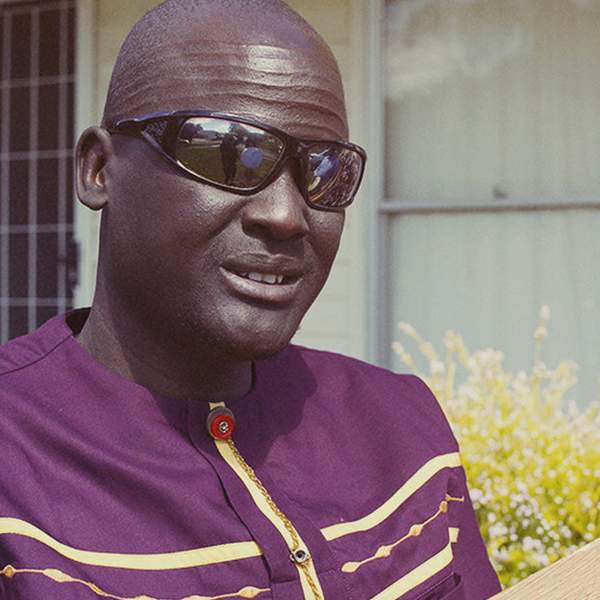 By Triple R volunteer writer Katherine Smyrk
When people see Gordon Koang play, the first question is usually about his thom. Most specifically: what is that?
It looks like a box drum with strings; a banjo with no neck; a square, squat kind of violin. But a thom is actually a traditional instrument from the Upper Nile region of what is now South Sudan, the part of the world that Gordon Koang is from. Blind since birth, he was taught to play the thom as a child, and has since catapulted into musical success.
'I make the music because I don't have another job to do,' he told City Mag, laughing. 'I started with church songs, that was the beginning, in 1988… I love it so much.'
What he isn't saying here is that in South Sudan, Gordon Koang is famous. Like, household name level of famous. Like, people call him the 'King of Music' level of famous. The renowned musician has produced 10 albums that blend African pop beats with traditional Nuer rhythms. Along with his cousin Paul Biel – who he has been jamming with for more than 30 years – he has performed all over the world, singing in Arabic, Nuer and English.
But the last time Gordon was in Australia on tour, his country was just months away from civil war. Since then, a lot has changed.
Gordon, Paul and their families had to flee their country, where almost 400,000 people have now been killed since 2013. They moved between Kenya, Ethiopia and Uganda; his family are still there, while he and Paul are seeking residency in Australia.
In a recent interview with The Saturday Paper, Gordon said that it was especially dangerous for him to remain in South Sudan as a blind man, because he couldn't run away from the people who were trying to kill him.
For now, Gordon and Paul are in limbo, waiting to find out if they can become permanent residents, waiting to see if they can raise enough money to bring their wives and children out to be with them here. But they haven't stopped playing music.
Through Music in Exile – a program that assists migrants and refugee musicians to access industry contacts and resources – Gordon has produced an electrifying EP, Mal Mi Goa/Salaam.
Joe Alexander, one of the co-founders of Music in Exile, told City Mag that this was the exact kind of project the program wanted to foster.
'I come from a background where I play music and also from my own record label,' said Joe. 'I was speaking about it to a friend, about us having access to resources…and [how] it's kind of easy for us because we're already part of that industry.
'That lead us to think about whether that was harder for others to access, and if we could try and share those resources.'
Gordon's songs on the record not only showcase his incredible talent, but also highlight the journey that has led to him being here.
'Stand Up (Clap Your Hands)' is an upbeat single that people would recognise if they've seen his live sets. Other than the quite clear directive to stand up and clap your hands, the song also includes the line 'I love you, audience', which, unsurprisingly, is a real crowd-pleaser.
The second single, called 'Asylum Seeker Song' has a more sombre tone, repeating the lines: 'My dear asylum seekers/ We know you're waiting for your permanent protection visa/ We know you've been waiting for a long time.'
Gordon says the song is a message to all people seeking asylum in Australia, 'praising their courage and asking them to have patience'.
If he and his cousin are granted that elusive permanent residency, then they will once again be able to tour the world. But for now, Melbourne is home, and Gordon and Paul are bringing their unique music to the studios of 3RRR, delighting us all with a Live to Air performance. Not only do we get to learn what a thom is and see a world-renowned musician at work, we all benefit from the messages that Gordon Koang's music spreads.
'My songs say that working together is very good, working as a team is good. Also, they tell people that love is good, to love themselves,' Gordon told The Saturday Paper. 'My songs are specifically talking [about] peace. They bring the community together.'
---
Gordon Koang hits the Performance Space stage at 6.25pm Wednesday 28 August, during Out on the Patio. Katherine Smyrk is a Melbourne-based writer of fiction and non-fiction, and the Deputy Editor of The Big Issue. When she's not reading or writing she is usually eating cheese, playing footy or dancing to Beyoncé. You can follow her on Twitter.