How Being a Triple R Subscriber Will Help Your Love Life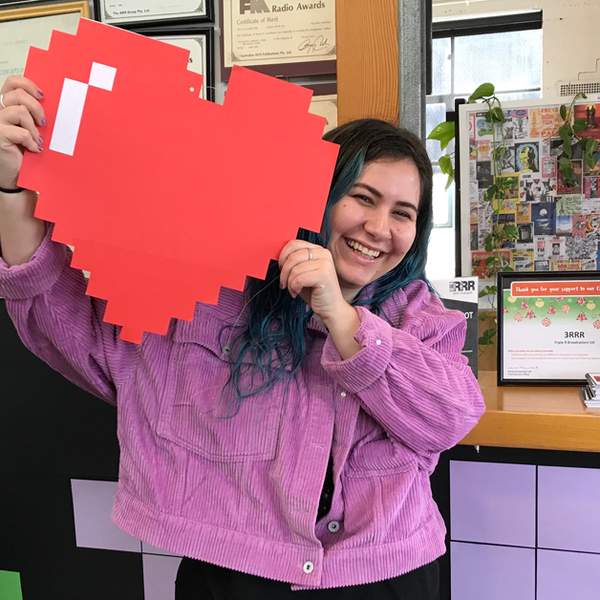 By Triple R volunteer writer Katherine Smyrk
It's a truth universally acknowledged that dating in the modern world is a garbage fire. Between swiping right and ghosting and catfishing and just a lot of numbing mediocrity, it can be hard going.
Even though Triple R is a magical place, it can't alleviate all the woes of dating, as much as it would like to. (Although perhaps we should create a Triple R dating app, where only subscribers can log on so at least you know your potential date has great taste in community radio. But that's a conversation for another time.)
There is, however, a way that Triple R can help your dating life. Between ordering ubers to bars you've never heard of and buying that third gin and tonic just so you can be realllly sure there is no vibe, the costs add up. And who can afford all of that in this economy? But you have a secret weapon you may not even realise you possess. It's small, rectangular and very magical. It's your Triple R Subscriber Card. Not only does this card make you a Certifiable Excellent Human, it also gives you discounts all around the city.
To make things even easier for you, we have mapped out the ways this card – something every person receives when they subscribe to Triple R – can help you navigate the wild world of dating.
PRE DATING PREP
Delving into dating can be a daunting task, so be sure you are feeling your very best before you start.
Your Subscriber Card can get you discounts on various classes and courses around the city that will help you feel well-rounded before meeting potential partners. Whittle down those carpentry skills; finally learn how to play a musical instrument; brush up on your grammar (because there's nothing sexier than correct conjugation). There are so many things you could specialise in to dazzle your potential paramour.
And if you really need an extra boost, you can get discounts on whitening that gorgeous smile of yours, and on yoga and pilates classes to make you feel svelte.
There's even laser tattoo removal discounts, just in case you're feeling a bit self-conscious about having the name of your ex on your bicep, or the word 'goon' on your leg after having a few too many drinks with that friend who has a home tattooing kit.
Still not convinced? Head on down to a discounted tarot reading to find out exactly what to look out for. Just beware of that pesky Three of Swords, which, according to beliefnet.com, 'represents rejection, sadness, loneliness, heartbreak, betrayal, separation and grief'. Eep. Not a great vibe.
FIRST DATE
OK, you've taken the plunge and lined up a night where you both happen to have a few free hours that you are prepared to sacrifice. Now what? Just dig out your Subscriber Card and plan the perfect first date.
Impress your match by ordering the fanciest cocktail or hoppiest pale ale available at one of many shudderingly cool bars, then quietly slip the bartender your Subscriber Card for the sweet, sweet discounts.
When out for dinner, be sure to order extra dessert so that you can lustily spoon tiramisu into your date's mouth with the knowledge that you won't have to flinch when the bill arrives thanks to the discounts your Subscriber Card offers at restaurants all around town!
Following up drinks and dinner with a film? Your Subscriber Card can give you discounts on movies at basically every cool cinema in Melbourne. With these deals, you can happily offer to buy tickets to the latest indie rom-com or experimental vegan body horror flick. Now that's impressive!
TAKING IT TO THE NEXT LEVEL
OK. You like them. They like you. Maybe you get a little bit giggly when they message you. Maybe you want to advance your dates to the next level. Never fear, your Triple R Subscriber Card is here.
If you really want to seal the deal, consider freshening up your look with some stylish discounts on clothes, shoes and accessories. Perhaps you might consider a trip to one of many discount-offering record stores around town, just to really pad out that record collection artfully and effortlessly displayed in your lounge room. Nothing impresses a date more than a substantial stack of vinyl, amirite?
Now that you're looking your best and feeling hip, you can plan one of those impressive dates that you reserve for someone you're really into. Perhaps you will choose a (discounted) visit to a gallery, dance classes, a wholesome afternoon of barefoot bowls. Perhaps you will invite your love interest to a costume party and then use your subscriber discount to get an amusing, theme-relevant and somehow still sexy costume that will blow their socks off. If you're feeling dramatic, you could even consider a discounted skydive!
ANNIVERSARY TIME
It's happened. You've found love. You're the person people offer up as a hopeful example of someone who was actually able to meet someone else they like and keep seeing them and rein in the crazy for long enough that you are now celebrating an anniversary. Congratulations. Really. I'm not even jealous.
Just when you thought your life couldn't get any better, you realise that – even now, in this state of unfettered bliss – your Subscriber Card can help.
Maybe you are going on a romantic getaway where you will spend hours staring into each other's eyes and walking hand in hand on beaches at sunset and other gross things that happy people do. That's great. But what about your cat/bird/puppy who kept you company during those long nights of being single, watching too many episodes of Veronica Mars and shame-eating an entire packet of Tim Tams? Most truly romantic places won't accept pets, and besides, the hair shedding and panting and insistence on getting onto your lap at all times can be a bit of a mood-killer. Well, your furry friends don't have to suffer alone while you disappear into love-filled bliss. Your Subscriber Card can offer you discounts on animal boarding!
Feeling so in love you make strangers on the street feel physically ill and want this moment immortalised forever? Yeah… Me too. Immortalise this feeling forever with a discounted photo shoot. This can be made even more adorable by wearing matching outfits and making sure to take lots of photos of you two kissing – you get that hot tip for free!
If, for some reason, you feel that the personalised photo shoot is a bit extra for your six-week anniversary, perhaps you will want to frame a snap you took together on your very first (heavily subsidised, courtesy of Triple R) date! This, too, can be discounted by your Subscriber Card.
HAPPILY EVER AFTER
OK. We get it. You found love. And the rest of us will die alone. No need to rub it in. But there is a need to get those juicy discounts! 'Coz a life of happiness can get pricey.
Maybe you have become sick of schlepping in between houses, a pair of undies and a toothbrush perpetually stuffed at the bottom of your bag, and have decided to move in with your love. Your Subscriber Card can EVEN help here, with some brilliant discounts on removalists, carpet cleaning, house painting and all the generally irksome things that need to get done before you can build your love nest and never emerge into the disgusting world of single people again.
Have things progressed even further? Do you want to make some kind of romantic declaration to your beloved to show them (and all of their neighbours) just how committed you are to them? What better way than hiring a PA and standing under their window playing their fave song like John Cusack in that '80s movie? You guessed it, even that is discounted with your Subscriber Card.
Even though we all know that marriage is a patriarchal construct designed to trade women as property like so many goats, sometimes you just really want to have a party with your community to celebrate your love. I'm not really sure why having a drone deliver a wedding ring during a proposal is particularly romantic, but a quick google search shows that people seem to LOVE it. So perhaps you can hire a (discounted) drone to help you pop the question like this guy!
And now it's finally done. You're getting married, tying the knot, getting hitched, heading to the altar, joining in matrimony, bestowing your hand, plighting your troth. Like a true friend, your Subscriber Card will be there for you on the big day, offering discounts on photography, wedding planners, hair and makeup and celebrants.
As you drive off into wedded bliss, cans clinking behind the car, your state-sanctioned partner holding your hand, just remember what got you here: your Triple R Subscriber Card. And also remember that you can only get your hands on this magical, love-bringing* card by subscribing now to Triple R.
*Triple R does not guarantee that subscribers will fall in love.
Check out the full list of amazing discounts available to subscribers here.
---
Katherine Smyrk is a Melbourne-based writer of fiction and non-fiction, and the Deputy Editor of The Big Issue. When she's not reading or writing she is usually eating cheese, playing footy or dancing to Beyoncé. You can follow her on Twitter.