Why Tristen Harris Is a Firm Believer in the 'Positivity of Influence'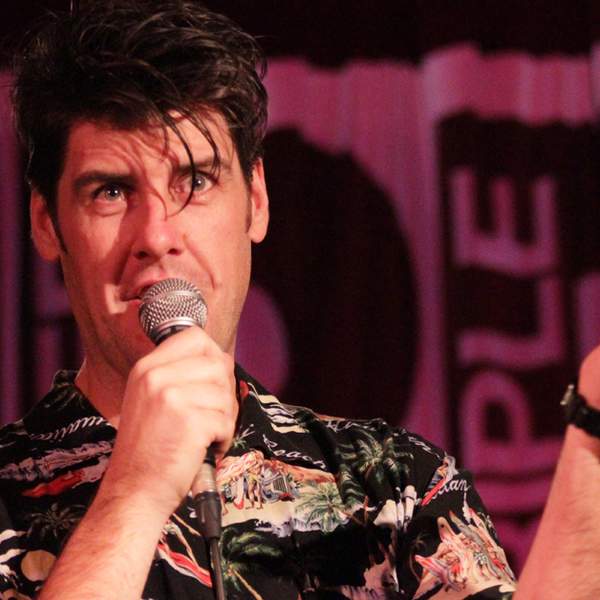 This April The Golden Age of Piracy celebrates ten years (!) on the Triple R airwaves. Host Tristen Harris explains the show's origins – and how 'banging on' about influences has come to influence him.
Back in February of 2009, I pitched to take over Smoke 'Em If You Got 'Em on Friday nights from Garry Seven. Before that pitch, I'd spent five years as a graveyarder, waiting for someone to wander up and knight me with a ceremonial microphone and lead me to my timeslot. Unsurprisingly, that moment never came. Finally, the then program manager Mick James told me there wasn't some radio 'lady of the lake' that anointed keen presenters. If I wanted a show, I had to pitch an idea.
So, I pitched for Smoke 'Em. In fact, I essentially pitched that exact same show back at him. I may as well have written, 'LOL, I'll play fun songs that people want to hear on a Friday I guess? IDK,' on the back of a coaster and flung it into his office. Unsurprisingly, again, I wasn't successful. And the marvellous Jess McGuire then turned that slot into one of my all-time favourite shows, I'd Rather Jack. Thankfully Mick granted me another go at a pitch, this time for an upcoming Wednesday night midnight to 2am slot, with the advice that it should probably be stronger this time.
But what to pitch? Nothing felt right. Or unique. How do I play new songs and old songs, and get them to work together? Isn't that just a 'drive time' show? How can I find a niche that's diverse at the same time? My level-headed friend Andrea said, 'You always bang on about influences – why don't you do that?' And from that sentence, the entire format of the show was written in under a minute: play a song from a new release; play a few that influenced that artist; talk about why; and get a musician to come in and choose their five most inspirational songs. It was succinct, sustainable, and flexible enough to work with any genre.
The Program Advisory Group anointed me soon after. And that's how The Golden Age of Piracy was born, and with it, the thing I get asked about more than anything else – The Formative Five. The five songs that ultimately influenced an artist, straight from the horse's mouth.
Since 29 April 2009, I must have presented close to 500 editions of the show. Which means 500 Formative Fives. Which means 2,500 deeply personal inspirational songs chosen by guests. Well, 2,511 if you include Jello 'I Won't Censor Myself' Biafra's infamous Formative 16.
Ten years of sitting down with artists and talking about music that they love. It's a dream. And a dream for them, too. Many of my guests are promoting an album or a tour, and I'm their fifth interview for the day. Five interviewers asking the same questions delving into their process; it's a tough thing to answer. But with mine, they get asked the same hack question five times in a row – 'What are your influences?' –and now they're talking about someone else's art they obsessed over. They only get to do it once, and they make it count.
I'm a firm believer in the positivity of influence. That everything is derivative of something; nothing artistic was born in an airlock; and there is no such thing as a guilty pleasure. I invite my guests to embrace their musical roots, and to celebrate those touchstones that brought them to where they are. I've been very lucky to do this with international artists that I've followed my whole life, and with young local acts who are at the start of their careers. And I can honestly tell you that it is just as enthralling to discuss the same concepts with members of Fugazi, Sleater-Kinney, The Pixies or The Sex Pistols as it is with members of a band launching their debut EP on a weeknight at The Old Bar.
In that time I've recorded the first interview in 16 years with the founding members of '90s shoegaze heavyweights Lush, and had The Dandy Warhols try and choose just Side A of Dark Side of the Moon. Behind the scenes I've had a guest break down in tears at the sound of Sam Cooke's voice, Lindy Morrison from The Go-Betweens count out the time signature of 'Cattle and Cane' for me while the song played, and heard off-air secrets that would make your hair curl. Ten years of unforgettable, pinch-me moments for a music obsessive.
None of this would be remotely possible without the unheard/unseen faces behind the curtains, the RRR staff who track down the guests each week, as well as the brilliant legion of volunteers who make the station what it is. I'm humbled and thankful for their tireless efforts. I'm also very thankful that I didn't get approved to make Smoke 'Em If You Got 'Em Part 2. If the show was just general party-starter tracks, I probably wouldn't have made it to ten years without feeling very stale. And even though the format hasn't evolved, I certainly have. They say your musical tastes get 'fixed' in your teenage years, but the weekly search for new sounds has reshaped my palate considerably. I only need to look back at old playlists to see how few women's voices I had in 2009, which I'm ashamed to admit. And I have seriously tipped those scales the other way in recent years, both on air, and in my own personal rotation.
That blurted, one-minute show format conversation with my friend has since made me a far richer music fan than I thought possible. I hope my listeners feel the same way.
---
Want to help celebrate Tristen's ten year anniversary? Subscribers can email goldenage@rrr.org.au to go in the running for entry to our colossal Golden Age of Piracy Birthday Party on Wednesday 17 April from 10pm till midnight, featuring live sets from Cash Savage and the Last Drinks, FERLA and Shrimpwitch. The Triple R bar will be open, thanks to our mates at Mountain Goat Beer. Subscribers should include their full name and subscriber number in the subject line. Entries close 10am Monday 15 April.
---
The article first appeared in the April 2019 issue of The Trip, Triple R's subscriber print magazine, under the title 'Golden Years'.