Getting to Know… Our Brand New Breakfaster: Daniel Burt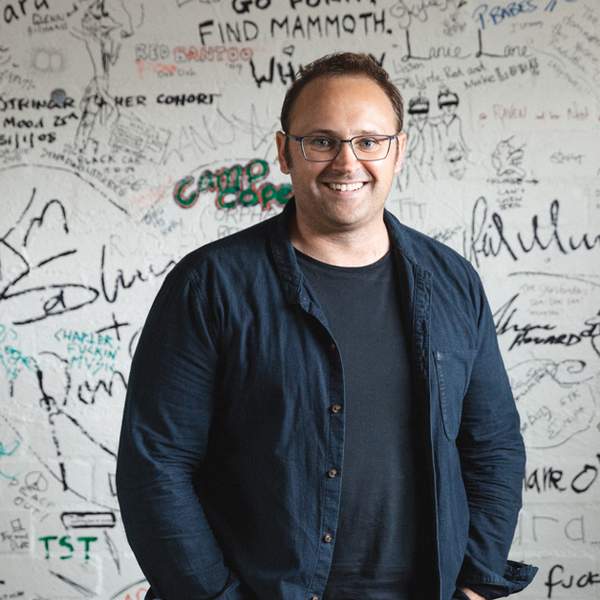 Daniel Burt is the new addition to our Breakfasters team, and he's an all-round top bloke! Well, as far as we know… To round out our knowledge of the comedy writer and political commentator, we thought we'd ask him a bunch of probing and, in some instances, barely appropriate questions. And guess what? He answered them all. Good on him.
Tell us a bit about teenage Daniel. What kind of kid were you in high school? I attended the suburban metropolis that is Frankston High and, having three older sisters and a revolving door of visitors, I was an unsuccessful loner. Amidst the frenzy I loved comedy and Triple R and wrote to the Breakfasters for work experience. Understandably, I didn't get the role because it didn't exist. The co-host at the time, Dave O'Neil, published a rejection letter in Beat magazine outlining the slave-like conditions in store for me were the position available – and I couldn't have been happier. Later, I emceed my year 12 formal, which was a total success except that I couldn't attend the after-party because some students who didn't like a few of the jokes threatened to beat me up – so I drank with the teachers instead. In the yearbook, I was voted 'most likely to host a talk show'. So basically, I haven't changed much since high school, except now I tend to wear fewer Band-Aids with my shoes.
Where would we typically find you on a Sunday morning? I'll be racing downstairs to retrieve my home-delivered newspaper before some thief in the area swipes it. A desire to beat this repeat offender (or offenders) is the only thing that keeps me from sleeping in. Sometimes whoever this person is takes the news but leaves the supplements – when I'd rather they stole the whole thing so I can buy a new one without feeling wasteful. Anyway, after reading what I can over breakfast there's the weekly food shop, with much of the produce being of the organic variety, so my bin is fed only the best expired ingredients.
Who's your favourite Melbourne muso? That's an evolving answer, but for all time Nick Cave. He's distinctly Australian and yet global, brutally honest while remaining enigmatic, sensitive but brash, an important figure in the history of this city, and his music is pretty good, too. A sentimental favourite is Wally Kempton, who I interviewed on SYN and who brought with him a track that his band Even had just mastered and which he played first on my show. He probably has no memory of it but I am grateful for that buzz.
If we (i.e. a random bunch of Triple R fans) showed up at your place for dinner, what would you cook us – and what would you want us to bring? To bring? Your appetites! But seriously, can you cook everything? I live dangerously close to too many outstanding restaurants to insult my guests with well-meaning but ultimately disappointing hospitality. I relish having visitors and consider my chief role to ply them with alcohol, figuring that they'll either have a good time or won't remember having a bad one. Come to me for wine, cocktails and enough antipasto to feed an army, but after pre-drinks I defer to the experts.
Can you dance? If yes, what's your go-to dance move? I'm told I do have a move, which may or may not involve too much pointing. When the mood strikes, I like to commit and support the DJ or band in totality, and not disappear from the floor song by song. That's just the sort of self-destructive and idiotic loyalty I'm prepared to show a complete stranger.
Where do you feel most comfortable in the Triple R studios? When a guest sits down and has a story, project or expertise they're passionate about and want to share – that's a joy to facilitate. I love to chat and connect with people and play in the arena of culture and ideas. Provided I have a coffee within reach and the red light is on, I feel like a #blessed pig in shit.
Best music venue in Melbourne? If you're in the beer garden or watching a band on a weeknight at The Old Bar, you are living the dream.
Any recommended hangover cures? I don't know if prayer helps, but it focuses the mind and gives you someone to bargain with. If you can, sleep it off. Alternatively, a burst of sudden responsibility can usually fire the neurons and take your mind off the pain, although I assure the 3RRR staff and listeners that this is not a remedy that I will inflict on their earbuds.
You've done stacks of comedy writing over the years. Why are you such a funny bugger? I remember as a kid listening to Laugh Radio, a 24-hour comedy station that was angling for a full-time licence, and I would trap myself in the car draining the battery listening to stand up and sketches because I couldn't get reception in the house. I don't recall a time when the excitement and mystery of comedy wasn't intriguing to me. There's a G.K Chesterton quote about how 'humour can get in under the door while seriousness is still fumbling at the handle', but I don't tend to invoke it publicly lest I be exposed as an irredeemable wanker.
When life gets you down, who do you go to for a hug? I don't believe in outsourcing responsibility for your happiness to others. The world is often cruel and indifferent to our plight, and it's imperative to find strength and empowerment in the abject loneliness of existence. But at the end of the day, probably Mum.
Any phobias? A new one is my computer crashing at the precise moment I need to read the news on Breakfasters. Apart from that, I'd say general claustrophobia, suffocating and feeling trapped – maybe it's because I was born with the umbilical cord wrapped around my neck. That's why, to this day, I'm not comfortable wearing skivvies.
What's something you wish more people knew about you? I am always looking for someone to have a hit of tennis with or bowl to in the cricket nets. Real-life practice certainly beats shadow batting in my underpants, especially for my neighbours.
---
You can hear Daniel Burt co-hosting Breakfasters every weekday, 6am to 9am, with Sarah Smith and Geraldine Hickey. Oh, and you can follow him on Twitter, if that's your thing.