Getting to Know… Kelsey Lu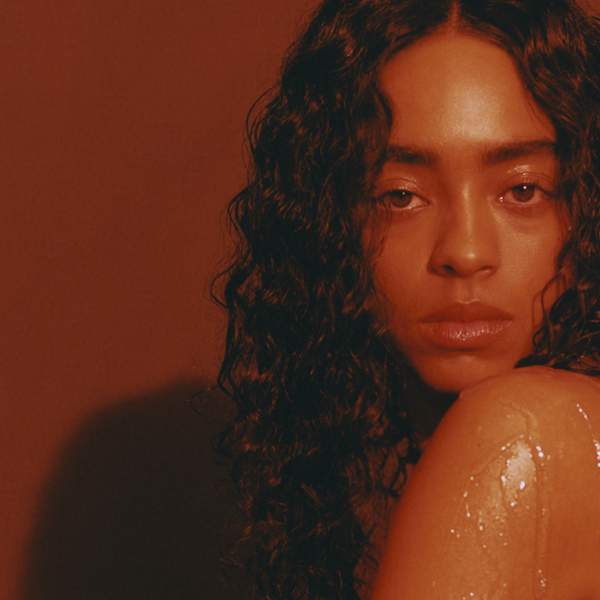 By Triple R volunteer writer Katherine Smyrk
The first song that pops up on the Spotify page of Kelsey Lu is titled 'I'm Not in Love'. It's at about 40 seconds in that you realise it's a cover of 10CC's 1975 track, made famous on many film soundtracks, including Virgin Suicides and Snatch. Kelsey Lu's version is a seven-minute-long ethereal beauty, turning an old song into a eerie, modern lament.
This track seems to perfectly sum up the work of the 28 year old American musician. It's familiar, but twisted on its head. It's slippery – you can't quite hold onto what it is, but you know you like it. It's actually the ninth track on her debut full-length album, Blood.
From a conservative upbringing in North Carolina, Lu is now living in LA, making music with the big names in alternative R'n'B, including recently supporting Blood Orange on tour. And now the artist is bringing her special style to the studios of Triple R as part of our Winter Warmers event series (Lu will play live in the Performance Space for lucky subscribers on Wednesday 5 June during The Rap).
Blood traverses the story of Lu – she prefers to be called that, rather than Kelsey, mostly because it is androgynous. ('My identity is in fluidity,' she told Billboard.) She was born Kelsey McJunkins in rural North Carolina to parents who were both musicians and artists, but also recently converted, very devout Jehovah's Witnesses. Her parents met in art school, but her father – once a jazz funk musician – was busted selling drugs on the side. He found himself in religion, and her mother did, too. It was something Lu struggled with as a child, and led her to leave home at 18 to go to music school, a great rift through her relationship with her parents.
'I was making decisions in my life that went against everything that I was raised to believe,' Lu said in an interview with NPR. 'Specifically, religion.'
This is never far from her music. Her first EP, 2016's Church, was recorded in one take in a Brooklyn house of worship. Blood continues this theme with more certainty.
'Due West', Lu's first single from the new record, is a celebration of her move to Los Angeles, and the creative freedom she found there. 'Rebel', kicking off the album, chronicles her parent's journey. The first verse is all her mother: Rebel was your middle name / When you were a young girl / Living free in the '60s / Black boots, mini-skirt, blonde curls. The second verse is her father: Hustle was your middle name / When you were a young man / Living to breathe in the '60s / Black-picked, flared fit, bongos.
She says the song was an important part of her processing who her parents were and how they ended up where they did: 'I was doing a lot of reflecting on home and my relationship with them and the life that your parents lived before they're your parents.'
Musically, Blood is a compelling and confusing mix. Lu actually coined her own term for her particular style of music: 'Luthereal'.
'Luthereal stems from the word ethereal, which means extremely delicate and light in a way that seems not to be of this world,' she explained to Vogue. 'When I perform, I feel like I'm tapping into things unseen. Good music is not of this world and yet, it is in it.'
Discovering that she has worked with both Solange and Florence Welch clarifies the kind of sound she is working with. So does listening to her almost six-minute-long cover of Joni Mitchell's 'River', complete with haunting vocals from Sampha. So does discovering she is trained as a classical cellist. Lu told NPR that she was originally learning violin – her father traded portraits he painted for music lessons for his daughters – but fell under the spell of the cello early on. 'As soon as I laid it on to my chest and I started playing, I could actually feel the vibration. I just, I fell in love.'
In an interview with SSense, she describes the sound of her cello as, 'a really fat, old cicada tree. Like a really old wise tree that's planted in the bottom of the ocean. And there's all this sea life living within it...'
Her sonorous strings are a constant theme through the album, coupled with vocals that are sometimes straight R'n'B, and then sometimes folk, gothic, almost classical. 'I'm pretty all of over the place. Kind of like my music. That's how I operate, how my brain works – it's pretty unorganized,' she said to SSense.
But the album doesn't feel burdensome. Lu is rebuilding things with her mum and dad, and thriving professionally, and that change comes through in her songwriting. She says she wanted to explore her conflict with religion, but respectfully, openly. And although the journey has been, at times, very difficult, there is levity to these tracks, to this telling of her family's story.
'I wanted to have a clear message of hope, because in the end, that's really everything that humanity has existed on,' she told Billboard. 'While society will try to break down people's spirits and bodies, in the end, hope is always the thing that everything comes back around to.'
---
Kelsey Lu will perform live at Triple R at 11.30am (doors at 11am) on Wednesday 5 June during The Rap. Subscribers: go in the draw to be in the audience by emailing kelseylu@rrr.org.au with your full name and subscriber number in the subject line by Tuesday 4 June.
---
Katherine Smyrk is a Melbourne-based writer of fiction and non-fiction, and the Deputy Editor of The Big Issue. When she's not reading or writing, she is usually eating cheese, playing footy or dancing to Beyoncé. Find her on Twitter.