Deeper Read: Three Music Books Worth Reading According to Jonathan Alley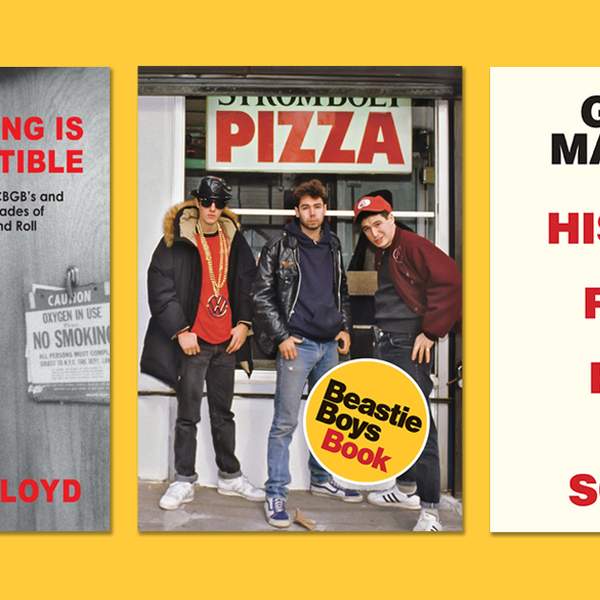 By Jonathan Alley (host of Under the Sun Sundays 6pm to 8pm and music documentary-maker)
I should be more well-rounded. Instead of buying yet another musician's unauthorised biography, or philosophical screed by some unemployable drunk who can't afford to live in Berkley, Brooklyn, Brixton or Brunswick East anymore, I should read up on maintaining a tiny cardboard house, polishing floorboards with Icelandic deer milk, or knitting my own yoghurt. Yes? Sorry, no. Despite recently diving into Colson Whitehead's slavery-era epic The Underground Railroad and (finally) reading Anna Funder's masterful Stasiland, I retain the obsession.
Great music books aren't actually about music; they're about life, if they're up to snuff. About madness, falling in and out of love, sex, death, triumph, the crazy shit people pulled off before they died early, and the few transcendent moments life casually throws at us, if we're lucky. Life can be rubbish an alarming percentage of the time, and music and its associated tales bring us its better interludes.
So then, some recommendations.
Beastie Boys Book by Michael Diamond and Adam Horovitz
One expects a Beastie Boys book to be entertaining – and their career-spanning tome is unequivocally so. But it's also wise, self-deprecating, apologetic, irreverent, and very touching. Sure, you'll read how the late Adam Yauch hooked up with random snow-boarders in Australia right off a tour flight from LA and disappeared into the mountains for two days, and how Mike D was out-weirded by Bob Dylan at Dolly Parton's birthday party while dressed as a pimp, and how they drove around London all night with John Lydon, Joe Strummer and Mick Jones, after seeing an '80s slasher flick. But, as with their records, it's full of the only The Right People: guest writers in the form of Jonathan Lethlean, the late New York DJ Anita Sarko, and ex-member Kate Schellenbach (who unflinchingly relates Rick Rubin's manoeuvring to eject her during the Def Jam-era, and a subsequent reconciliation via her band Luscious Jackson's signing to Grand Royal).
Inevitably, New York isn't just a setting, it's a character. The early years of hip hop and hardcore was pre-headphones (not even Walkmen, never mind smartphones), and music is in the air. Grandmaster Flash and Spoonie G blast from car windows and subway platforms; shoulder-worn ghetto blasters do just that. The Beastie Boys knew 'viral' as a different notion, whether it was Black Flag, Bad Brains, RUN DMC, or early dancehall reggae. New York's downtown scene is caught at its apex here – because it was their backyard and, unusually for the three early '80s teens, they had the freedom to explore it. In other hands, this would all come off as a preposterous indulgence. But it's The Beastie Boys – it's passionate, loose and enormous fun. And it's contemporary too. Ada Calhoun (St. Marks Is Dead) offers a commentary on gender politics, her post-#MeToo era 'lab report' tracing the evolution of
the B Boys from three beer monsters with a hydraulic penis stage prop to three very self-aware, apologetic, 'beautiful, creative mensches… who married feminist women' planting us squarely in the present day.
The audio book is presented with narration from Kim Gordon, John C. Reilly, Bette Milder (yes, BETTE MIDLER), Jon Stewart, Rosie Perez, Chuck D and, of course, Mike D and Adam Horovitz. Adam Yauch, tragically, is no longer with us and is painted only with admiration, love and affectionate hilarity. He also played the best prank, ever, in the whole, entire history of pranks, on Adam Horovitz, over 15 odd years. But for that, you'll need to read or hear it.
The History of Rock 'n' Roll in Ten Songs by Greil Marcus
Think of a song that means a lot to you. We all have them: that person, that tragedy, that break up, that exhilarating time when the mundane bloomed into the wondrous, oh, and that party (you know the one… yeah, heheh… that one). What was playing? Its meaning so amplified in some emotional contexts, it almost belongs to you. This is when music transcends authorship, recorded format and original release context to wrap itself around events. This is perhaps why humans, however disparate, different, or distant from one another, seem to listen to music.
Originally released in text-form in 2014 and, recently re-released in audio-form (read by Henry Rollins), Greil Marcus's The History of Rock 'n' Roll in Ten Songs is somewhat of a misnomer. Certainly, there are ten opening theoretical salvos, and these begin with ten specific songs, but these are just signal points; the first glimpse into a rabbit hole of social history, cultural resonance and a indefinable tipping point where technique and form perfectly complement emotional meaning. Many of these ten songs – All I Could Was Cry by Etta James, To Know Him Is to Love Him by The Teddy Bears, Shake Some Action by The Flaming Groovies, Transmission by Joy Division – blow in as examples a 20th-century conceit, this being the seven-inch vinyl single. These songs are transmissions from an era where the unlimited did not exist, yet they developed, and formed, a space where the realms of possibility expanded exponentially – a moment generations hence can have only an intellectual understanding of, the pure shock of the new, referred from these ten slices of cultural time.
But the moment lasts. What makes Amy Winehouse's version of To Know Him Is to Love Him the definitive recording of all of them? This is where Marcus so ably distils the indefinable. I recommend the audio book read by Mr. Henry Rollins, whose steely determination to articulately communicate Marcus's multi-layered, cross-cultural and often densely historical theories of the often unperceivable make it a more accessible ride. You'll listen to songs you hadn't considered, newly dusted-off to take you back and forward to places anew, both extant and imagined.
Everything is Combustible by Richard Lloyd
Richard Lloyd is primarily known for his guitar work in seminal NY act Television. But forget about that. Richard Lloyd is simply very unusual: in the context of his memoir, the fact that his guitar interplay makes Marquee Moon powerful, pristine and exhilarating is almost incidental. Born into post-war, pre rock 'n' roll,
Cold War, Rust Belt America, Lloyd's architectural sense of memory and dreamscape is frankly, intimidating. The man remembers being born with absolute clarity and is casually clear of a knowledge of past lives in different bodies; he arrived with an absolute sense of possibility, with an observer's critical eye.
A true outlier, he's remarkably attuned to other people's motivations, his own (many, self-admitted) foibles, reliant on his own world-view and thought systems. Lloyd simply decided to become an excellent guitarist and did so; his strong friendship with the late Velvert Turner (who happily passed along guitar tricks) appears to be far more significant that anything connected to torn shirts, speed and NY street-smarts (although as the guy who helped Hilly Kristal build the stage at CBGB, that bubbles up as well).
Television is addressed, but it's an element, not the story (if Lloyd affords Tom Verlaine a grudging professional respect, it comes with a strong personal disdain). If you're willing to forget conventional narrative and also apply a certain suspension of disbelief, this is a great ride with a true rock original.