Deeper Read: A Graveyarder's Reflections
Due to COVID, Triple R had to suspend The Graveyard Shift (along with other shows with rotating hosts) in order to minimise the number of people coming into the building. But recently, The Graveyard Shift has been able to make a comeback on Friday and Saturday nights. Passionate Graveyarder Maria Meyer explains what the show means to her.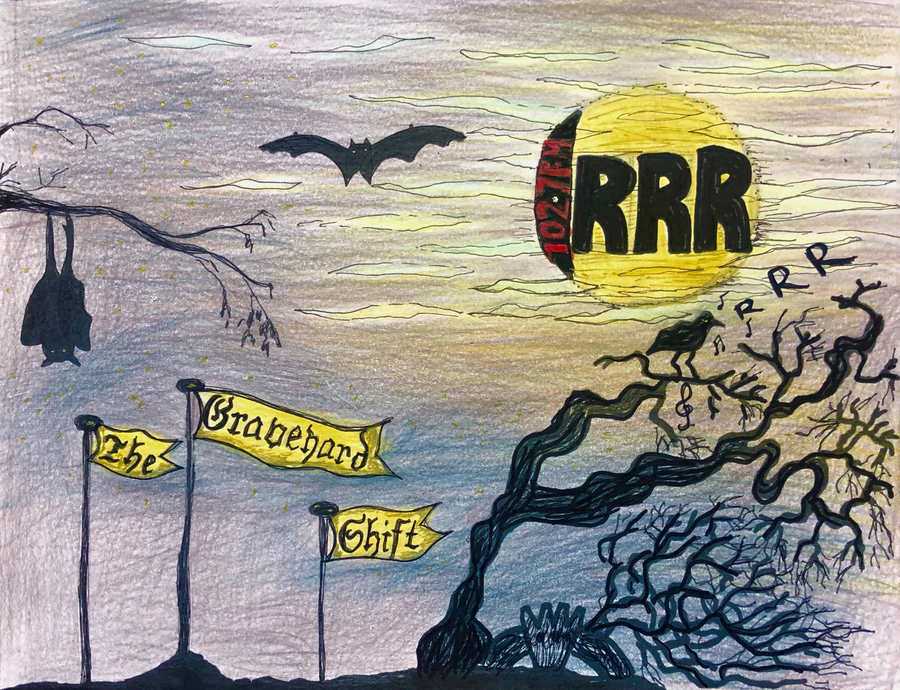 How did you first get involved in The Graveyard Shift?
A couple of years ago, I was looking through the 3RRR website and discovered that there was an opportunity to apply to do The Graveyard Shift training. I thought that sounded like fun, so I applied. I was lucky and Sam Cummins trained me for a trial.
That was just a few months prior to the pandemic and the first lockdown hitting Melbourne. I did four shows before The Graveyard Shift ended in April 2020 and a couple more after they returned this year.
What do you love about doing them?
Listening to music and researching the bands I play is something that I really enjoy! Broadcasting is fun, but sometimes a little nerve-racking too. I'm a bit shy, so presenting on the radio is a good challenge for me. You're never too old to learn and develop new skills. I am still developing a style of my own. Having a chat and listening to the other broadcasters before and after my shift is great, as well. There's a really nice warm-hearted community feel at 3RRR.
Triple R had to suspend Graveyards during COVID. What does it mean to you that they're back on Friday and Saturday nights from 2am to 6am?
I'm so glad to see The Graveyard Shift return to the airwaves this year and to be a Graveyarder. The Graveyard Shift used to run for four hours, between 2am and 6am, seven mornings a week. Now there are four, two-hour shifts a week [on Friday and Saturday nights]. They provide a space for new broadcasters with various interests, tastes in music and presenting styles to have a go.
Having the familiar [pop-up] presenters on air between 2am and 6am [from Sunday night to Thursday night] provides consistency for listeners. It's a good balance between the slight randomness of The Graveyard Shifts and the regular programs.
What inspired you to start drawing? Was it another way to keep busy during lockdown or are you an artist from way back?
I am a primary school teacher, but in a past life, I studied visual art at TAFE and then completed a Bachelor of Fine Art (Honours) at the VCA.
These days I rarely draw or create much art myself. I just dabble occasionally. But I do enjoy being immersed in art and the creativity of others (whenever possible). Primary school aged children create the best art and I like to encourage them as much as possible.
Any favourite memories of listening to Triple R in 2021?
So many of us have relied on 3RRR during times of uncertainty and isolation over the past two years to stay informed and to help us stay sane.
Here are just a few things that I enjoyed while listening to 3RRR in 2021:
I woke up every day and listened to the Breakfasters or Tim Thorpe. It's so great to have that familiarity every day.
I loved hearing all the Simona Castricum fill-ins!
Melbourne had been in lockdown for so long by the time Radiothon came around this year. 3RRR's strong subscriber support and messages to the broadcasters read out on the various shows was very touching and a testament to how much 3RRR means to so many.
---
This article first appeared in the December 2021 edition of Triple R's subscriber magazine The Trip.