Deeper Read: Meet the Players in Melbourne's Indie Videogame Scene
Ever heard of Necrobarista, a visual novel game about the living dead set in a Melbourne café? Or what about Bush Bash, an arcade cabinet made out of the front half of a Mitsubishi sedan? These are just some of the works coming out of our city's thriving independent videogame scene. Vanessa Toholka and Paul Callaghan from Byte Into IT introduce us to some of the talented individuals behind the scenes.
---
Headlines about games tend to fall into one of two camps: how much money they make (more than Hollywood, don't you know), or how much damage they're inflicting in our schools and playgrounds. Dig a little deeper though, and you'll find a vibrant world of independent game developers carving out careers with shorter form and more experimental work. Dig a little deeper still, and you'll find a local scene that more closely resembles theatre, music, literature and DIY culture. The people who make up this scene are making work that is uniquely part of Melbourne – and their struggles as artists, curators, critics and thinkers can be all too familiar. On Byte Into IT we enjoy spending time with the people developing videogames and exploring playfulness. These are some of them.
---
NGOC VU // Illustrator & Game Developer
As the lead artist for the award-winning Necrobarista, a visual novel game all about gangsters, hipsters and necromancer baristas, Ngoc has achieved something difficult: she's brought her past café experience to bear in creating a digital space that can be simultaneously read as local and global. As an RMIT graduate majoring in games and an early-career practitioner, she shares some experiences at the front line of game development in Melbourne.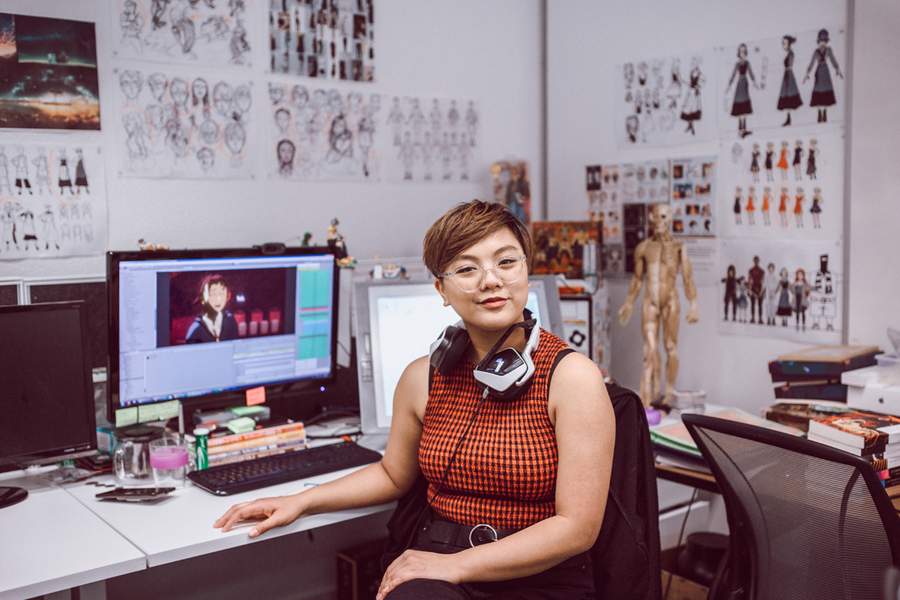 Tell us about Necrobarista. It's a cinematic visual novel, set in a Melburnian café, where the dead and the living have one last night to co-exist. Kevin Chen, a colleague from RMIT, introduced me to the project. He said, 'Hey, I've seen your art, it's pretty good – do you want to work on a project with me?' At the time I was doing the graduate floater thing – working in retail, 7am starts. As long as it led to a career out of retail, I was interested. We submitted out first demo to Freeplay, it won best narrative at the 2012 Freeplay awards. Then Film Victoria approached us with funding to help get the project off the ground and published commercially. We had to stumble through a lot of stuff that we didn't anticipate as students. We consulted a lot of other games studios; they advised us to go to GDC (the Game Developers Conference) and find a publisher. So we went to 2017 GDC, and met Coconut Island there. They'll publish the game in China, and we'll self-publish in other territories.
Do you think games can represent Australian life in a different way to other arts? When we started making the game, a lot of Aussie stories were about the outback, and this hard environment we had to survive and manage. The only other urban narrative being told was through Australian television like Neighbours, and I didn't feel it was representative of urban Melbourne. I grew up in a very multicultural environment. Living in Footscray during my childhood, I was exposed to a lot of Vietnamese and Sudanese culture. In my teenage years, my parents moved out to East Melbourne, where I met a lot of people with Greek backgrounds. Because the quintessential Aussie town is so strongly told in media, I felt like games were fresh ground, where we could say, 'Hey, we're all sort of similar. Modern, developed cities don't really differ from other developed places.'
How do you begin illustrating for a game? Kevin gave me a brief worldview with Melbourne at the centre. So we started looking at other anime narratives; we wanted it to have ties to anime. Writing has come to be the most important role we hire for. The story was being developed at the same time I was drawing. There would be issues regarding the mesh topology for example, and we would solve problems within the team. I started off with a holistic sketch pad. I easily generated 50 characters. I'd think, 'Who lives in Melbourne?' I'd just draw 100 people, and get a feel for who I thought was interesting, whose narrative I wanted to see.
What's the weirdest professional skill you've picked up? I can quote The Simpsons pretty well. We have this thing in the office, where if someone starts quoting The Simpsons, someone else has to finish. Working with anime too much, sometimes you just need a good iconic Homer quote.
What keeps you going when you're working? A lot of coffee, a lot of Berocca. One of our teammates drank instant coffee and was judged.
Find out more about Ngoc's work at necrobarista.com (coming soon to PC, Switch, and PS4) and on Twitter @ngoctmvu
---
LOUIS ROOTS // Game Developer & Bar SK Head Honcho
Louis currently runs Bar SK on Smith Street in Collingwood, a bar/gallery that has become a key part of the city's experimental interactive and game development scene. His own work includes custom controllers and hardware hacking. Catnips used custom soft toys and multiple joysticks to create a game about squirting milk into the mouths of kittens; Ruck Me was a collaboration that used modified Xbox controllers and an inflatable male sex doll to reflect and comment on Australian Rules Football, masculinity, homosexuality and bar culture; and Bush Bash is a driving game built from a modified cut in half car, currently on display at the Victoria and Albert Museum in London as part of their #designplaydisrupt Videogame exhibition.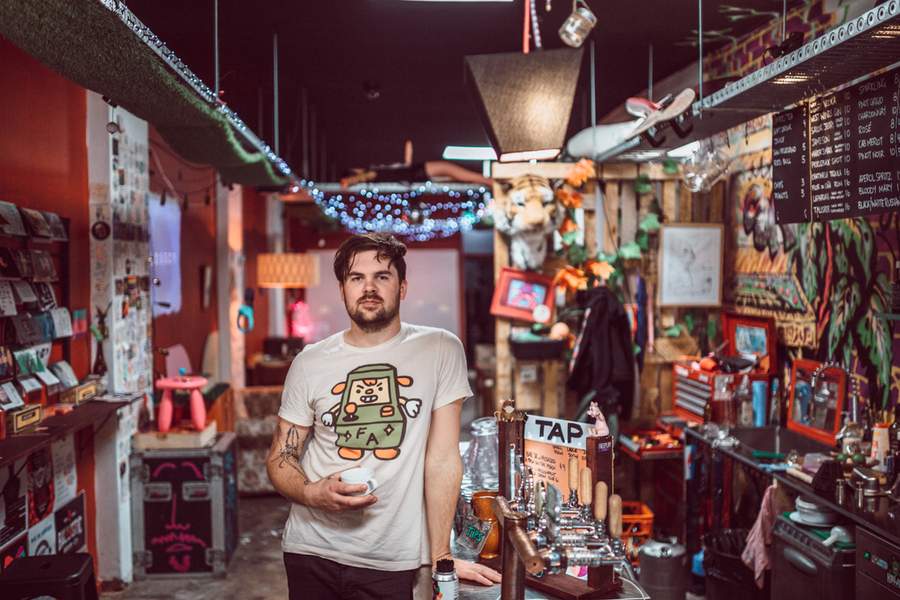 How did you get into making games? My best mate had a Super Nintendo. I had a PlayStation 1. We had a tradition where we'd walk down to the video store every Tuesday, rent out two games and give back the previous week's rentals. We'd get a single-player, story-driven one, and a multi-player for friends. My first job was environment design and level design at a mobile games company in Denmark – literal world building. I liked getting in and building background scenery, but making it feel lived in. When I came back to Australia and started a company to make games, I didn't know where we were going initially. We made little jam-style games, kept the process short. We wanted it to be fun and simple, to be able to show them off to friends who didn't play games.
How did making custom controllers come about? Something that I've really liked in terms of game design is physicality and breaking the rules. I was thinking about game arcades – getting physical with the Crocodile game, Alien 3 with its big chunky submachine guns, and haptic feedback in Skeetball where a ball goes through the holes, and inside the hole there's a little trigger. Whenever we'd show our game Catnips, people would always be like, 'I'm losing,' and I'd say, 'Why not get your other friend on the same controller or punch the opponent in the arm?' I'm not going to tell you off for it. The physical space around a game is what I'm most interested in. How do I get a mosh pit happening? I haven't done it yet, but am working on it. How do I get someone to break their leg?
Tell us about Bush Bash. It's an arcade cabinet made out of the front half of a Mitsubishi sedan. It's a two-player cooperative driving and shooting game, set in a fake Australia, constantly going towards Uluru. It was only made for parties and public display. I had it in the backyard with people sitting in it, playing in it, jumping around it, drinking two dollar tequila shots in it. An indicator broke off; that was party-proofing the game. I wanted it to be playable physically with people doing whatever they wanted to do with it – it didn't belong in a museum. Less Mad Max, more bogan.
What's interesting about Melbourne? On the non game-development side, we can open a space like Bar SK because Melbourne already has bar spaces for retro videogames and bars for contemporary videogames, so we can exist alongside that with contemporary independent videogames. Then there's riding on the back of really strong education and exhibitions, like showing RMIT's graduation work. We wouldn't be able to be that niche anywhere else.
What do you do with the Bar SK space? Rotating exhibitions of things that are fun and playful and that try to remove skill from the equation – things that nobody has played before and things you can play against your friends. Like our Giraffe volleyball championship 2016 – nobody knew how to play it! It's why we do the controllers, to level the playing field. Maybe you've played something similar, or are good with a controller, but nobody is good at playing with some buttons stuck to some wood. Everyone is learning how to play alongside everyone else, and that makes things more accessible.
What's the weirdest professional skill you've picked up? Working with inflatable sex dolls and jelly.
What keeps you going when you're working? I do most of my work in the bar, so whatever's on tap. And peanuts and chips.
Find out more about Louis's work at barsk.com.au and on Twitter @SK_Louie
---
CHAD TOPRAK // Curator & Freeplay Festival Director
Chad started out as a games designer, studying at RMIT. He switched to being a curator, and he's now the director of the Freeplay Independent Games Festival, one of the longest running experimental and independent games events in the world. His games include Turnover, Cart-Load-O-Fun, and dualcyon. Chad also curates and produces events and exhibitions with the games collective Hovergarden. His Contours exhibition explored Australian games that challenged players' expectations, and games that were intimate, autobiographical, or personal.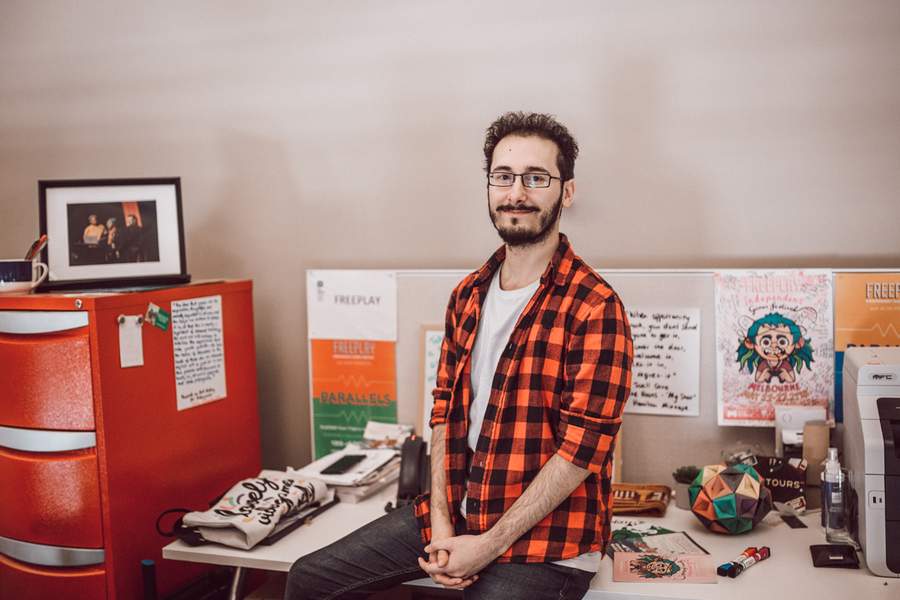 What does making games in Melbourne mean to you? Melbourne's great. We've got a critical mass of games developers and government and industry support. What makes cities special are moments in time where certain individuals or groups are doing interesting things, or having interesting dialogues. Looking at other cities – London, Copenhagen, New York, Toronto – what makes those cities special are the groups pushing at the boundaries of games, trying experimental things. I was frustrated for a while because I thought we didn't have that in Melbourne. Hovergarden came out of my frustration.
Tell us more about what Hovergarden does. Hovergarden hosts events in public or semi-public spaces, usually places that have foot traffic. Laneways, rooftops, bars, warehouses – you name it. We pick those spaces – and usually don't ask for permission. We wanted to raise appreciation and awareness of certain types of games in the eyes of the general public. We believe that the public belongs to the people, and we want to see people play more together.
How would you describe Contours? Contours is an exhibition of contemporary Australian videogames that celebrates the fringes of the medium. We exhibit games alongside other artforms, like paintings, books, zines, sculptures, photography and video. It's our way of engaging artists from neighbouring fields, while also making games more accessible and interesting to a broader audience.
How does funding for that work? We go to the City of Melbourne, Creative Victoria, or the Australia Council for the Arts. One thing I want to see from bodies that support games is a better understanding of the landscape of videogames and game development. There are lots of people who sit at the fringes, making weird experimental work, which isn't quite eligible for funding. If I want to make a personal game about my experience of being a Muslim in Australia, and I don't know if that can make a lot of money, that doesn't make it less important than those games that do. Thinking about whether a game will be a commercial success can really restrict our ability to be creative, expressive and experimental.
How does Freeplay speak to that? We always try to highlight things that are happening at the fringes. This year's theme was 'intersections'. We wanted to make a point that games don't exist in a vacuum, that they sit alongside many other creative practices. This year we programmed game makers with writers and poets; we invited architects, hosted theatre and dance workshops, screened films; we even had online talks ranging from 'independent games in Southeast Asia' to 'psycho-geography and games'. I hope that by having non-games and games adjacent content at Freeplay, we widen the conversation and ensure that dialogue reaches beyond games.
What keeps you going when you're working? My cat gives me lots of emotional support. I love sour worms and wasabi peas, too. Up until recently, I had never tried them both together, but turns out it's really great.
Find out more about Chad's work at mr-chad.com, freeplay.net.au and on Twitter @MrChad

---
MAIZE WALLIN // Composer & Game Developer
Depending on who asks, Maize is a game developer who specialises in audio or a composer/sound designer and programmer who does interactive things. Their work spans mobile games and virtual reality, having crafted game audio for Eatvolve, Dissembler, Wayward Strand, Invert, Cosmic Express, A Thin Black Line and more. Maize has been a part of the programming committee for the Freeplay Independent Games Festival, and this year was appointed to the Board of Directors of Women in Development, Games & Everything Tech, Inc (WiDGET).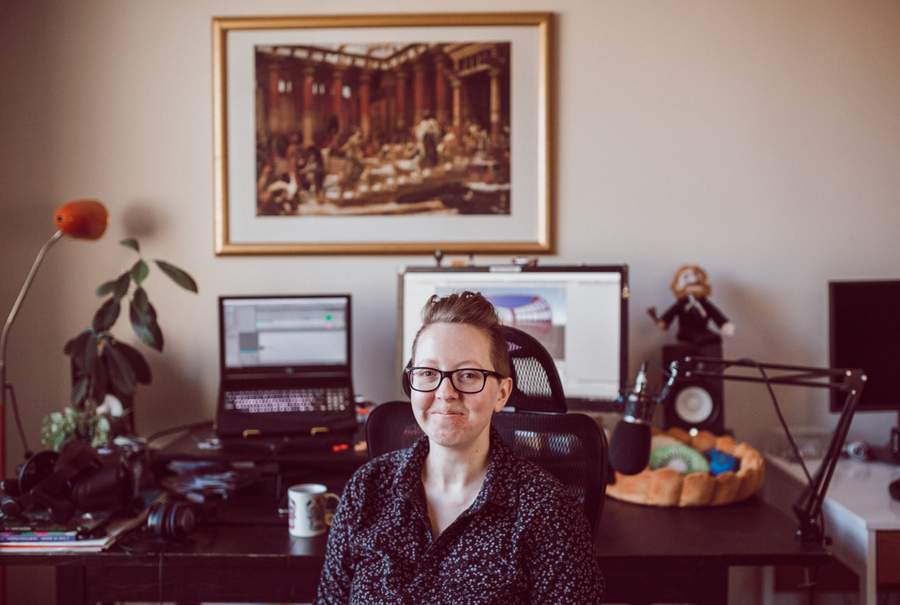 What is it about games? What makes them special? Something I really like about how audio works in games is that you can have players act as DJs without them knowing. As they move through the game, they're starting and stopping audio, and acting on feedback. I'm about empowering the player with systems that make them happy.
How is what you do different to more traditional composition? There's totally a difference between being a musician who can write an album, and one who can write music that people can turn on and off in different moments in layers. It's empowering for a composer to see the tangible effect music has on a player. In film, a viewer can't choose how to react based on the music. But in games, you're able to make a player go this way instead of that, based on what they're hearing and in response to the game's mechanics. There's still a lot of classical theory, which contributes to problem solving. So, for example, what direction will the player go in if I do a major third instead of a minor chord, or how can I resolve a phrase to signify a puzzle being solved – things that are cute and satisfying like that.
How did you arrive at this mix of skills? I used to be really into live art, but it's expensive to tour. Making that though, I was hacking Arduino things – things that are fragile and going to break – unlike video games, which you can upload to the internet, put in an email and it's done! Doing it in a virtual space is much cheaper and faster. As far as presenting myself as a game developer versus audio person, I have had to pick up the skills to make games, because of my game-audio practice, especially in implementation of audio and systems. I think about how to guide a user through hours of structures, lighting, sounds, characters – and when live, smells!
What keeps you going when you're working? Recently I've been trying a lot of mental health tactics because freelancing is so stressful. Being in audio, I can't work to music. So to help productivity I've been working to smells! My favourite foods are whatever takes the longest to cook. So I'll start cooking at 8am and eat at lunch – that'll get my morning really going.
Where should Triple R listeners explore innovative games? itch.io is the Bandcamp of games!
Find out more about Maize's work at maizewallin.com and on Twitter @MaizeWallin
---
Vanessa Toholka and Paul Callaghan present Triple R's tech and computing show Byte Into IT, Wednesdays 7pm to 8pm. When they're not in the studio having a chat, they're doing cool things around town: Vanessa is a knowledge management consultant, while Paul is a writer, educator and creative producer. Xavier Fennell is a very rad freelance photographer, whose work you can check out at instagram.com/xavier.james_. This article first appeared in the December 2018 issue of Triple R's subscriber magazine, The Trip.