Deeper Read: Proc Fiskal Imagines A Future Folk Utopia On New Album
WORDS CHARLIE MILLER
For most of his life, Joe Powers has lived in Leith, a northern port neighbourhood in Edinburgh. The capital city stands on the southern shore of the Firth of Forth, an estuary flowing from Scotland's interior to the North Sea. Lothian is the greater region encompassing Edinburgh, part of the Scottish Lowlands. 
"It's pretty bland in comparison to the West Coast or the Highlands, which are a lot more dramatic," says Powers, who produces music as Proc Fiskal. Geographic and linguistic details are important in deciphering his complex song titles, such as the euphoric lead single "Leith Tornn Carnal" from new album Siren Spine Sysex. 
Sampling is central to Powers' production. Layers of hyper-manipulated audio sources rotate in skittish delight against delicate breakbeats. "I got started making really shitty bootlegs and chopping up stuff," Powers says. His remix for Canadian indie pop star Jessy Lanza last year is encoded with the DNA of his recent music. 
In March, he released the EP Lothian Buses, named for the region's major bus company. It's the bouncy album prequel, bopping through a cyber-reality with wide-open eyes. The songs are peppered with strange, anachronistic MIDI melodies formed from downloaded fonts and sample packs, daggy emulations of flutes, accordions, whistles, and guitars that he describes as "sound[ing] like a hopeful attempt" at repurposing Scottish folk music in an electronic present. 
While Powers' family has a folk music tradition, he remains critical of the genre's contemporary cultural implications. "A lot of that folk stuff is super-conservative and evil in a way," Powers says. In warping the folk samples beyond recognition, Powers is attempting "to divert the sound of it into a less traditionalist thing." Siren Spine Sysex continues the folk lineage, though he is careful to avoid what he calls the "odd kind of worship" that surrounds those traditions. 
There is an ecstatic playfulness on the album that calls to mind the wonder of surfing the early web. Powers frequently samples dialogue and noises from the cartoons and video games he obsessed over growing up. "It's hard not to enjoy those sounds because they are so tied up in your subconscious," he says. 
Recently, Powers turned towards 20th century sci-fi literature – "I get a buzz off books" – and they serve a practical purpose for recording music, too, acting as a "really good insulator, if you put it between a wall, they absorb sound super-good."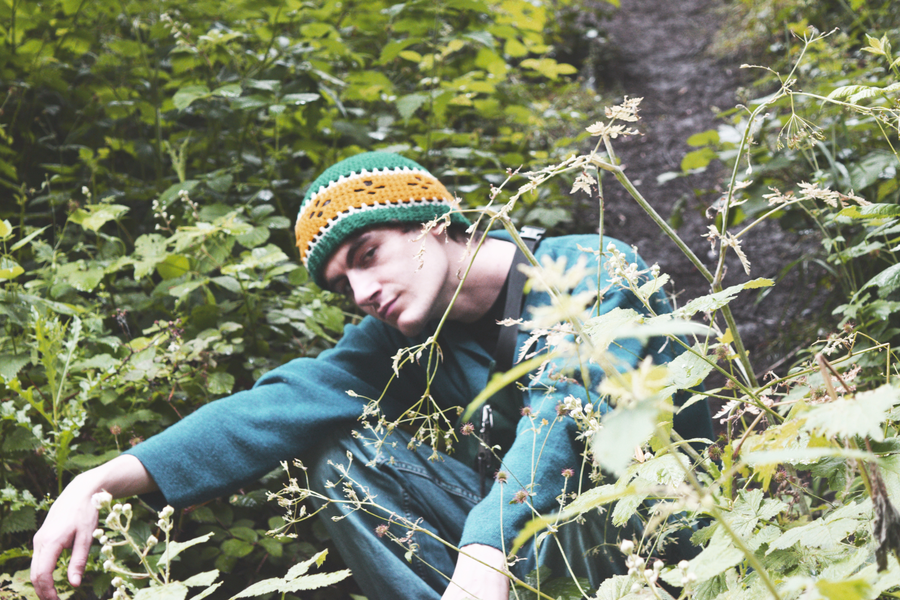 While producing the album, he was reading Isaac Asimov's Foundation series. It inspired him to imagine "a utopian society [which] would be this weird folk kind of thing, where everyone is playing harps." Listening to "Humancargoe Estt" brings to life what that world could sound like. 
All but one Proc Fiskal record since his 2017 EP debut The Highland Mob have been released by London-based Hyperdub. Deep digital bass dominated Powers' initial work on a label known for its subterranean atmospherics. "I used to just listen to jungle and grime – that's all I listened to, really," he says. During this period, Powers ran a night called Shleekit Doss at the club Sneaky Pete's in Edinburgh, spawning the excellent EP of the same name. 
Until now, extended melodic vocals rarely appeared amid Powers' rapid-fire sound bites. "I like big plain melodies more than I used to," he says. On Siren Spine Sysex, an emotive breakthrough emerges on the beautiful, simmering "8 Mgapixel See Thru Phone". The anonymous tweaked voice sampled on the track is reminiscent of London composer Mica Levi. 
A gradual move away from club-oriented music was already in process for Powers when the pandemic cut access to physical dance spaces. He has been experimenting with autotune on his own vocals at home in the meantime, contemplating a straight-up pop record.
---
Powers didn't grow up imagining he'd be a musician. "When I was a kid I wanted to be a footballer," he says. The Hibernian Football Club was established by the Irish community of Leith in the 19th century, 'Hibernia' being the Latin term for Ireland. Powers, who grew up on the same street as the stadium, is a Hibs supporter and even has a song called "Football". 
The team is another pillar in the Gaelic history and identity of his neighbourhood, which has formed a lasting conceptual backdrop to the Proc Fiskal project. On Siren Spine Sysex, Powers has given the pibroch music tradition of the Highlands his 'spinal' treatment, a self-described term for the process of digitising a historically acoustic art form. 
Of course, it is possible to enjoy Powers' music without any understanding of Scottish culture's minutiae. But piecing together the reference points reveals a tapestry of disparate ideas that enhance the listening experience. There's a sonic narrative crafted from countless search engine links and encyclopaedia index pages. "I would like to be able to make those sorts of albums, which feel like books," Powers says. 
Siren Spine Sysex is an ode to curiosity in this historical moment mediated through bedroom portals.
---
Charlie Miller presents Summer Program Green Ray.