An Absolute Beginner's Guide to Jazz
Ever fancied exploring the wonderful world of jazz, but not sure where to begin? Stolen Moments host John Bailey suggests some gateway artists and albums – and explains why you don't need to be 'scared of the jazz'.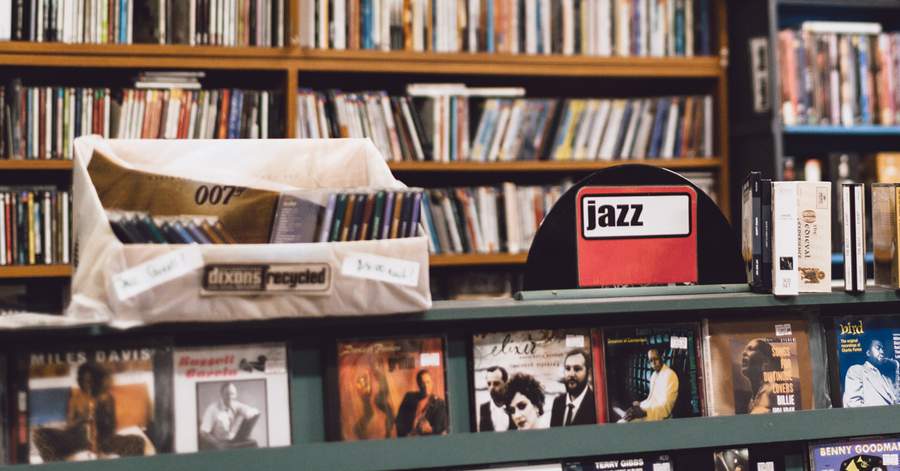 What's a great first album to listen to – a gateway, if you will? I wouldn't stray too far away from the masters. A safe option but a winner is the best-selling jazz album of all time, Kind Of Blue by Miles Davis. I still stick it on today and love it.
When and where did the genre first start? Jazz is one of America's original art forms, originating in the African-American communities of New Orleans. It started in the early 1900s and developed from the roots of blues and ragtime. The word 'jazz' comes from a slang word jasm, a term dating back to 1860 meaning 'pep, energy' – but I also read somewhere that jazz was a slang word for fuck used in the cotton fields by slaves. It's classical music entwined with African and slave folk songs and the influences of West African culture.
Why did jazz get so huge – and why has it remained so popular? Jazz is the original dance music – I think that's the basis of its original popularity. Its longevity comes from the fact it has always changed with the times – trends, eras and technology. Each generation that discovers and plays jazz puts their own influences into it. For example, one of the brightest lights in jazz today is Kamasi Washington. Growing up, he was listening to hip hop; he comes from the suburb of Inglewood in southside LA. When you listen to his music you can tell he understands and comes from that hip hop background. Same with the new jazz breed in the UK – when you listen to the music they make, you can tell they have a love for drum and bass, grime and dubstep.
If you had to name five artists who really redefined the genre, who would they be? Duke Ellington, Billie Holiday, Sun Ra, John Coltrane and Miles Davis for taking it electric in 1969.
Is there any important jazz 'slang', i.e. words you need to know in order to get your head around what other jazz fans are talking about? Definitely not. Don't read what the jazz police are saying. It's a feeling – you'll know when you've been jazz'd. Just listen.
Are there any infamous tales or myths that jazz fans bond over? I love all the John Coltrane myths. One being he drove the van to the gigs with the band and all their equipment. Thought nothing of driving eight hours, going on stage, playing his heart out for a couple of hours, then got back in the van and drove all the way home.
Who's making (or releasing) the most exciting jazz right now? The jazz is strong worldwide at the moment; it's really healthy and in a good place. Melbourne's in a particularly strong place, and I think what makes it so healthy here is that these artists are out there in the clubs / pubs / venues playing regularly, learning their craft, getting experience. I think that's the key – playing as much as you can, and these young artists are doing that. It's inspirational.
Best jazz festival in the world? Would be hard for me to go past We Out Here Festival, a brand-new project curated by Gilles Peterson. The lineup is ridiculous and includes Melbourne's own Horatio Luna.
Anything else you'd love people to know about jazz? It's an art form that's been around for over 100 years but it's not all about saxophones or music that your grand parents listen to. Don't be scared of the jazz.
---
This story first appeared in The Trip, Triple R's subscriber magazine. The Trip is published three times a year (in April, August and December) and is direct-mailed to Triple R subscribers. Stay up to date with John Bailey on Facebook, Instagram and Twitter.